Tuesday Afterschool Special: Playoff Blues
There will be a new Stanley Cup champion
The St. Louis Blues beat the defending champion Chicago Blackhawks 3–2 last night in Game 7 of their first-round series. Coupled with San Jose's series win over L.A., this means that for the first time since 2011 someone other than the Blackhawks or Kings will win the Cup.
The 'Hawks didn't go down without a fight, though. After Troy Brouwer scored the game-winning goal, Brent Seabrook nearly tied the game with a shot that rang off both posts:
The NHL's best Game 7s
The NHL's Great Game 7s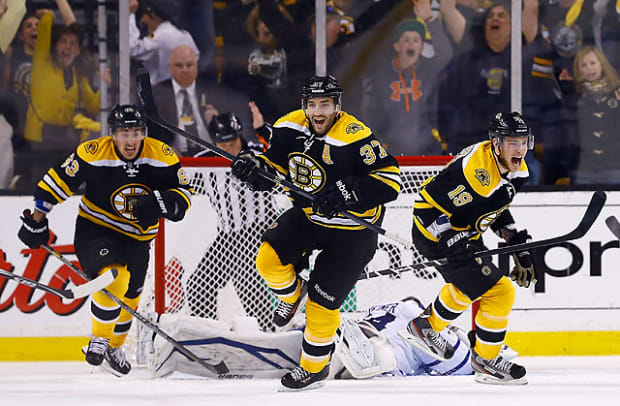 Poor Brandon Phillips
Reds second baseman Brandon Phillips got hit by the ball three times in an at bat last night against flame-thrower Noah Syndergaard. (Two foul balls deflected off his foot, then he got plunked on the hand.) He left the game after the hit-by-pitch. Luckily X-rays were negative, so he should be O.K.
No more Spacey in space
The Florida Panthers' season is over, and with it ends one of hockey's weirdest traditions: Spacey in space. All year, the Panthers gave a special hoodie, depicting actor Kevin Spacey in space, to the player of the game. You can see the hoodie being modeled in this video by...Spacey himself:
Mike Trout's weather report
Bryce Harper takes a selfie with an unsuspecting fan
Today's Peanuts
(Photo credit: Scott Rovak/NHLI/Getty Images)