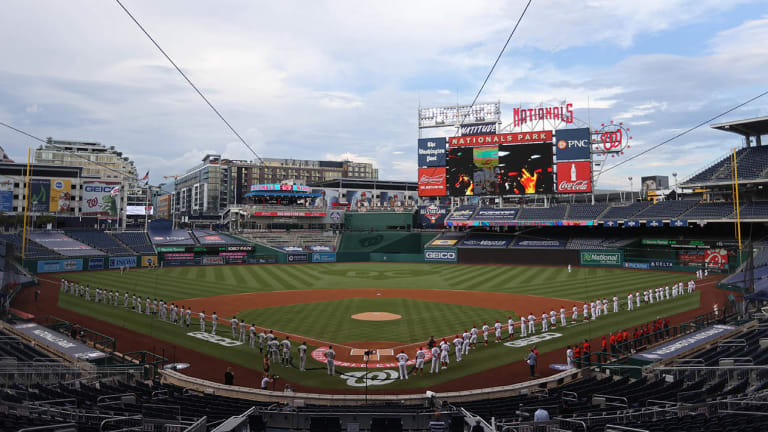 Nationals and Yankees' Rain-Shortened Opening Day Starts MLB's Unusual Season
Baseball is back! On a cloudy Thursday evening at Nationals Park, MLB began where it left off last season, but with some noticeable differences.
The Nationals raised their World Series Champions banner prior to their Opening Day game against the Yankees. No fans were present. Only players, coaches, and team staff members were around because of MLB's health and safety protocols established amid the coronavirus pandemic. Washington's lineup had a last-minute change when superstar outfielder Juan Soto tested positive for COVID-19 early Thursday.
Both teams lined up on the first and third baselines and kneeled in a pregame "moment of unity" by holding on to a piece of black fabric around the diamond. Avid Nationals fan Dr. Anthony Fauci, the director of the National Institute of Allergy and Infectious Diseases, threw out a wild first pitch.
The Nationals and Yankees faced off in a pitcher's rematch from Game 1 of the World Series between Max Scherzer and Gerrit Cole, who was with the Astros in 2019. It was only the second time in MLB history for pitchers to face each other in Game 1 of the Fall Classic and then again in the next season's opener. New York's Giancarlo Stanton crushed the first home run of 2020 with a 459-foot blast into left-center field at the top of the first inning. Adam Eaton answered with a solo shot to bring the Yankees' lead to one. The Yankees chipped away at Scherzer with Judge hitting an RBI double in the third and Stanton adding a run-scoring single to make it 4-1. However, the game ended after five innings due to a rain delay. Scherzer gave up six hits and struck out 11 batters, while Cole only allowed one hit with five strikeouts.
The Nationals defied all odds last year by winning their first-ever championship after posting a 19–31 record on May 24th. With the shortened 2020 season being only 60 games, their mantra "Going 1–0 every day" takes on new meaning. This season is a sprint, not a marathon.
The season has many unknowns, but MLB's changes also provide teams with new opportunities. On Thursday, the league expanded the postseason to 16 teams. Some clubs that were not expected to make the playoffs could now earn a spot. The first- and second-place teams in MLB's six divisions will qualify, while the seventh and eighth seeds will go to the American and National Leagues' remaining teams with the best record.
The shortened season could also result in players shattering historic records. No one has hit .400 in a season since Ted Williams batted .406 in 1941, but strong hitters like Mike Trout, Cody Bellinger, Christian Yelich and Luis Arraez could chase his record. Bob Gibson's 1.12 ERA record from 1968 could also be challenged for a select group of pitchers like Cole, Jack Flaherty or Jacob deGrom. Even if 2020's records have an asterisk next to them in the books, what once seemed hardly reachable now appears on the horizon for MLB stars in this unique season.