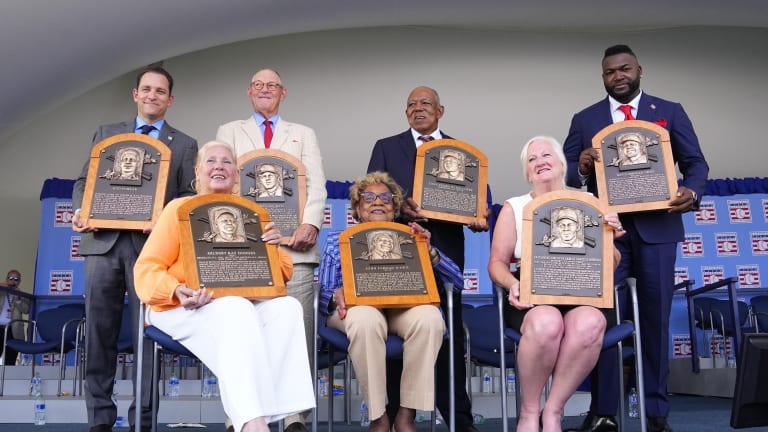 My Experience Covering the 2022 MLB Hall of Fame Induction Ceremony
Covering my second MLB Hall of Fame Induction Ceremony in Cooperstown, New York was surreal. Standing in the Hall to watch the new plaques being installed after the Induction Ceremony was awe-inspiring. These legends will forever be enshrined among baseball's greatests.
On a sunny Sunday afternoon, Cooperstown celebrated seven new inductees. A crowd of about 35,000, many donning the David Ortiz jerseys, came together to celebrate the 2022 class, headlined by the Red Sox legend, and also including All-Star pitcher Jim Kaat, Twins great Tony Oliva, and four men who have passed away: Bud Fowler, an African-American baseball pioneer; Gil Hodges, the Brooklyn Dodgers' star and former Mets manager; Buck O'Neil, a Negro league game-changer; and Minnie Miñoso, the Cuban outfielder who played in 5 different decades!
"I'm filled with so many emotions," said Negro Leagues Baseball Museum president Bob Kendrick. "This completes O'Neil's baseball legacy. It really does. But I think anyone who understands the significance of Buck O'Neil realizes that his legacy is far bigger than the game of baseball."
For most of these newly inducted Hall of Famers and their families, this day had been a long time coming. Jim Kaat, a three-time All-Star, a sixteen-time Gold Glove Winner, and a World Series Champion (1982 with the St. Louis Cardinals), won a total of 283 games during his MLB career.
"Well I guess for me and probably Tony as well, it's extra special because quite frankly, I had the Hall of Fame in my rearview mirror," Kaat said. "I wasn't bitter about it, I just sort of came to the conclusion that it was for dominant pitchers, perennial Opening Day pitchers, All-Star pitchers. I took a lot of pride in pitching as long as I could so it feels nice to be here."
Being the youngest reporter isn't always easy, but it's incredible having the opportunity to learn from experienced writers and reporters in the industry like Jon Morosi, as I continue to improve my skills! For any other kids out there, attending one of MLB's Hall of Fame Induction Ceremonies is a must-have bucket-list item, and I can't wait to go back there again soon!