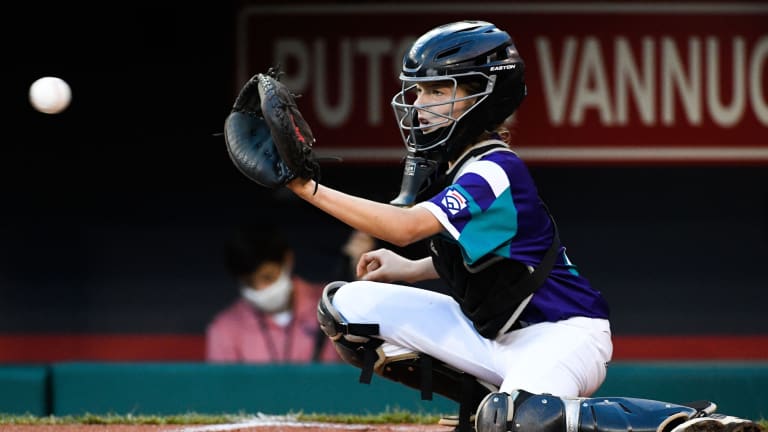 Meet Ella Bruning, the Little League World Series's 20th Female Player
Imagine making it to the biggest stage in youth baseball, yet already knowing you will stand out from the other players. Ella Bruning is just the 20th girl to ever play in the Little League Baseball World Series. While she is the odd girl out on her team of 13 boys, her talent has shined behind the plate and on the mound.
Ella grew up in a sports family. She followed in her mom's footsteps as a young girl with tons of talent and lots of potential! Ella not only plays baseball, but also softball and basketball, and is starting volleyball this fall. It is no surprise that Ella, who lives in Texas, is a big fan of Astros infielder, Jose Altuve.
When she played on the 10-year-old All-Stars team two years ago, with all boys, that's when the team nickname "Ella and the Fellas" was born.
"On-the-field, they don't treat me any differently," she said. "Off-the-field, it's a little different because I can't stay with them in a room. I have to stay in my own room."
Since the summer tournament season has started for the Texas West Little Leaguers, they have been nearly impossible to beat, with their 'studette' catcher behind the plate (a nickname her teammates sometimes call her). Ella went 2-for-2 with an RBI and a run in Texas's win against Washington.
Ella not only showed off her great framing skills as a catcher, but she also showed her reaction speed. After qualifying for the Southwest regional championship game, Ella received special messages: a compliment from Chicago Cubs catcher Willson Contreras, and a video from softball Olympian, Jennie Finch.
The next day, she was the starting pitcher for her team. One of the reasons that it is easy for her to be both a catcher and a pitcher is because she knows what each pitch is supposed to look like. This helps her, or the pitcher, make in-game adjustments to improve every pitch.
If she pitches in the tournament, she could become only the second female to ever pitch a shutout. (Mo'ne Davis, who threw out a ceremonial first pitch to Ella, was the first to do it in 2014.) Ella hopes she provides a positive example for other young girls.
"It's really cool that I get to be an influence to other people that may want to try baseball," she said. "Don't worry about what other people think. Just do what you think is best!"
Photo credit: Stephanie Amador/Imagn Content Services (catching); Courtesy of Anna Laible (with Kid Reporter)