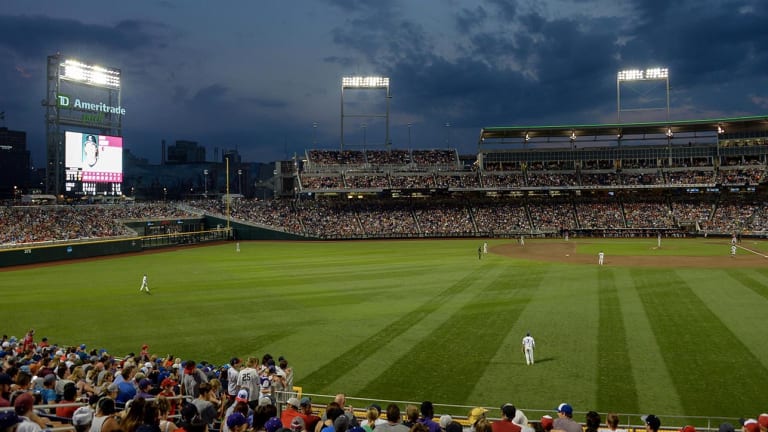 College Baseball Players Turn to Transfer Portal After Season Nixed, MLB Draft Shortened
Instead of swinging for the fences, some college baseball players are playing a game of musical chairs.
Amid the coronavirus pandemic, fewer players will be selected in this year's shortened MLB draft, while the NCAA is allowing athletes an extra year of eligibility and the ability to transfer one time without sitting out a season. Athletic departments around the country have been impacted by revenue losses, forcing Bowling Green and Furman University (Greenville, S.C.) to cut their baseball programs.
Bowling Green freshman Trent Farquhar and his teammates learned the news during a May 15 Zoom meeting with the Falcons' athletic director. The announcement left Farquhar feeling overwhelmed, disappointed and angry, and now he is focused on finding a different program to play for during his remaining four years of eligibility. He entered the transfer portal and has narrowed his options down to five schools after receiving offers from coaches.
However, Farquhar would consider staying on the team if a recent fundraiser started by Falcons baseball alumni to save the program is successful. He said donors have already given almost $1.2 million to the school, and the goal is to raise $3.5 million-$4 million to fund the program for four to five years.
Although Bowling Green alumni are working hard, Farquhar said there are over 900 baseball players in the transfer portal, so they cannot wait too long to find a school.
"It all depends on time for me," he says.
After spending four years playing for the University of Houston, two-way player Lael Lockhart Jr. expected to be drafted this summer. However, the MLB draft was reduced from 40 rounds to just five, meaning players like Lockhart have less of a chance to hear their names called. Only 160 athletes will be drafted this summer compared to the 1,217 players taken last year.
Lockhart still hopes to be drafted and is open to the possibility of being signed as an undrafted free agent, but he entered the transfer portal to take advantage of the NCAA rule allowing him to play as a graduate student.
The Texas native spoke with nearly 35 schools via emails, phone calls and direct messages before deciding to transfer to Arkansas. He liked that the Razorbacks had been contenders in the last two College World Series.
"Arkansas just happened to be the best fit, and it seemed like the school I could get the most out [of in] a single year of playing," he says, "and making a College World Series run and hopefully winning the whole thing."
While the transfer portal opens new doors for players like Farquhar and Lockhart, not all student athletes have the same options.
Penn's Christian Scafidi, the 2019 Ivy League Pitcher of the Year, graduated in May and hoped to either be drafted or signed as an undrafted free agent this summer. With the reduced draft, the 22-year-old decided another year of college ball with the Quakers was just what he needed. However, the Ivy League ruled that student athletes would not receive an extra year of eligibility, and the league would continue its policy of not allowing graduate students to participate in athletics.
"Everything lined up where it appeared that transferring [as] a fifth-year graduate [student] was going to be the best option for me academically and athletically," he says.
Scafidi entered the transfer portal and spent the next two weeks talking with coaches from 40 baseball programs. It was hard to narrow down the list to 10, then four and eventually, pick one. Notre Dame won him over with its traditions, academics and faith, so he accepted a partial scholarship to play as a graduate student.
Scafidi encourages athletes that remain in the portal to "be bold" and start contacting schools.
"Put yourself out there and see where you land because a lot of schools have needs for players," he says. "Reach for the stars, it's just an email away once you are in the portal."