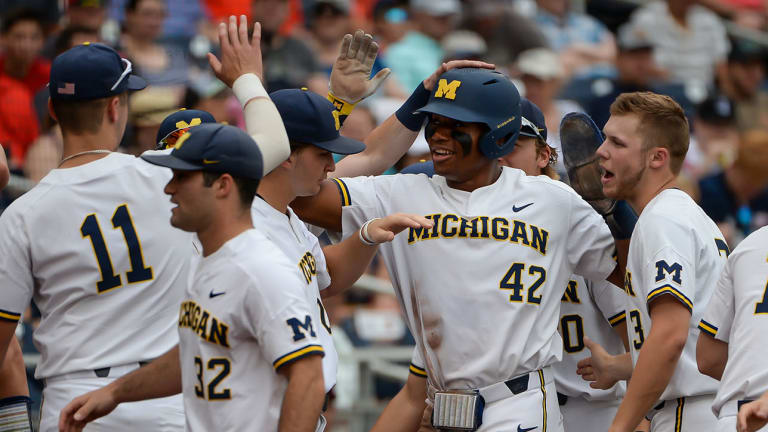 College Baseball Players' Futures in Limbo After Shortened Season, Changes to MLB Draft
There are a lot of unanswered questions in the minds of college baseball players across the country about the upcoming MLB draft.
After college and MLB games were canceled or postponed amid the coronavirus pandemic, changes to the draft are necessary to make up for the money lost from not having games. Now players are wondering when the draft will take place, how many rounds will there be and will it be held virtually?
All we know for certain is that the number of rounds will be decreased this year from 40 to as few as five.
There is hope for athletes who aren't included in this year's smaller draft. The NCAA is granting an extra year of eligibility to spring athletes whose seasons were cut short. Another year of college baseball means players might be able to improve their playing skills and then either be drafted or chosen in a higher draft round. However, with new students coming into the mix next year, there will be more athletes competing for spots in the 2021 MLB draft. So if a player is picked in the smaller draft pool, should they take it?
There are pros and cons to both situations–just ask highly-ranked Arkansas shortstop Casey Martin
"It's a tough decision," he said. "I haven't made a decision. I want to go to the MLB, but [with the extended eligibility] it's basically like this last year never happened and I'll be a junior all over again."
Although Martin is regarded as a potential top pick in the draft, another chance at a junior year might just be what he and other athletes whose seasons were cut short need. Martin was just getting warmed up when college ball ended. His season started in a slump when he hit only .182 with 14 strikeouts through the Razorbacks' first nine games. Coach Dave Van Horn decided to bench Martin for the next game.
"Sitting the Baylor game was the best thing to do to get a bit of perspective on the game," Martin said. "It's honestly what I needed."
Following that game, Martin's talent started to shine. When the Razorbacks faced Illinois State on March 3, Martin went 4-for-5 with a double, three RBIs and a stolen base. His batting average rose to .263.
During the next five games, the 21-year-old proved that he cured the mechanical issues in his swing. Martin finished the shortened season hitting .271 with five doubles and two home runs in 15 games.
About 860 miles away, Michigan outfielder Jordan Nwogu is also wondering about his own future in baseball.
Last year was an exciting season for Nwogu, who drove in three runs in a win over Texas Tech during the 2019 College World Series. Although the Wolverines lost the series in three games to Vanderbilt, Nwogu's season ended with a .321 batting average, 12 home runs and 46 RBIs.
This season was also starting out as a great junior year for Nwogu, who moved from designated hitter to playing center field. He hit .353 with a .456 slugging percentage, four RBIs and two home runs.
Nwogu is an MLB draft prospect, which is a dream come true for him. But the question is where on the list, especially since there will be fewer rounds this year.
"Everything is so uncertain," he said.
And for Nwogu, who is on an academic scholarship, school comes first. He sees having a college degree "in his back pocket" as an advantage in life.
The shortened season has not just been hard on players like Nwogu and Martin, but also on coaches who put so much energy into helping their players advance.
Penn State head coach Rob Cooper was excited about this year's team and their 10–5 start to the season. The Nittany Lions last played was on March 12 against Miami (Ohio.) Leading up to the game, Cooper suspected that the season might end early, and his feelings were confirmed when his athletic director called him about five minutes before the first pitch. Cooper decided to wait until after the game to tell his team. For some of his players, he was about to tell them that their baseball careers were over.
"I was hurting for them," he said. "We have kids on that team that that was their last game of baseball, and they didn't expect it to be."
Inside the clubhouse after the game, the coach said he "didn't beat around the bush." The players' reactions were a mix of shock, anger, and sadness. But mostly shock, he said, as players realized their future plans are in question.
"You are going to find a lot of players that would have signed professional contracts playing another year of college," he said.
In addition to the college players who will take a one-year extension, some top-ranked high school seniors will choose college when they normally would have gone straight to the minors. Although this is a stressful time for athletes and coaches, Cooper said these changes will be an advantage to college baseball because having highly ranked players stay in (or go to) college will increase the level of play across the country.
"You will definitely have a lot more talent in college baseball next year and the year after," he said.