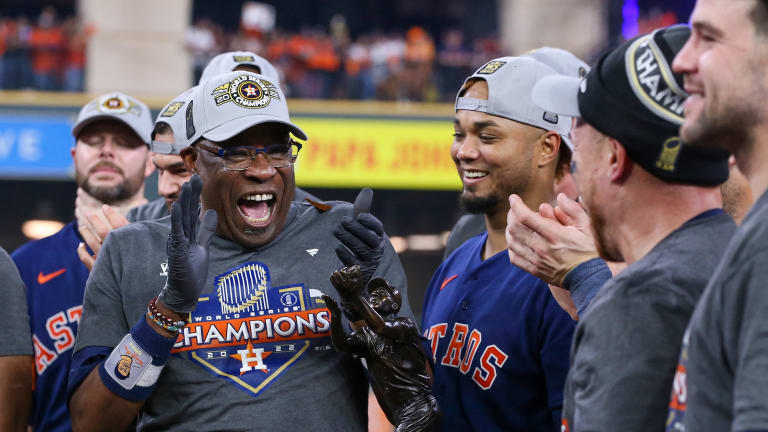 Astros Manager Dusty Baker Earns Elusive World Series Ring
Before last night, Dusty Baker had accomplished nearly everything a baseball lifer could dream of...except a championship as manager.
As an outfielder, he won a World Series Championship in 1981 with the Dodgers. He was a two-time MLB All Star (1981, 1982), two-time Silver Slugger Award winner (1980, 1981), Gold Glove recipient (1981), and NLCS MVP (1977).
He is the first manager to make the playoffs and win a division title with five different teams (Giants, Cubs, Reds, Nationals, and Astros). Baker became the first Black manager to eclipse 2,000 wins earlier this season. Only a ring remained elusive. Then Houston clinched the 2022 championship with a 4–1 win over the Phillies.
Throughout this entire postseason, a theme in the Astros clubhouse has been to do it for Dusty. He is respected not only by every player in his locker room, but by every baseball aficionado and industry professional.
"Dusty Baker is a legend in this game and he has been great to me since the first day we met," said Astros shortstop and World Series MVP Jeremy Peña. "He took me on at Spring Training and gave me great advice. He brings the best out of his players. He gives you all the confidence in the world and you can't expect more from a manager."
This year's World Series featured nearly everything in the first five games: a five-run comeback by Philadelphia (Game 1), a record five home runs in one game by the Phillies (Game 3), the 1,000th homer in postseason history from Alec Bohm (Game 3), the first ever combined no-hitter in World Series history by Houston (Game 4), and the first championship-round win for Justin Verlander (Game 5).
Not only is Dusty the oldest manager (age 73) in World Series history, but he was the winningest manager without a championship ring (2,093 total regular season wins) until last night. He has managed in three World Series throughout his two-and-a-half decade as a head coach (2002 San Francisco Giants, 2021 and 2022 Houston Astros).
Before the game, Baker talked about the keys to success in order for the Astros to finish the job in Houston last night: "Well it's in the hands of the pitcher. However your pitcher pitches, gives you a chance to win the game. There is going to be a lot of energy in our park. This has been a very good getaway day team. We probably lead the league in getaway days and we take pride in that."
Sure enough, the pitching was the difference maker. In the final three World Series games, all of the Astros' starting pitchers provided quality starts and limited the Phillies lineup to two runs in 17 innings. To add on to their already dominant starting rotation, the Astros had one of the most formidable bullpens in MLB history, with a 0.85 ERA this postseason, one of the lowest in history.
The wait is over: Dusty Baker is finally a World Series–champion manager!