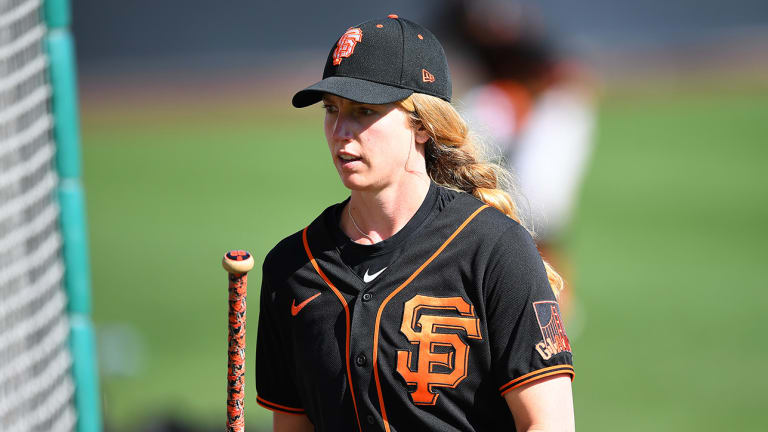 Alyssa Nakken Embraces Historic Coaching Role With Giants
When Alyssa Nakken fell in love with the Giants as a kid, she never envisioned she would grow up and work for the team.
Nakken made history this winter when San Francisco hired her as an assistant coach under manager Gabe Kapler, making her the first full-time female coach in MLB.
Nakken's journey with the franchise started in 2014 when she joined it as a baseball operations intern. She worked on projects related to the amateur draft and player development and learned how the front office works. Before accepting her role on Kapler's staff, she was responsible for developing and directing health and wellness initiatives for the Giants.
Nakken's primary responsibilities now include working with outfielders and baserunners, throwing batting practice and assisting the hitting staff in the batting cage. When spring training closed in mid-March due to the coronavirus pandemic, Nakken went home to Woodland, Calif., to spend time with her family. The downtime has allowed her to reflect on everything that's led to getting her dream job.
"I was just looking at some photos and eight years ago this month is when I was graduating from undergrad," she says. "I'm just thinking back to what if someone would have told me at graduation that you would be a major league coach, let alone a coach for the Giants, and the first female coach to do it? I would have thought you were crazy."
Growing up only one and a half hours away from San Francisco, Nakken attended her first Giants game when she was only three weeks old. Her love for baseball fueled her passion for softball, which she started playing at the T-ball level. After high school, Nakken played at Sacramento State as a first baseman. She was a three-year all-conference athlete and finished college with a .304 career batting average. During Nakken's senior year, she was named the Pacific Coast Softball Conference Scholar Athlete of the Year in 2012.
At Sacramento State, Nakken majored in psychology. She earned her Master's Degree in sports management from the University of San Francisco in 2015. She wanted to work for a baseball team but had no idea coaching at the major league level was an option.
"Now I kind of just laugh at myself because I'm like why do I have to see something to believe it? If I want to get somewhere, I just need to go there, even if no one has gone there before."
Nakken still awaits her major league coaching debut during the pandemic. She is thankful she's had extra time to spend with her family before the season starts and looks forward to a long career in baseball.
"I want to ensure that what I am doing for the rest of my life leaves me ultimately fulfilled at the end of every single day," she says. "I want to continue to be in baseball for as long as I can. I want to continue to be working alongside people that not only make me better professionally but as a human as well."