Baseball is America's national pastime. So naturally the country's presidents have had a close relationship to the game.

Abraham Lincoln had a baseball field, called the White Lot, built on the White House grounds. Chester A. Arthur was the first Chief Executive to welcome a professional team to the White House when the Cleveland Forest Cities from the National Association stopped by on April 13, 1883. And on June 6, 1892, Benjamin Harrison became the first sitting president to attend a Major League game.

But the closest relationship between America's presidents and its national game is the first pitch. William Howard Taft threw out the first presidential first pitch on April 14, 1910, in the first MLB game of the season, between the Washington Senators and Philadelphia Athletics. (Washington won, 3-0.) Taft was a huge baseball fan, attending 14 games during his four years in the White House. Legend has it he created the seventh-inning stretch when he stood up in the middle of the seventh inning during one of those games.

What's not in doubt, though, is that Taft created a first-pitch tradition that has been kept alive by every president who followed him.

Check out a slideshow of more than 100 years of presidential first pitches below, and pick up a few factoids about America's presidents' love of baseball along the way!


Presidential First Pitches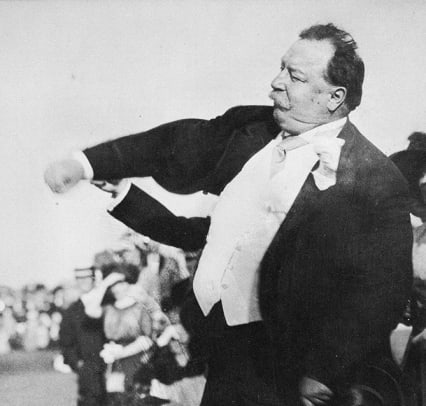 ​

Thanks to Baseball Almanac for all the great presidential baseball info!

Photo: Mark Kauffman for Sports Illustrated