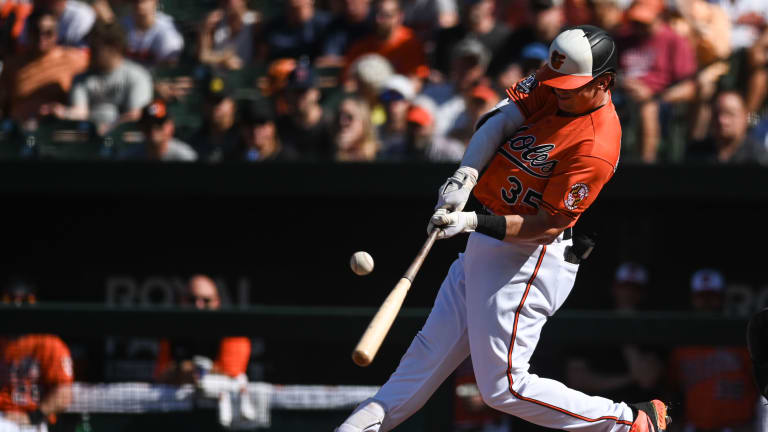 The Orioles Are This Season's Biggest Surprise
A hot-hitting rookie catcher and a revamped bullpen are the reasons Baltimore's future looks bright.
Coming into the 2022 season, many people across the league believed the Baltimore Orioles were the worst team in baseball, and for a good reason at the time. Their main concerns were that the team was very young and played in a very tough division. After starting the year a woeful 6–14, many Orioles fans thought their season was all but over—until it wasn't.
I would have questioned your baseball IQ if you told me in April that the Orioles would have a winning record in August. Not only has this team defied all odds, but they also have a very bright future. Making the playoffs this year with such low expectations means they are five steps ahead of where they should be with their rebuild.
Baltimore over the past five years has had three seasons where they lost more than 100 games. Thanks to their rebuilding status the Orioles have accumulated high draft picks. Catcher Adley Rutschman, the first overall pick in 2019, stands out.
Going into 2022, one of the few signs of optimism Oriole fans had for their team was Rutschman, who had played well in the minor leagues and seemed destined to be promoted to the majors. Even though the team wasn't doing well early in the year, they weren't as incompetent as expected, and the rookie would serve as a powerful spark.

As the former number one prospect in all of baseball, Rutschman has performed like one this season. Despite early struggles, he has come into his own over the last two months. Rutschman is currently batting .254, with an on-base percentage of .364, which is very solid. In addition, his WRC+ currently stands at 135, which is well above the league average of 100. When he was called up, the team was nine games below .500. Three months later, he has had a massive impact on the team as they sit seven games over .500.

Without the rookie sensation, Baltimore would be nowhere close to fighting for a playoff spot. Some of the best players in the league today didn't have the greatest rookie seasons, but Rutschman has been tearing it up. His presence in Baltimore's lineup is a big reason they are overachieving.
There were many reasons the Orioles were awful from 2018–21, and the bullpen was one of them. In the 2021 season, Baltimore's bullpen allowed a whopping 5.70 earned run average, which was the worst in all of baseball. The bullpen also ranked near the league's worst in many other stats. This year, however, it has been an entirely different story.
Baltimore's bullpen has massively overachieved in 2022 so far, due to many arms breaking out or bouncing back from a bad 2021. Righthander Dillon Tate has posted a 2.70 earned run average this year, a year after posting one of 4.39. That's massive progress.

Shortly after the O's traded Jorge Lopez to the Twins, Félix Bautista took over as the team's new closer. On the year, he holds an earned run average of 1.58.
But in this bullpen, it hasn't been just Bautista and Tate. Other relievers such as Cionel Perez and Joseph Krehbel have also been major contributors.
Not only have there been several breakouts in the bullpen, there has also been tons of turnover from 2021. It is very impressive how quickly the new relievers have become acclimated.
Whether or not they make the playoffs, this Orioles team has been incredible. With the calendar not even turning to September, Baltimore has nearly 70 wins, which would be their most since the 2017 season.

Additionally, Baltimore's future looks very bright. Rookie Gunnar Henderson homered in his first game after being called up in late August, and then hit two doubles in his first home game. And another highly touted prospect, Grayson Rodriguez, is most likely making his big league debut in 2023.
Orioles fans, the future is bright.