Wednesday Afterschool Special: Gold Standard
Phelps and Ledecky are the gold standard
U.S. swimmers Michael Phelps and Katie Ledecky added three more golds to Team USA's medal haul last night, which is now at 27. Ledecky surged during the final 25 meters of the 200m freestyle to win her third gold medal and inch closer to completing the "Ledecky Slam," or winning gold in all four freestyle races. Here's how her dominance makes everyone else feel:
Speaking of Phelps, he won two more gold medals last night, making that 21 for his career. One of them came from the 4x200m freestyle relay, while he won the other in his first race, the 200m butterfly. He won by 4/100ths of a second, the smallest margin of victory ever for the event. Phelps defeated South African arch nemesis Chad le Clos, who did not medal, and then turned to le Clos to remind him who's boss. Here's what happened:
After his big night, Phelps celebrated with USA Basketball star Kevin Durant...and Klay Thompson?
Simone Biles leads U.S. gymnastics team to gold
The U.S. women's gymnastics team won gold in the team final yesterday after Simone Biles crushed all of her events, Aly Raisman stuck every landing on her floor routine, and Madison Kocian led the way on the uneven bars. The team, which also includes Gabby Douglas and Laurie Hernandez, is now being called the Final Five. Here are the highlights:
Best Photos from Day 4 in Rio
Best Photos from the 2016 Rio Olympics | Aug. 9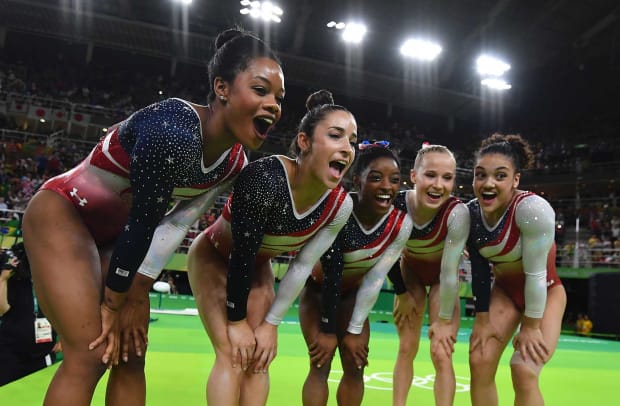 Apparently Tebow isn't the only athlete switching sports
Aaron Donald tries table tennis
Jose Bautista tries gymnastics
Erick Aybar tries football
Today's Peanuts

Photo: Tom Pennington/Getty Images