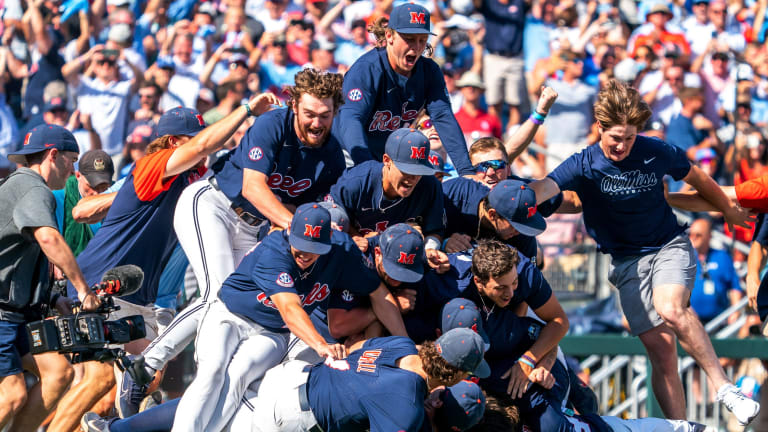 Ole Miss Overcomes Early Season Struggles to Win School's First College World Series
The winner of the 2022 Men's College World Series is a team from Mississippi—again. Only this time the title has moved from Starkville to Oxford.
Ole Miss won its first-ever national title Sunday in their sixth appearance in Omaha. They did it by beating the Oklahoma Sooners twice in the best-of-three Finals, first with a 10-3 win on Saturday and then by a score of 4-2 on Sunday.
In-state rival Mississippi State University winning last year provided plenty of motivation.
"That was kind of the big thing they had on us all year is that they told us we didn't have a national championship," said sophomore Jack Dougherty, who started Game 1 of the finals. "So it feels good to prove them wrong."
So what did head coach Mike Bianco say when I asked him if being named national champions will fuel their rivalry with the Bulldogs?
"I'm sure our fan base will be very proud," he said with a smile. "I'll leave it at that."
When Ole Miss won the Super Regional, Bianco got congratulatory texts from both Chris Lemonis and Jake Gautreau, the head coach and hitting coach at Mississippi State, respectively.
"And my response back to both of them was: Thanks so much, I really appreciate it, and we're hoping to keep the trophy in Mississippi," Bianco said.
This is Bianco's 22nd season coaching for Ole Miss and says this team had a lot of support. Bianco estimated that 20,000 of the 25,000 fans in attendance at the final game were there for Ole Miss.
"This group of young men, I think people have fallen in love with them, their story and where they come from," he said. "They had a lot of people rooting for them, and not just Ole Miss fans. I've gotten so many texts over the last couple weeks from a lot of our rivals, a lot of the people that we compete against every single day that says they're pulling for us, that they've fallen in love with this story and these guys."
The players haven't had an easy season—and that is part of why many were rooting for them. They spent a week ranked No. 1 before hitting a slump. Then they lost series to Alabama, South Carolina, and Mississippi State in three consecutive weeks.
"I think they've showed a lot of people that you can fall down, you can stumble, and you can fail, but that doesn't mean you're a failure," Bianco said.
Team captain Tim Elko remembers the slump well. At one point, Ole Miss was 7-14 in SEC play, and 22-17 overall. After a loss to Mississippi State earlier this season, the first baseman called his sister for support. Elko was doubting his decision to return to the Rebels for a fifth year. His sister encouraged him to pray.
"I remember hanging up the phone, and I was praying out loud, talking to God, and just asking him, 'What's going on here? Why did I come back here? This isn't going how I thought it was going to go,'" he said.
Elko said he heard the word "believe" from God. So he got to work getting his teammates to believe in themselves and the team.
"We just had to keep believing, man, and we kept believing and fighting," he said.
One of those who benefited from Elko's belief was pitcher Dylan DeLucia. The junior transferred to Ole Miss this year. DeLucia went from not being part of the Rebels' starting rotation at the beginning of the season to being named MCWS's Most Outstanding Player.
"I've grown up so much just in that aspect of being a teammate, being a better teammate, just looking up to Tim (Elko) really," DeLucia said. "He's like a mentor to me, the way he's just picked me up, kept me going, put my head on straight."
DeLucia didn't pitch in the finals, but he made a difference in the preceding games in Omaha where he pitched 16 and 2/3 innings. He struck out 17 batters, allowed only one earned run, and had no walks.
Now, thanks to the recharge, the 2022 Rebels are going down in their school's history book as their first national champs in baseball. Ole Miss went 10-1 in the national tournament, only losing 3-2 to Arkansas on Wednesday.
"This story of our season is going to be told for years and years and years to come," Elko said. "This is the best Ole Miss baseball team in history, and it feels so good, and it's an honor to be a part of it."
Photo credit: Dylan Widger/USA TODAY Sports