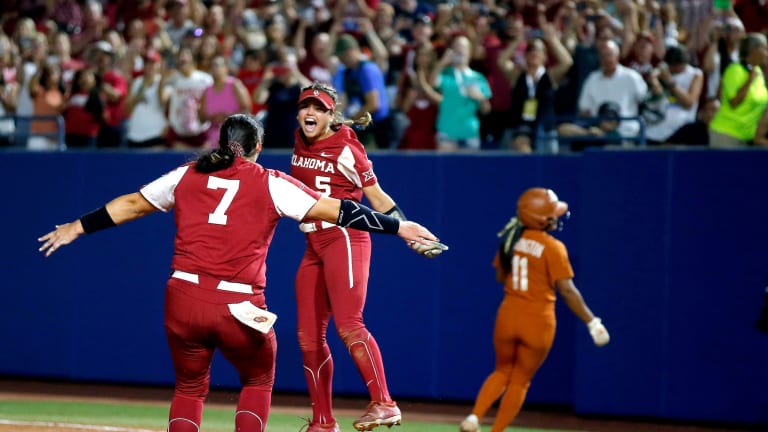 Oklahoma Tops Best Women's College World Series Yet
The 40th anniversary of the Women's College World Series in Oklahoma City lived up to the hype. From record-breaking crowds to a record-breaking number of unseeded teams, this year's WCWS had everything. For the second consecutive season, No. 1 seed Oklahoma dominated the field, winning its 6th National Championship after defeating Texas in back to back games (16-1, 10-5).
To see the growth of the game in the past four decades is incredible. From the number of fans increasing to the media coverage expanding to the parity growing—this sport brings all of the excitement any sports fan can dream of! Going from playing in front of family and friends to playing in front of over 12,000 fans, the WCWS epitomizes the growth of NCAA women's sports.
The parity of the game was seen throughout the entirety of the NCAA Tournament, as ranked teams were upset weekend after weekend. The best part of the tournament was the unpredictability as any team could win any given day.
This is what every young girl who plays softball dreams of: playing in front of over 10,000 fans for their school on the biggest stage in their sport. Not only was it a special two weeks in OKC to celebrate 40 years, but it also featured a record-breaking number of unseeded teams: Texas, Arizona, and Oregon State. Also, it was the first time in 15 years that the field did not feature multiple SEC teams. Along with the unseeded programs, five ranked teams—No. 1 Oklahoma, No. 5 UCLA, No. 7 Oklahoma St, No. 9 Northwestern, and No. 14 Florida—completed the field.
Another surprise was that the two teams in the National Championship Series were from the Big 12.
This year's most surprising WCWS team was Texas. The unranked Longhorns had a little chip on their shoulder since the start of the tournament, feeling like they should have earned a top-16 seed. Weekend after weekend, they upset ranked team after ranked team, including Washington and Arkansas, to make it to OKC. Then, they beat No. 7 Oklahoma State in back-to-back games to reach their first Championship Series, becoming the first unranked team to do so in tournament history.
They set a new World Series record for double plays turned, notching their eighth one in Game 2 of the Championship Series Thursday night. Janae Jefferson, the greatest hitter to wear the Texas uniform, was the catalyst for their improbable run, finishing her career at Texas first all-time in hits (362), batting average (.425), and runs (222).
"I think the best part was our senior class," Jefferson said. "I feel like as a group we all led well. I feel like as a senior class we were all strong. I feel like if our bond was strong together, it spread throughout the whole team. Just ending my career here is the best feeling in the world."
While this season demonstrated parity, it was no surprise that the Oklahoma Sooners once again took home the title. This decade-long stretch of dominance makes them one of the greatest dynasties in sports history. The top four hitters in the Sooners' lineup boasted All-American honors. And they had a remarkable record, with over 40 run-rule wins and only 3 losses. Freshman pitching star Jordy Ball became just the eighth freshman to win a Championship Series Final. The Sooners dominated Game 2 on every end, robbing extra base hits left and right and hitting the ball in the gaps.
The Sooners' countless records in OK included most home runs in a single game (6), most home runs in a single WCWS (17), tied for most runs in a game (16), tied for largest margin of victory (+15), and a new WCWS record for total runs scored (64).
Jocelyn Alo, the back-to-back National Player of the Year, helped lead the team to victory again this year. Not only is Alo the first player to bat .500 and hit 30+ home runs in a season, but also the only player in history to have three seasons with 30+ home runs.
Alo earned Most Outstanding Player in her final Women's College World Series. She couldn't have finished her collegiate career on a higher note, leaving the program as the GOAT and all-time NCAA home run leader with 122.
Fittingly, the first two outs in the seventh inning came right to her in left field. Alo was honored when she was taken out with one final out to go with cheers from the crowd.
"I just enjoyed my time with these girls, and I'm sad that it is ending, but I'm going to just enjoy it," Alo said. "These are the moments that I'll remember forever. I'm just happy to be going out on top and to just know that all the hard work we put in paid off. I couldn't have scripted a moment any better for me to just exit out of the field."
How appropriate that in a few weeks Title IX will celebrate its 50th anniversary. These milestones for the WCWS and Title IX show the immense progress women's collegiate sports and coverage has made, and signal an awesome future for the next generation of female athletes trying to be like Janae Jefferson and Jocelyn Alo.
Photo credit: SARAH PHIPPS/THE OKLAHOMAN/USA TODAY NETWORK