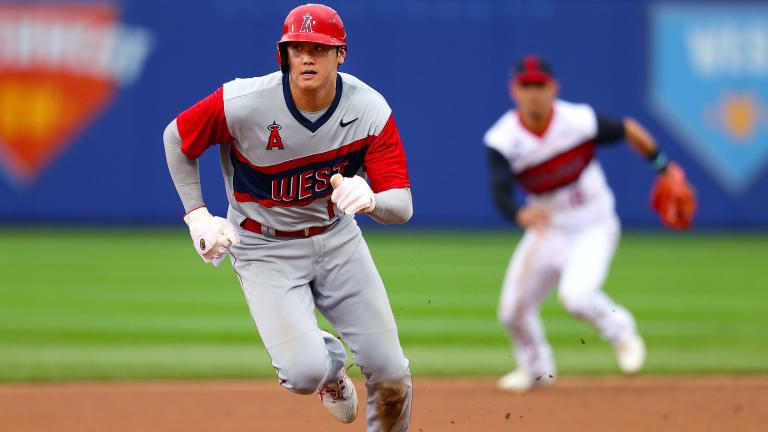 Meeting Trout and Ohtani at the 2021 MLB Little League Classic
After a year off, the MLB Little League Classic was back—albeit with some changes. There may not have been many fans, with just around 2,000 in the stands, but the kids had a great time hanging out with MLB players like Mike Trout, Shohei Ohtani, Triston Mckenzie, and José Ramírez. Williamsport baseball was back in action and everyone could not be happier!
Sunday afternoon started with on-and-off thunderstorms for a few hours, resulting in two afternoon LLWS games being postponed. However, the MLB players were still able to hang out with the Little Leaguers in the LLWS dugouts, play wiffle ball games, and slide down the hill at the Little League complex.
Thankfully, the rain stopped three hours before the start of the Angels-Indians game. This was a highly anticipated event because the best player in the world and MVP-frontrunner, Shohei Ohtani was hitting leadoff. For a writer and reporter like myself, it's not very often that an opportunity arises when you can interview two of the top players in the game—Mike Trout and Ohtani—in one evening.
Just to put the magnitude of how great Ohtani is into perspective, Triston McKenzie, one of the starting pitchers for the Indians, asked Ohtani for a picture the day after he had struck him out multiple times.
"One of the first things that I did was actually get a picture with him because I am a huge fan. It's fun to face guys of that caliber and superstars like Shohei Ohtani," McKenzie said.
The smiles, pictures, and laughs were traded throughout the day by all of the baseball players in Williamsport, young and old. Sunday midafternoon got off to a great start with Mike Trout headlining the press conferences. A nine-time All-Star, Trout is as talented of a player as anyone will ever see. While he hasn't been able to play the last few months due to a calf injury, Trout came to Williamsport to inspire the kids and to support his teammates.
"The best part about it was just seeing the kids' reactions and interactions in the dugout and just around the whole complex," Trout said. "You know looking back, if I were one of those kids seeing a Major League Baseball player, I would be ecstatic too."
Now Trout is a father to Beckham, his one-year-old little boy. He is excited to watch and see what sports his little son gets into: "I just like to let him do his thing. There is something new almost every day. He likes basketball right now, so I have a little basketball player. He loves baseball as well and it's just like everyday, he is growing more."
I have only heard about Mike Trout's positivity, and it was evident to me when he was so kind when talking to me and the rest of the media. It was such a pleasure to talk with him (even though I was so nervous), and I look forward to interviewing him again one day! Once the press-conference was over, he turned back to me, and said, "You asked some great questions." Those words will stick with me forever.
Shortly after all of the press conferences were over, I was able to enjoy being on the MLB field and talking with many professional broadcasters, writers, and players. After Ohtani finished his pre-game routine, Angels' first base coach Bruce Hines helped me get Ohtani and his translator's attention. It was an incredible experience getting to talk with one of the game's top athletes.
Ohtani graciously gave me a rare interview for SI Kids. Fellow reporters from Japan surrounded me as I asked Ohtani about how he thinks his two-way stardom could impact the next generation of players.
"It's a good thing. If I can set a good precedent, then maybe those kids will have another way as two-way players," said Ohtani.
It was evident the entire night how popular Ohtani is. The Little Leaguers couldn't take enough pictures, and the cheering in the stadium was definitely the loudest every time he came up to bat. His two-way presence in the MLB is truly a game-changer for baseball since Babe Ruth last did it a century ago!
While this year's event in Williamsport was different then it has been in the past with each team limited to 250 fans and no other spectators allowed, it was great to have more Little Leaguers from all over the country get a chance play (since international teams weren't allowed due to COVID precautions). In 2022, the LLWS will hopefully be back with international teams, as it is expanding from 16 to 20 teams, 10 U.S. and 10 international.
The MLB Little League Classic is always a special day on the baseball calendar for players, even reporters like me! Talking with one All-Star would be amazing, but two—let alone in one day—was an experience that I can't put into words! This is a day that I will never forget: when I was able to interview Trout and Ohtani, two likely future Hall of Famers!
Main photo credit: Patrick Smith/Getty Images