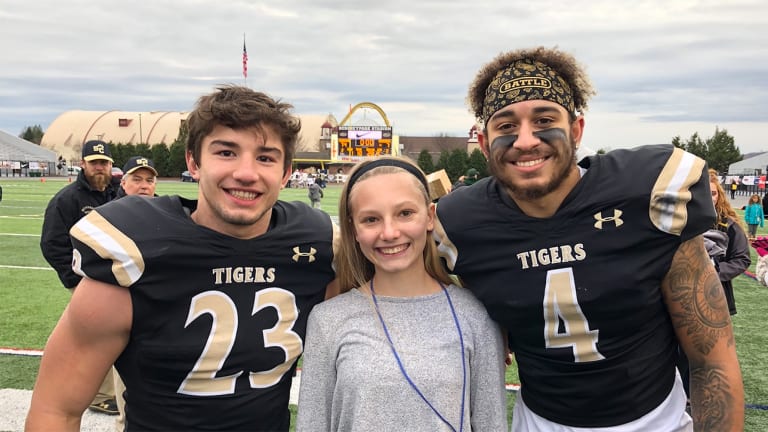 How Southern Columbia Became a Dominant High School Program
Domination for 48 games in a row. Southern Columbia went on to win its third consecutive State Title as a class 2A high school football team by a score of 74-7! With the win last Friday, the Tigers head coach Jim Roth is now tied for second most wins EVER in the state of Pennsylvania with 444!
Southern Columbia (Tigers), the most dominant class 2A high school football team to ever exist, played Avonworth (Antelopes) in the 2019 State Championship Game. The Tigers have won 81 consecutive regular season games and 48 consecutive games (regular and playoffs). They last lost a regular season game in 2004 when the current seniors were in 4th grade.
Southern Columbia's head coach reflects on his season and more. "They had a great game today. They have had a great season. It's probably been the most dominant team that we have had. This was our 10th title today. We have had some really great football teams, but this one is the most dominant. As far as my wins, I don't really worry about it too much. I take one year at a time, and we try to get our kids to play at a high level every year. It's a very special senior class, there are five kids in this senior class that are going on to play Division 1 football. It's a really unique group to have that many in a small school like ours. It was a tremendous year and a real dominating year by this group and especially by this senior class."
Here's a brief rundown of some of the big plays that happened early in the State game:
On the opening drive for Avonworth, they score a 43 yard touchdown on a pass to junior #16, Trevor Faulkner. Southern Columbian's Gavin Garcia received and returned the ball after a 76 yard run, but it was not counted as a touchdown because of a penalty. SC rebounded back, scoring a TD on the same drive from a 12 yard catch by #4, Julian Fleming, a senior committed to Ohio State. 7-7. The score was tied.
Following the next drive in the first quarter, a fumble was recovered by Southern Columbia. It only took the Tigers one more play to score a TD by a future Michigan player, Gaige Garcia. #23 Gaige Garcia has the most touchdowns in Pennsylvania high school history with 158 touchdowns! However, he scores again on a 32 yard receiving TD for 159! Southern Columbian Cal Haladay #28, a Michigan State recruit, scored on a 39 yard interception to lengthen the lead to 27-7. Back-to-back interceptions for Southern Columbia. End of the first quarter- 34:7 Tigers.
With an opening interception for SC, they are now crushing this game 41-7. SC has yet another interception and later scores a TD on the same drive! The halftime score is 55-7.
Fast forward to late in the 4th quarter. SC honored their starters by replacing them. The fans give a standing ovation. With Southern Columbia scoring throughout the 3rd and 4th quarters, they went on to win 74-7.
As some of the senior recruits reflected on their playing time with Southern Columbia, a linebacker has his own thoughts.
Cal Haladay, a Michigan State committed player, talks about his highlights from playing in high school. "I have to say just being with the guys and then winning these three state titles. That has just made this career perfect."
A fellow teammate and future Ohio State Buckeye, Julian Fleming explains how he is going to prepare for college. "It's going to be a lot different. It is a whole different animal in college football. If you don't produce, you get benched and it's that simple. A little different than high school. The workload is going to start getting heavy, but everybody has got to be prepared and we got to get ready for it."
Not only is SC a great football team, they have surpassed many records throughout their reign as Champs! Here is a brief list of their accomplishments:
27th District 4 title (State record)
20th trip to PIAA Eastern final this year (State record)
In 18 State appearances, they are 10-8 (State record)
The Tigers scored 894 points this season (a new record set with the win over the Antelopes)
In the 35 years as head coach, Jim Roth has a record of 444-63-2
Even though Southern Columbia remains the greatest 2A team in Pennsylvania history, Avonworth deserves credit for their seniors also. One of their players, Josh Elm, has offers from Clarian and Valparaiso to play football in college. He reflects on his favorite parts from playing on Avonworth. "The people and the relationships you form all four years. Becoming stronger and closer throughout it really is what drives you and makes you want to compete in the sport. You want to win for everyone around you and not just yourself."
A fun fact is that the group of seniors have a record of 63-1! That's unbelievable and basically impossible to achieve that level of dominance for so many consecutive years. Also, the Tigers have 5 seniors committed to Division 1 schools, which is almost unheard of because they are on the 5th smallest high school level division.
To sum up Southern Columbia's class of seniors, Ohio State Buckeye recruit, Julian Fleming, explains how he is going to prepare for college. "It's going to be a lot different. It is a whole different animal in college football. If you don't produce, you get benched and it's that simple. A little different than high school. The workload is going to start getting heavy, but everybody has got to be prepared and we have to get ready for it."