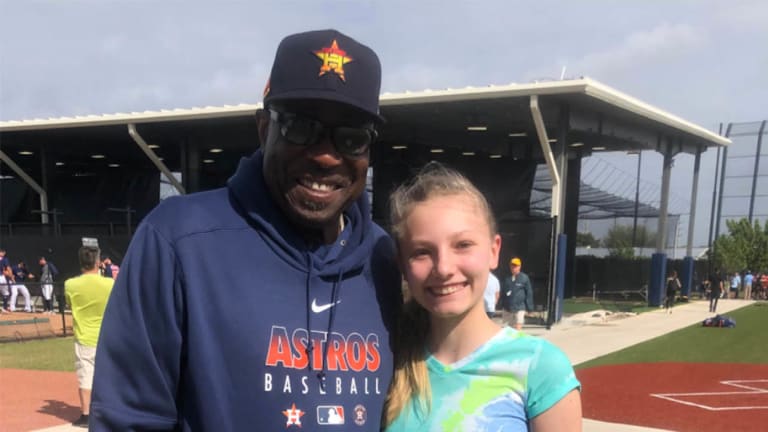 Dusty Baker Still Chasing World Series Title in Managerial Return
Editor's Note: This interview was conducted in March shortly before MLB's coronavirus-induced hiatus. It has been edited lightly for content.
Grit, determination and glory. These three words describe Astros manager Dusty Baker throughout his career as both a player and skipper in the major leagues. He won the 1981 World Series with the Dodgers during his 19-year playing career but hasn't captured the title yet as a manager. In his first season with Houston, Baker's still chasing a championship and a shot at joining the 2,000 win club.
Why did you decide to come back to managing after being in retirement for two years?
I didn't really retire–I was fired by the Nationals. I wasn't really fired, but my contract wasn't renewed. I never announced my retirement because I wasn't really retired. I didn't know that this job was going to come up. It was the last thing on my mind. God presented this opportunity to me. We have a good team [and] we have a chance to win a championship. I have an option on my contract for a second year. I need 137 more victories to get to 2000. I talked to my wife and son and they said, 'Dad, you will never get a better opportunity than this.' If you weigh all the factors and start to compare things, this is a perfect situation for me. There is a lot of turmoil in it and stuff but this is why I think the Lord prepared me in my past in order to deal with this–to help the team, to help the players, to help the city and also to help baseball get past this.
How are you planning on leading your team knowing what transpired over the offseason when you were not the manager? [MLB released a report in early January detailing how the Astros used a trash-can banging scheme to steal opponents' signs in 2017. Houston hired Baker later that month.]
I have read a lot on it and talked to some players and have seen the pain that they feel. You can see the heartache and the remorse that they feel. I am big on feelings. I can tell feelings. I can tell sorrow and happiness, and we all can [move on] if we are more aware of others than we are of ourselves. I am just hoping that I can help these men and help baseball.
Did you want to come back to try and win your elusive World Series trophy since you are the winningest manager yet to win the title?
I came back to win two. I didn't come back to win one. I always said that if I win one, then I will win two. That's just how I feel. Plus, I wasn't done. You know when you are done. Maybe I wasn't supposed to be in the game because [in] the years that I was out, I had some real important stuff to do. My daughter got married one year I was out. Then my dad passed one year when I was out, and my brother passed last March. I got to see my son's graduation one year I was out. I got to see him play his last two years at California. I got to go [fishing in] Canada, Montana and Alaska, so I got to do some things that I had always dreamed of going [to do] but I was working every spring and summer. Everything is for a reason. Sometimes you search for the reason and you never know the reason until the end.
What are some of the mottos that you try to instill in your players to help them keep a winning mindset?
I don't think I have to instill a whole lot in these guys because they were winners before I even got here and they genuinely love each other. I asked Bill Russell because I didn't like the Celtics as a kid. I liked the Lakers, but [the Celtics] were always beating the Lakers. I said, "Man, how did you guys do it?" I thought he was going to say because we read different players, but he said "No, we loved each other." That was about as simple as you can put it. I see that same love in these guys and there is love in their town.
Do you enjoy being a manager or a player more?
Nothing surpasses playing. There are degrees of [it], but I loved playing because I could have more of an effect on the game. As a manager, I can have an effect, but my effect depends on how the players perform. Then, I'm judged on how they perform whereas a player is judged on how you perform to help a team win. There are different gratifications on both sides, but you can manage a lot longer than you can play.
How does coaching in the American League differ from when you coached the Giants, Cubs, Reds, and Nationals in the National League? [MLB added the universal DH in June as part of its rule changes for the shortened 2020 season.]
It is going to be a little different with having the designated hitter every day. The real challenge is knowing the opposition because I don't really know everyone in the American League. I didn't really pay attention to the AL that much the last couple of years. For years, I knew all the tendencies of the National League managers–who would squeeze, how they were using their bullpen. Now, I am depending a lot on [pitching coach] Brent Strom to know when to bring my pitchers in against certain hitters. Especially in the beginning, I'm relying on our staff and the sabermetrics department.
How did it feel to break through as only the second Black manager of a World Series team?
It felt great, but it would feel better the next time and the time after that. You can tell I have big goals. I don't think about what is in the past; I think about what is in the present and what we might do in the future.