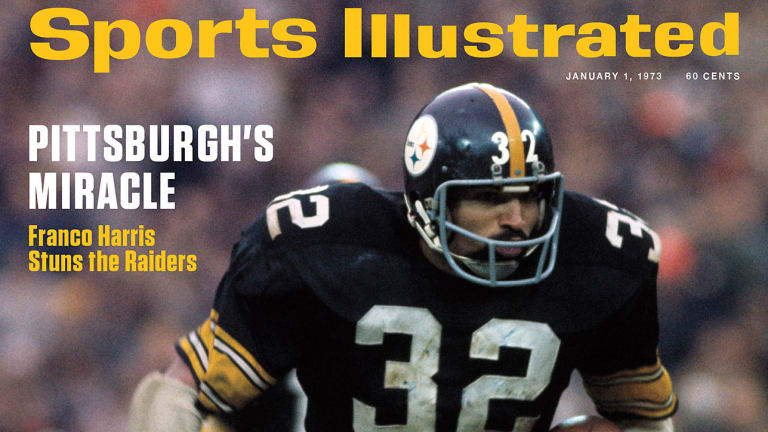 Covering the issue that never was: the Immaculate Reception
Sports Illustrated has never published an issue dated Jan. 1, which means the magazine missed a chance to put one of the most famous plays in sports history on the cover.
For more than six decades, Sports Illustrated has published millions of words in thousands of issues on hundreds of different sports (and a whole lot of words on things that aren't really sports at all). It has published issues that have changed people's lives and ignited national discussions on important issues. There is at least one thing we have never done: published an issue dated Jan. 1. So we thought we should do something about it.
Like virtually all weekly magazines, SI's issue date refers not to the day the issue closes but to the day one week afterward. Hence, while the date Aug. 16, 1954 might be the most significant one in SI's history—our July 4, so to speak—our first issue, famously featuring Milwaukee Braves slugger Eddie Mathews, actually closed on Aug. 9, and the same pattern has held for each of our 3,201 weekly editions.
SI has had an issue with every other date on the calendar, even Feb. 29 (1960, 1988, 2016), and because New Year's Day is exactly one week after Christmas Day, saying that the magazine has never published a Jan. 1 issue is just another way of saying we have never closed an issue on Dec. 25. There have been three issues dated Dec. 31 (1990, 2007, 2012) which would have closed on Christmas Eve, and four dated Jan. 2 (1956, 1967, 1978, 1999), which would have closed the day after Christmas.
When Wade won: Remembering SI's most controversial Sportsperson of the Year pick
Monday has always been SI's close date, and Jan. 1 has fallen on a Monday eight times in SI's 62-year history: 1962, '68, '73, '79, '90, '96, 2001 and '07. Fortunately, we have not been burned too badly by missing out on too many events that would have been natural cover choices.
Except one.
On Dec. 23, 1972, the Steelers beat the Raiders 13-7 in an AFC Divisional Playoff game at Pittsburgh's Three Rivers Stadium. It was the Steelers' first playoff game in 25 years, as Pittsburgh kicked off a run of greatness in that decade that would eventually culminate in four Super Bowl titles in six seasons. That particular game, however, would surely have been forgotten if not for the way it ended: with Steelers running back Franco Harris catching a fourth down pass from Terry Bradshaw that had ricocheted off of either teammate Frenchy Fuqua or Raiders defensive back Jack Tatum, and running 42 yards for a game-winning touchdown on the final play.
SI's 100 Greatest Moments in Sports History
It was almost immediately dubbed The Immaculate Reception, and it has gone down as one of the greatest plays in NFL history. It would have been a natural choice for the cover of SI's next issue, if not for the fact that SI was taking its only dark week of the year.
Pittsburgh did make the front of the next issue of SI, but that didn't come until Jan. 8, when it was a mere background fodder to a cover devoted to Mercury Morris and the Dolphins, who beat the Steelers 21-17 to advance to Super Bowl VII, where Miami would beat Washington to cap the first and still only perfect season in NFL history.
In his story in that Jan. 8 issue, SI writer Ron Reid made only a passing mention to that Immaculate Reception and its impact, briefly describing the play and then writing, "the Dolphins could have been excused for wondering if all the angels in heaven were perched on Steeler shoulder pads."
SI came back to the Immaculate Reception before the start of the next season in an Aug. 20, 1973 story by Myron Cope, the noted Steelers broadcaster who called the play on local radio but was by then familiar to SI's readers for his artful bonus stories on figures like Roberto Clemente and Howard Cosell. It wasn't until 40 years after the game was played that SI would revisit the play again in exhaustive detail. In 2012, Roy Blount Jr.—who had become a well-know writer and humorist but who had gotten his big break as an SI writer in the early 1970s and wrote his first book about the 1973 Steelers, About Three Bricks Shy Of A Load—wrote about the game in a Dec. 10 bonus piece.
That story once again missed landing on the cover—some guy named LeBron got that one for being Sportsman of the Year—so we decided it was time to give Harris his due. SI senior editor Ted Keith discovered the absence of a Jan. 1 issue while researching options for the SI Cover On This Date (#SICoverOTD) feature on the SI Vault's Twitter account. He then found one of the few color pictures from that game, taken, fortuitously, of Harris by legendary SI photographer Neil Leifer.
Ed Truscio, a stalwart member of SI's art department for almost 35 years, then mocked up the cover using the style of SI at the time: the same font types but no pun-worthy headlines, no teases for other stories in the issue and no author byline (we'll presume that Reid, who had written a feature on Harris in December of 1972 and covered the AFC playoffs, would have gotten the assignment). Another aspect that often marked SI covers of even historic games back then, in part because of the limited color photo options, were pictures that nodded to the particular play in question without being of that actual play. The result is the image you see here for The Issue That Never Was.
One more thing: New Year's Day 2018 falls on, yes, a Monday. And yes, SI's Jan. 1 streak will remain intact.