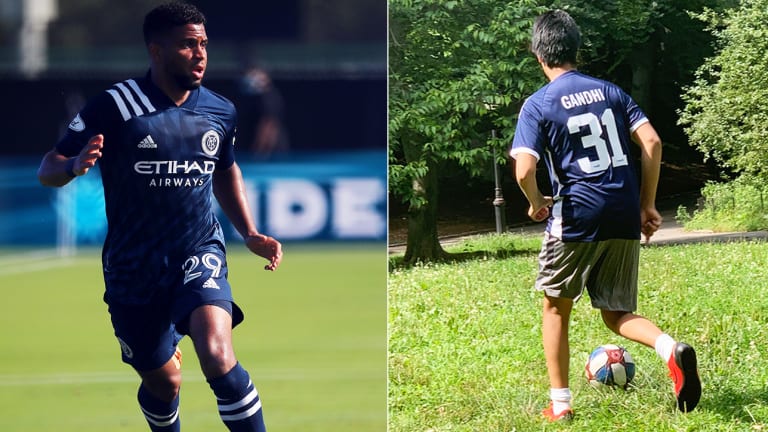 Youth Soccer Players Get Pro Athlete Experience With Quarantine Training
During the coronavirus pandemic, what youth coaches and trainers are doing around the country to help their players stay motivated and fit is similar to what the pros are doing.
With the country still partially on lockdown, we're all craving sports. Hopefully soon we will have more breaking news, blockbuster trades or crazy SportsCenter Top 10 montages. Recently, some professional sports have restarted, with others expected to resume in the coming weeks or months, but many youth sports have yet to return. Over the past few months, youth athletes have been confined to their homes to practice and work out, an essential task that does get a bit boring as our quarantine continues. Lately, the sports we play—for me, soccer—have become repetitive activities and tedious exercises with limited competition.
The good news is we are not alone with our individual practices. Professional athletes from a number of sports have been forced to participate in similar workouts to stay in shape since the sports world shut down in mid-March.
In terms of soccer, the things youth coaches and trainers are doing around the country to help players stay motivated and fit are similar to what the pros are doing to keep focused and game-ready for whenever games resume.

As a player for Soccer Stars United (SSU) in New York City, I experience firsthand what we, as a club, do on a weekly basis to keep us sharp, both physically and mentally. In SSU, we have three days of virtual training a week, with physical workouts and tactical sessions being dispersed throughout the week.
We do things like film study, high intensity interval training classes, full body workouts and other soccer-related activities. Because remote coaching isn't something they had experience with before COVID-19, youth coaches from across the country are talking with one another about their approaches to running practices during the pandemic.

"We as coaches reached out to a lot of directors and other coaches from across the country and reached out to each other online, we got Facebook groups, Twitter groups and started sharing lesson plans," said Patrick Greene, Girls Director of Coaching for Manhattan Soccer Club (MSC). "So, there was a really incredible way of sharing across the country, and the globe."
Patrick Colgan, the Director of Coaching for SSU, also said he was working with other clubs from New York and around the world (including, for example, Germany) to take "existing training plans and collaborating with other coaches" to come up with new training plans for his players. You would think that other clubs would be reluctant to help the teams they'll be competing against when they take the field again, but in dealing with an unprecedented situation, they have rallied together for the good of the game and the athletes.
So how does what we, as kids, do compare to what the pros are doing? I spoke to Jake Roswell, who is the performance coach for MLS's New York City FC (NYCFC) first team, about what he has been asking his players to do during the lockdown. He told me that what they—and other teams in the MLS and around the world—are doing is very similar to what kids are doing: online sessions via Zoom, with meetings focused on strength training, stretching and stamina.
For example, although the NYCFC players were sent dumbbells for strength classes, elastic bands for stretching sessions and other equipment, they still held low impact classes just like SSU and MSC. In addition to strength training, they also held weekly stretching sessions and players had an opportunity to choose an "elective" class. "We also gave [the players] the option to either do a yoga class or a kickboxing class once a week," Roswell said.
Both pro and youth clubs also conducted one-on-one sessions for players with their coaches. It's a tough time, so NYCFC allowed for players to request a meeting just to talk with their coaches. SSU and MSC also had scheduled one-on-one conversations with their athletes.
At the professional level, there were also one-on-one sessions for position groups with their specific coaches, as well as individually tailored workouts for players. A midfielder would have a different workout routine than a center back. These position-oriented workouts would take place on days the players didn't meet as a group. Players were responsible for following the instructions and training on their own, Roswell said.
One major difference between the two online sessions was NYCFC did not train with a ball throughout the entirety of the online sessions. Unlike us kids, they did not hold any technical training events.
So, what is the takeaway? Even though everyone is going through tough times, sports for people of all ages are coming back slowly—MLS recently opened its season. For kids training during the past few months, it is reassuring to know our favorite soccer players have had similar experiences—giving us an unorthodox taste of what it's like to be a professional athlete.