In-need U.S. men's national team re-enters Bruce's unchanged arena
Bruce Arena guided the U.S. men's national team to unparalleled success, and now he's back as a Band-Aid to help the Americans qualify for the 2018 World Cup in Russia.
This story appears in the Feb. 13, 2017 issue of SPORTS ILLUSTRATED. To subscribe, click here.
In mid-January, a few days before he led the U.S. men's soccer team into practice for the first time in 11 years, coach Bruce Arena settled in for a long dinner at Mangiamo, his favorite Italian haunt near his home in Manhattan Beach, Calif. One of Arena's companions ordered a Cabernet from Chateau Montelena and told the story of the scrappy Napa Valley winery: how in 1976 it competed in a blind-tasting challenge—the so-called Judgment of Paris—against leading French vintners and won, to the shock and consternation of Old World connoisseurs.
Arena, 65, nodded, knowing full well that this was a conversation about soccer, too. If the history of a football culture were all that mattered for World Cup success, "then we should just drop out of FIFA because most of the other countries are far more advanced," said Arena. "But that's not the way Americans think. We can be the best. We are advanced enough now to move the sport forward on our terms with our culture. We will eventually be the envy of every country in the world. I hope to be alive at that point."
No coach has done more to raise the global profile of U.S. men's soccer than Arena, who first took over the team following a last-place finish at World Cup 1998 and then led the U.S. to the quarterfinals in 2002 (before a first-round exit in '06 led to his departure). Yet the challenge to start Arena's second tenure is more immediate: to qualify for World Cup '18, by any means necessary.
"That," Arena says, "is my only goal right now."
The U.S. is one of just seven countries to have competed in every men's World Cup going back to 1990, but that streak is in real danger after two straight losses—zero points—to start the final round of regional qualifying, in November, led to the firing of coach Jurgen Klinsmann.
"Once we decided a change was going to be made, I think Bruce was very much the obvious choice, given three things," says U.S. Soccer president Sunil Gulati. "One, his record and experience. Two, his knowledge of the player base and the work at hand. And three, the timing issue: There's a relatively short period of time to get ready for our qualifiers. You put all those together, and the catchphrase would certainly be safe hands."
Arena believes that to best position itself, his team needs to pick up at least four points—a win and a tie—in its next two qualifiers, against Honduras (in San Jose) and at Panama, in March. That would bring the U.S. out of last place in the six-team, 10-game CONCACAF Hexagonal tournament, from which the top three (and perhaps even four) will qualify for Russia.
The U.S. national team and the uncomfortable question of commitment
Arena won't make sweeping personnel changes; he believes it's too late to experiment. But he spent the U.S. team's January camp preaching a return to the defiant aggressiveness that defined the U.S. teams of Arena (from 1998 to '06) and Bob Bradley (from '06 to '11).
"We need to take initiative, regardless of who we are playing," says Arena, who famously preached "first tackle, first foul, first shot, first goal" in the locker room before the U.S.'s World Cup 2002 upset of Portugal. "We can't be intimidated. We want to compete like we compete in everything we do in our society. We are aggressive people. We want to be leaders in every field."
Arena was plenty busy in the 10 years he was away from the U.S. job, guiding the LA Galaxy to three MLS championships, bringing his MLS total to a record five (along with five NCAA titles at Virginia). But he always watched the national team closely, and never in public. His feelings were just too personal, especially when Costa Rica drilled Klinsmann's outfit 4–0 in November and several U.S. players appeared to quit on the field.
"He felt terrible," says his wife of 40 years, Phyllis. "It really bothered him."
The culture of pride that Arena helped build was buckling under Klinsmann.
"I was always proud during Bob's tenure," says Arena. "Whether [the team] looked good or didn't, there was fight—the right mentality, the understanding of team and playing together. In this business, results don't always go your way, but you want to make sure the group is there collectively, and during Bob's tenure that was the case."
"The last four or five years [under Klinsmann], I just didn't feel a connection to the program," Arena continues. "There were too many swings up and down along the way that didn't show the same culture that was developed after '98. Right or wrong, Jurgen marketed a concept that never got there—about how good they were going to be and the style of play. We [coaches] don't have a lot of control over that. If you want us to play like one of the great countries in the world, it's not likely to happen in the short term. That doesn't mean [our style is] wrong or bad—that means we're playing the cards that are dealt to us."
Mailbag: USMNT changes under Arena, Trump's impact on World Cup 2026
Yet Arena isn't here just to bury Klinsmann, whose U.S. team, after all, did advance from a difficult group in World Cup 2014 before performances started dipping in the two subsequent years.
"He brought enhanced visibility to the program," Arena says, "and he convinced U.S. Soccer that the national team demands a certain level of support it never had before. I remember going to Europe [on scouting trips] and having to buy a cellphone and a SIM card because they wouldn't give me a global phone. I know I step into a position that is greatly supported."
The other side of that equation: With greater investment come expectations that are higher than ever. Hundreds of millions of dollars—and, in many ways, the continued growth of American soccer—are riding on the U.S. qualifying for 2018. Failure is not an option.
U.S. manager Bruce Arena through the years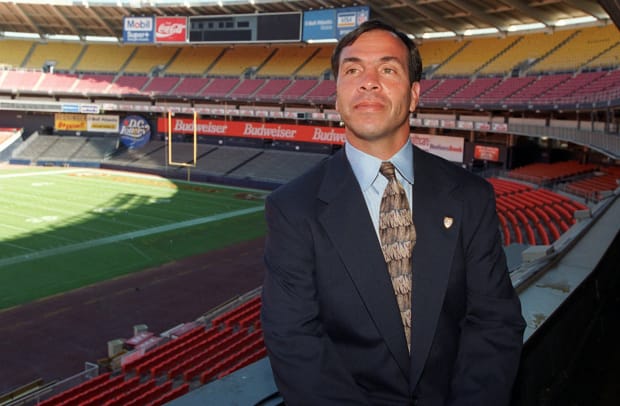 **********
On the first night of the U.S. team's January camp, Arena spoke at a dinner for the players. He welcomed them, told them it was an honor to be back and laid out his plans for the year ahead, including July's Gold Cup. But he couldn't help but drop a wisecrack: "I did these camps back when we played the Gold Cup in January—remember that, Beaz?" Arena said, motioning to DaMarcus Beasley, the oldest field player in the room. "Beasley was about 30 years old at the time," Arena deadpanned in his native Brooklynese. Everyone laughed, including Beasley (who was a 19-year-old midfielder on that 2002 roster). The Bruce was back.
Eleven years after Arena last coached the U.S., he may be older and a little wiser, but not much else has changed. "The nuts and bolts of Bruce are pretty consistent," says U.S. assistant Dave Sarachan, who has worked at Arena's side going back to the 1980s. "All the details are covered. His passion to win hasn't changed. His instincts are still good. I'd say he's got a greater perspective on what the game can bring, the highs and the lows; his patience is better. . . . But the ball-busting, the little jokes and jabs here and there? Nothing will change on that end."
For U.S. captain Michael Bradley, the shift in the team's tenor under Arena is palpable.
"From the first day Bruce came in, he's done a really good job of setting the right tone and making sure guys understand that we let some things slip," Bradley says. "He has been clear in terms of what he wants to see, what he wants our team to be about. It's exactly what we needed at this moment."
USA's scoreless draw vs. Serbia offers glimpse into Arena's preferences
Away from the field, the biggest changes for Arena since 2006 are his two grandkids—Wayde, 4, and Holden Bruce, 3—who live a block away in Manhattan Beach and are constantly visiting the man they call Pepaw. Their father, Kenny, is also an assistant on the current U.S. staff. And while Arena has never been a social media guy, his late-in-life willingness to laugh at himself has led to multiple Internet memes, whether it's been a photo of Arena swigging from a champagne bottle at the podium after winning the 2014 MLS Cup title or a snap of him cuddling with his dog at home.
To hear Arena, he's more prepared than ever to take on the challenge. With experience, he says, he can see things on and off the field more quickly, can talk to players and already sense what they're going to say. In comparison with 15 years ago, he says, "I'm probably more understanding—yet I also understand when you need to bring the hammer down. I still have the ability to communicate with players at any level. Anyone can put 11 players on the field, but how you deal with it off the field is equally important."
In Arena's camp there are no curfews (as Klinsmann had), and agents are allowed in the team hotel lobby (after being banned by Klinsmann). In January, players were required to attend team breakfast and lunch but were free to go out on their own for dinner. Arena essentially has two rules: Be on time, and no cellphones at team meals.
Jurgen Klinsmann leaves behind a complex, unfulfilled U.S. Soccer legacy
"I don't think that being called into the national team means you need to be locked in prison for 30 days," he cracks. "What's the point of that? Are we going to change their diet and habits for the next 300 days of the year? If you go out and have a beer, the world isn't over. And I have no interest in sitting in a hotel lobby, checking on curfews and all that other s---. I have enough headaches to deal with."
Don't expect many changes to the starting lineup—Play the cards you're dealt. A few things are clear, though:
•  He sees Bradley, 29, as a defensive midfielder. Whereas Klinsmann often tried to use the U.S. captain in an attacking role (with mixed results), Arena wants Bradley in a ball-winning position in front of the back line. "He's a guy who can help you in buildup and possession," the coach says. "He's got a great work rate. He's a leader. He's vocal. So he checks a lot of boxes."
•  Sacha Kljestan could get a lot more playing time. The 31-year-old attacking midfielder had a career year with MLS's Red Bulls in 2016 (six goals, 20 assists), and he earned a long-awaited callback to the national team. Now he could become a starter. "We need a better player in the midfield in terms of passing and being more creative," Arena says. "Sacha has some skills that we need on the field."
•  The German-based Americans who rose under Klinsmann will still play a big part. Though none of them were involved in the January camp, which took place outside of a FIFA international window, Arena clearly values their roles. He started his new tenure in December by visiting five players stationed in Germany: winger Christian Pulisic (Borussia Dortmund), forward Bobby Wood (Hamburg), midfielder Fabian Johnson (Borussia Mönchengladbach) and defenders John Brooks (Hertha Berlin) and Timmy Chandler (Eintracht Frankfurt). "That's an important part of it," Arena says. Their performance will be crucial in the eight World Cup qualifiers of 2017. The 18-year-old Pulisic, in particular, is on the verge of stardom.
•  Clint Dempsey won't play an immediate role. The No. 2 all-time U.S. men's goal scorer, now 33, has been one of the national team's few reliable finishers in big games, but an irregular heartbeat has kept him from playing competitively since last August. Dempsey has started training again with MLS's Seattle Sounders, but Arena has ruled him out from playing for the U.S. in March.
MLS expansion: An in-depth look at the many bids for the league's next four clubs
After four decades of coaching soccer, almost nothing is new to Arena. He has an abiding belief in the American footballer, and he thinks today's U.S. players are technically better and more physically advanced than their predecessors.
"But mentally, whether they're better or not is a question mark," he says. "One would think that if you're physically and technically better, you should be better—but I'm not ready to agree with that. The mentality has to be right; the environment has to be right. There's enough talent to get this team to Russia, but we are behind the eight ball. Zero points doesn't look good."
And so while the only goal right now is to qualify for the World Cup, deep down Arena is aware of something else: How you reach the tournament has nothing to do with how you play once you're there. Consider 2002, when Brazil barely qualified but went on to win the tournament. Arena's U.S. team had the same experience that year—it struggled in qualifying but then enjoyed the best World Cup run by an American men's team in modern history. (Arena knows how slim the margins can be; he saw the other side of that in '06, when he says "we were probably a couple of players from being in position to advance to the next round [that year].")
Visions of the U.S. again advancing to the quarterfinals can wait for another day.
"This could be a real ugly situation in a short period of time—or it could be a much better situation," Arena says. "The best advice you could ever give a team is to expect the unexpected. Never feel real good or real bad, because s--- is going to happen."
The next nine months will feature plenty of potholes and mishaps on the road through Mexico, Central America and the Caribbean. Arena has been here before. That's why he's here again.