Fantasy football Start 'Em, Sit 'Em: How to set your lineups for Week 9
Who should you start and sit in Week 9 of the Fantasy Football season? Sports Illustrated offers its advice.
The MVP picture is starting to take shape with a handful of quarterbacks, most of them unexpected candidates, right at the center of this thing. As I wrote in this week's Target and Snap Report, Tom Brady is going to render the MVP debate moot if he continues making the league his own personal plaything, but the group of quarterbacks he will shunt into the "others receiving votes" category still deserve our adulation. For me, that discussion has to begin with Derek Carr.
Carr is in the midst of a breakout season, highlighted by the 513-yard, four-touchdown show he put on in an overtime win over the Buccaneers last week. He has completed two-thirds of his passes this season for 2,321 yards, 7.19 yards per attempt and 17 touchdowns against three interceptions. He's on pace to set career highs across the board, including in quarterback rating (100.9), where he's one of five quarterbacks in the league north of the century mark. Carr is making the strides you want to see from a third-year quarterback and is starting to prove he can be a franchise player. Just two years later, it's hard to believe that he was the fourth quarterback off the board in the draft, behind Blake Bortles, Johnny Manziel and Teddy Bridgewater.
Carr faces his toughest test of the season on Sunday, when the Broncos bring their stifling pass defense to Oakland in a matchup between the teams tied for first in the AFC West. The Broncos have allowed the fewest points per game to quarterbacks this season, an average of just 13 points in standard-scoring leagues. Their hit list includes Andrew Luck (11.1 points), Andy Dalton (11.2), Jameis Winston (13.1), Matt Ryan (15) and Philip Rivers twice (11.1, 15.7). The Broncos held all of them comfortably below their season-long averages, and they're all in the top 14 in points scored at the quarterback position.
There's no doubt that Carr has his work cut out for him. The improvements he has made this season, specifically in the efficiency department, suggest he will be up to the challenge. The Broncos opened as 2.5-point favorites, and the line has already moved to a pick'em. Those tea leaves tell us that good things just might be in store for the Raiders on Sunday night. If they are, the same guy who is putting himself in the middle of the MVP discussion will be at the center of the action for the home team. Despite the matchup, Carr's owners want him in their starting lineups in Week 9.
Fantasy football Week 9: Complete NFL player rankings for every position
Quarterbacks
Start
Eli Manning (vs. Philadelphia)
Manning and the Giants return to action this week with a divisional game against the Eagles. They've been tough on quarterbacks this year, and the Giants have one of the league's most underachieving offenses thanks to a combination of painfully conservative play-calling and the total lack of a run game. If coach Ben McAdoo embraces his team's strengths, Manning will attack downfield more this game than he has all season. The bet here is the team used the bye week to implement just such an attack.
Marcus Mariota (at San Diego)
After a relatively slow start to the season, Mariota has four straight top-12 quarterback weeks and is now the No. 9 scorer at the position in standard formats. Mariota has scored at least 16.7 points in six of his eight starts, giving him an enviable floor that he couples with a 30-point ceiling. The Chargers' pass defense improved significantly when Joey Bosa joined the fold, but this is still a matchup that favors Mariota.
**Superflex Special**
Case Keenum (vs. Carolina)
We're giving you two superflex specials this week, starting with Keenum. We all know the Rams signal-caller isn't exactly good from a real-life or fantasy standpoint. He's 23rd at the position in points, and nearly one-third of his production this season came in one game, a 30-point outburst against the Lions. He proved that week, however, that he is competent enough to exploit a good matchup, and that's exactly what he has this week. The Panthers have allowed the third-most points per game to quarterbacks this year.
Sam Bradford (vs. Detroit)
Speaking of great matchups, how about Bradford going up against the Lions? No team has surrendered more total points or points per game to quarterbacks than Detroit. Bradford will be working with newly promoted offensive coordinator Pat Shurmur after Norv Turner's surprise resignation, and Minnesota's offensive line is truly a problem. Still, he and Stefon Diggs should be able to do work against this secondary. Every quarterback not named Brock Osweiler who has faced the Lions this season has scored at least 17.6 points, including Keenum, Brian Hoyer and Carson Wentz.
The race for the 2017 NFL draft's No. 1 pick: Who might get it, who they might take
Sit
Matthew Stafford (at Minnesota)
On the other side of that game is Stafford, who has a much tougher task on his hands. Jay Cutler just put up the season's most efficient quarterback performance against the Vikings, and it resulted in 252 yards, one touchdown and 14.28 standard-league points. Stafford can be just as efficient as Cutler, and the Chicago quarterback's 8.13 YPA is nothing to dismiss. Stafford is my No. 13 quarterback this week, however, which places him outside the QB1 class in a 12-team league. I'm playing him over the other quarterbacks in this section, as well as Bradford, Blake Bortles, Joe Flacco and Alex Smith.
Russell Wilson (vs. Buffalo)
Wilson is 27th among quarterbacks in standard-league fantasy points this year, looking up at Keenum, Oswelier, Ryan Tannehill and Ryan Fitzpatrick. He has scored fewer points per game than every quarterback who has started at least seven games, other than Osweiler and Trevor Siemian. Wilson hasn't been fully healthy since hurting his ankle Week 1, and it's possible he won't get all the way back to the quarterback we're used to seeing until next season. He shouldn't be in lineups this week.
Colin Kaepernick (vs. New Orleans)
Kaepernick has a great matchup and an attractive rushing floor, and that certainly places him on the stream and cheap DFS play radars. It's impossible to overlook the fact that he has thrown for 330 yards and 5.24 YPA in two games this season, though, and that's what knocks him safely into the QB2 crowd. Drew Brees's Jekyll and Hyde home/road splits also work against Kaepernick this week.
2016 NFL Midseason All Pro Team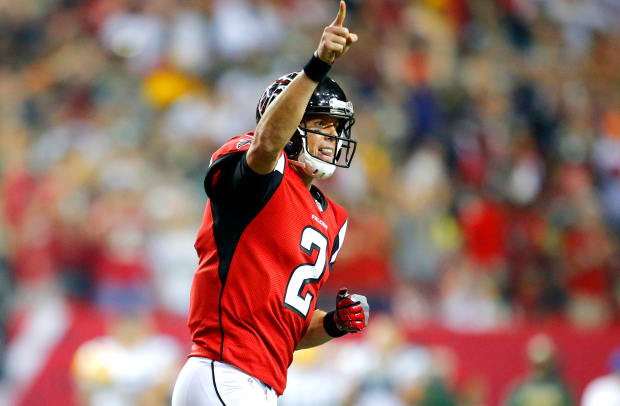 Running Backs
Start
Tim Hightower (at San Francisco)
Hightower became the focal point of the New Orleans running game last week after Sean Payton benched Mark Ingram. He ended up running for 102 yards on 26 carries, which is not a bad effort against Seattle's strong run defense. Hightower and Ingram are now in a committee, and don't be surprised if the former is at the head of that committee this week. If he can secure 15 touches, he'll show up as at least an RB2 for fantasy owners against San Francisco's laughably bad run defense.
Mark Ingram (at San Francisco)
And yet, Ingram is still worth a start. It was troubling to see him benched with such decisiveness last week, but he's not going to entirely fade away from the game plan. Even if Hightower leads the team in touches, Ingram should work his way into double-digits. The 49ers have allowed a 100-yard rusher in all but one game this season, giving up a staggering 5.33 yards per carry. Both Ingram and Hightower should get enough touches to register as RB2s in this matchup.
Derrick Henry (at San Diego)
DeMarco Murray is dealing with a toe injury that, while not serious, could lessen his workload in the coming weeks. It's likely that Henry will see an uptick in touches on Sunday from what he usually gets, and everything he has showed as a rookie suggests he'll be up to the task. Henry got 20 touches last week, totaling 97 yards from scrimmage and a touchdown, the first score of his career. Murray's going to play this week, but chances are we'll see something close to an even split of the backfield work between the two Tennessee backs. That makes Henry a potential top-20 back.
Theo Riddick (at Minnesota)
We just saw Jordan Howard put 202 total yards and a touchdown on the Vikings' defense. Riddick isn't nearly the runner Howard is, and the Bears played with a favorable game script, but it goes to show that the Minnesota defense is not infallible. Riddick is likely to get upwards of 20 touches in this game. That volume should help him to an RB2 floor in a week where six teams are on bye.
Target and snap report: Saints' new RB committee a blow for Mark Ingram owners
Sit
Rashad Jennings (vs. Philadelphia)
Other than desperation, I truly cannot figure out why anyone would start Jennings. He has rushed for 67 yards on 35 carries in his last three games. That's 1.91 yards per carry. The Giants rank dead last in the league in rushing, barely topping 70 yards per game. This is a team that cannot run the ball, and Jennings is a player who might not be doing much better in different circumstances. He isn't a top-30 back this week, and he barely even shows up on the flex radar.
Ryan Mathews (at New York Giants)
Mathews's problem isn't a skill deficit or a struggling offense. It's usage, and that could be even worse than what Jennings is dealing with in New York. Mathews has had fewer than 10 carries in four games this season and has played half as many snaps as Darren Sproles. The latter led the backfield last week and could remain in command when the Eagles visit the Giants on Sunday. With his usage so hard to predict, it's hard to have much confidence in Mathews. He has enough of a shot at 10-plus touches, though, to show up as an RB3 or low-end flex play.
Antone Smith (vs. Atlanta)
With Jacquizz Rodgers (foot) and Doug Martin (hamstring) both out this week, Smith and Peyton Barber will handle the backfield duties for Tampa Bay. Rodgers played most of last week's game before hurting his foot, so we don't have much fodder for projecting Smith's and Barber's touches. Smith did outsnap and out-touch Barber, making him a better bet for fantasy purposes, but the situation is murky, and these guys were fourth and fifth on the depth chart (behind Martin, Charles Sims and Rodgers) for a reason. Smith is no better than a low-end RB3.
NFL Week 9 Power Rankings: Just how many good teams are there this year?
Wide Receivers
Start
Mike Wallace (vs. Pittsburgh)
Whether or not Steve Smith is able to return this week, Wallace belongs in fantasy lineups. He has racked up 43 targets in Baltimore's last four games, catching 25 of them for 324 yards. Part of that owes to Smith's absence, but Wallace remains the best deep threat for a quarterback who loves to push the ball downfield. If Ben Roethlisberger is able to return from a knee injury, we should expect some fireworks in Pittsburgh. Wallace is an easy top-30 receiver this week.
Tyrell Williams (vs. Tennessee)
In six games not against the Broncos this year, Williams has averaged 10.3 standard-league points per game. That would have him ranked 13th for the full season, sandwiched between Larry Fitzgerald and Kelvin Benjamin. In other words, Williams has to be happy that the Chargers are done with the Broncos this season. The Titans are no worse than a neutral matchup, and Marcus Mariota and the Tennessee run game should do enough to force Philip Rivers & Co. to keep the foot on the gas.
Davante Adams (vs. Indianapolis)
Over the last two weeks, Adams has 25 receptions, 30 targets, 206 yards and two touchdowns. Even if Randall Cobb and Ty Montgomery are able to return this week, Adams must be in your starting lineup. With Vontae Davis locked on Jordy Nelson, Adams could very well be Rodgers's most frequent target outside the numbers again this week. Montgomery would likely get at least half of his run in the backfield, with the Packers still piecing things together until James Starks returns. Adams's volume simply cannot be ignored.
Terrelle Pryor (vs. Dallas)
Forget about the two quiet weeks Pryor has had in the last month. He has turned himself into a rock-solid starter that you don't even think about taking out of your lineup. Going back to his Week 3 breakout performance against the Dolphins, he has averaged 5.83 catches, 9.67 targets, 72 yards, 0.5 touchdowns and 10.2 fantasy points per game. That isn't a completely arbitrary endpoint, either, given that he was still in the embryonic stage of his wide receiver life early in the season. Make sure Pryor is locked into your starting lineup.
Blanket Coverage: Why Browns' Joe Thomas is happy he wasn't traded to a contender
Sit
Jeremy Maclin (vs. Jacksonville)
Maclin is among the season's most disappointing fantasy players. He has just 30 catches for 376 yards and two touchdowns, ranking 45th among receivers in points through eight weeks. He hasn't topped 80 yards in a game this season, and has scored fewer than five fantasy points three times. The matchup with the Jaguars isn't particularly bad, although he could see a lot of Jalen Ramsey, but Maclin simply cannot be trusted as anything more than a low-end WR3.
Golden Tate (at Minnesota)
After his two best games of the season, Tate reverted to his early-season ways, catching seven passes for 42 yards last week. The good news from that contest was that he got nine targets, but Tate has to work exceptionally hard for every fantasy point he puts up, given that he doesn't make plays down the field and isn't a significant red-zone threat. That's not a great skill set to bring into a matchup with the Vikings. Tate is a WR4 this week.
Allen Hurns (at Kansas City)
Hurns had his best game of the season last week, a seven-catch, 98-yard, one-touchdown effort against the Titans. Like his quarterback Blake Bortles, most of that production came in garbage time. Before the game was effectively over, Hurns was headed for another sub-40 week at the wide receiver position. Jacksonville's offense is in complete shambles, with Bortles regressing and the rushing attack non-existent. There could be ample garbage time this weekend, but you don't want to bet on production that's irrelevant in real life to carry your fantasy players to a meaningful performance.
Sterling Shepard (vs. Philadelphia)
Shepard has been quiet over his last four games, catching a total of 15 passes for 101 yards. The big-play rookie from the early season hasn't shown up in the Giants' offense since Week 3, and now he gets a matchup with a Philadelphia defense that has allowed the ninth-fewest points per game to receivers. The one hope for him is that the Giants, specifically McAdoo, woke up during their bye week and recalibrated the offense around taking shots down the field. He's a better play than any other receiver listed in this section but still projects as a low-end WR3 at best.
Percy Harvin coming out of retirement to play for Bills
Tight Ends
Start
Austin Hooper (at Tampa Bay)
With Jacob Tamme out because of a shoulder injury, Hooper will take over as Atlanta's starter this week. Hooper, the rookie out of Stanford, has looked good in limited duty this season, catching 11 passes for 195 yards and a touchdown. He hauled in all five of his targets for 41 yards in relief of Tamme last week and steps right into a solid role in one of the league's most dangerous passing games. Hooper has top-10 potential and should start in all leagues this week.
Cameron Brate (vs. Atlanta)
Back in Week 1, the Buccaneers successfully attacked the Falcons with their tight ends. Brate, Brandon Myers and the departed Austin Seferian-Jenkins combined for five catches, 64 yards and two touchdowns in a 31–24 Tampa Bay victory. Since then, Brate has turned into the Buccaneers's starter. In a week where Rob Gronkowski, Jordan Reed, Tyler Eifert, and C.J. Fiedorowicz are on byes, Brate should find his way into the top 12 at the position.
Eric Ebron (at Minnesota)
Ebron has turned into the weapon this season the Lions envisioned when they took him with the 10th pick back in 2014. He has at least 50 yards or a touchdown in all but one of his five games this season and had arguably his best performance last week, catching seven passes for 79 yards after returning from a three-game absence caused by knee and ankle injuries. The Bears made Zach Miller one of their best weapons against the Vikings last week, with the tight end catching seven of his 10 targets for 88 yards. You can bet the Lions took notice.
Sit
Dennis Pitta (vs. Pittsburgh)
I'm going to write something here eerily similar to what I did two weeks ago, the last time the Ravens played. Since his 102-yard game against the Browns in Week 2, Pitta has 26 catches for 194 yards across five games. That's a paltry 3.88 points per game in standard-scoring leagues. Remember, too, that the Browns have allowed the fourth-most points per game to tight ends this year. Pitta is nothing more than a matchup play, and even then the matchup needs to be overwhelmingly positive.
Jack Doyle (at Green Bay)
With Donte Moncrief back for the Colts last week, Doyle caught just two passes for 36 yards. Whether or not Dwayne Allen is able to return from an ankle injury this week, Doyle is running third, at best, in the Colts passing game. It's hard to imagine the targets are going to be there for him in abundance.
Jason Witten (at Cleveland)
Don't be fooled by last week's touchdown, or the great matchup with the Browns. Witten may remain a hugely important player for the Cowboys from a real-life standpoint, but his days of fantasy relevance are behind us. Even with the Cowboys' offense clicking this year, he has 30 receptions for 290 yards and a touchdown in seven games. That translates to exactly five points per game. Even if you're without your regular starter this week, Witten isn't a worthy fantasy play.
Even amid struggles, Prescott proved he's NFL's best rookie QB in Cowboys' SNF win
Defenses to stream
Green Bay Packers (vs. Indianapolis)
The Colts have one of the leakiest offensive lines in the league, and the Packers have notched 19 sacks in seven games. Add to that the fact that the Packers are a touchdown favorite playing at home, and you get the recipe for a perfect streaming defense. Get the Packers if you still can.
Miami Dolphins (vs. New York Jets)
The Dolphins aren't a great fantasy defense, but they have one factor working in their favor this week: Ryan Fitzpatrick. In what was a great matchup with the Browns a week ago, Fitzpatrick completed fewer than 50% of his passes, throwing for just 228 yards and one touchdown. The Dolphins are far better equipped than the Browns to take advantage of Fitzpatrick's foibles.