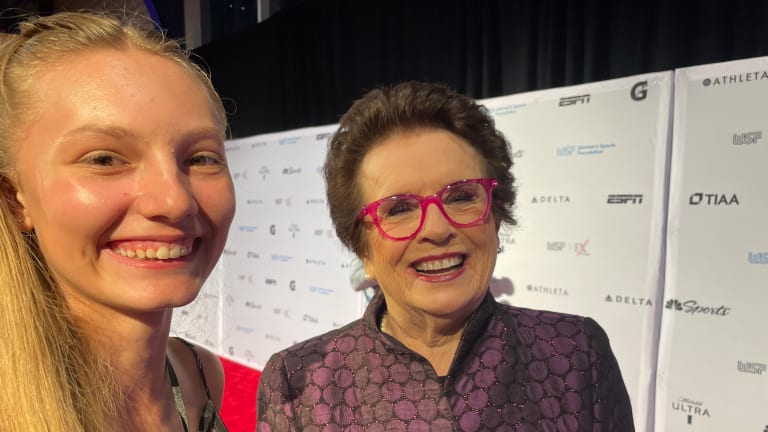 Women's Sports Foundation's Annual Salute Honors 50 Years of Title IX
"No person in the United States shall, on the basis of sex, be excluded from participation in, be denied the benefits of, or be subjected to discrimination under any education program or activity receiving federal financial assistance."
Those 37 words changed millions of lives over the last five decades. This year is the 50th anniversary of Title IX, a reminder of how far women in education and sports have come—and where progress is still needed. Earlier this week, top female game changers gathered for a memorable night in New York City at the Women's Sports Foundation Salute.
Title IX was passed in 1972, and two years later, Billie Jean King founded the WSF. She is a pioneer for women in sports and fought to break down barriers for women. Since the passing of this law, the number of additional sports opportunities for high school females has increased by three million. As female representation in the sports world continues to increase, it is important to educate the next generation about the impact of Title IX.
"Title IX has been very meaningful for girls and women's education," said Sarah Axelson, WSF Vice President of Advocacy. "If we want to dial in a little more specifically to Title IX in sports, I think the biggest impact has been in participation opportunities. Pre–Title IX, high school girls had fewer than 300,000 opportunities to participate. Women in college had fewer than 30,000 opportunities to participate. Today, that number is so much higher."
Billie Jean King herself also talked about what it has been like for her to see the evolution of women's sports since the passing of Title IX and the start of the WSF: "It's great because I get to see the many generations grow up and become great athletes, great business women, great writers, great everything. I love it. I think it's fantastic. The [social media] outlets that are out now have made a huge difference. I think girls have more self confidence than they used to, which is great."
Dozens of professional women athletes walked the red carpet as they were recognized for all of the work they have poured into women athletics. One of the women was Katie Holloway Bridge, a Sitting Volleyball Paralympic Gold Medalist.
"Title IX has impacted me: I was the first female amputee to play basketball in Division I history," said Holloway. "I have deeply benefited from it as a college athlete myself. I think what it will do in the future is as we get more sophisticated with the law and the advocacy pieces coming into fruition, I think our women athletes are going to have more resources than ever."
The WSF honored five prestigious individuals for their work this past year in the sports world. Maggie Steffens, three-time Olympic water polo gold medalist, accepted the 2022 Team Sportswomen of the Year honor. Suni Lee, all-around gymnastics gold medalist, nabbed the top individual award.
Alexis Ohanian, co-founder and investor in Angel City FC, earned this year's Champion for Equality Award. Dawn Staley, a gold medalist and two-time national champion basketball coach, earned the Billie Jean King Leadership Award. To round out the award recipients, Elana Meyers Taylor, the most decorated Black Winter Olympian of all time, received the 2022 Wilma Rudolph Courage Award.
However, the fight for equality throughout all of sports is far from over. While there are so many reasons to celebrate the milestones achieved, there is still so much more work to be done. According to the WSF, girls today still have fewer high school participation opportunities than boys did when the landmark legislation was passed in 1972. Men still have 60,000 more collegiate sports opportunities than women.
"I think we just need more representation across the board and the variety in different sports so that people know that there are options out there," said Taylor.
The mantra We're Not Done Yet holds true as women in sports continue to fight the battles of creating equality in all levels of sports both now and in the future.