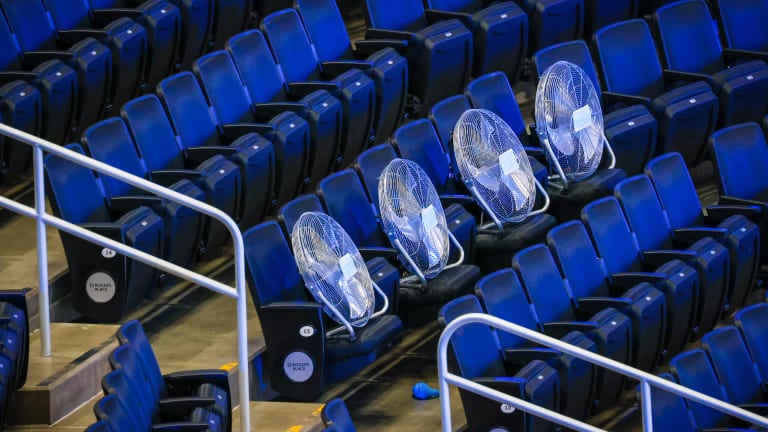 What's New for the 2020-21 NHL Season
During a conference call with media Monday, National Hockey League commissioner Gary Bettman expressed optimism for the start of the 2020-21 NHL season. Newly realigned divisions will allow safety protocols for Covid-19 and create exciting rivalries. Bettman said that while the season may not be perfect, it is important to play the games to give fans "a sense of normalcy."
Bettman said that there will likely be unexpected issues that the league may have to deal with as the world continues to deal with the global pandemic. But the NHL shared its plans for how it will try and minimize health risks. This includes realigning divisions this year because of the border restrictions between United States and Canada and creating a shortened 56-game schedule. The divisions are as follows: North (Calgary, Edmonton, Montreal, Ottawa, Toronto, Vancouver, Winnipeg); West (Anaheim, Arizona, Colorado, Los Angeles, Minnesota, San Jose, St. Louis, Vegas); Central (Carolina, Chicago, Columbus, Dallas, Detroit, Florida, Nashville, Tampa Bay); and East (Boston, Buffalo, New Jersey, New York Islanders, New York Rangers, Philadelphia, Pittsburgh, Washington).
"In order to accomplish our goal, we're going to need to be flexible and agile in how we deal with whatever we're confronted with," Bettman said. "We are again prepared to do that." He said that the NHL will rely on medical experts. He also said that the NHL has also been in contact with the other major leagues—MLB, NBA, and NFL—to discuss Covid protocols.
"We will be guided by our medical people as well as the authorities in all of the jurisdiction that we play in," Bettman said.
Some of the other ways that the NHL is helping to ensure safety is by making sure all teams use the same hotel for travel, and by limiting the travel and the number of places that players will go. The league also is making sure that teams play closer to one another geographically.
"We are very focused on what needs to be done," Bettman said. "We wouldn't have gotten to the point where we are if it wasn't for the cooperation of the players, organizations and owners." To start the season, most of the teams will not be allowed to have spectators in their arenas with the exception of Arizona, Dallas, and Florida, which will have a limited amount under their local regulations.
In addition to discussing the start of the new season, Bettman also talked about the NHL Outdoors at Lake Tahoe on February 20 and February 21. Colorado will play Vegas on February 20 and Boston will play Philadelphia on February 21. For these games, the players will stay in a bubble, like they did for last season's Stanley Cup Playoffs.
The NHL season begins tomorrow with the following matchups today: Pittsburgh Penguins at Philadelphia Flyers, Montreal Canadiens at Toronto Maple Leafs, Chicago Blackhawks at Stanley Cup defending champion Tampa Bay Lightning, Vancouver Canucks at Edmonton Oilers, and St. Louis Blues at Colorado Avalanche.
Photo credit: Sergei Belski/USA TODAY Sports