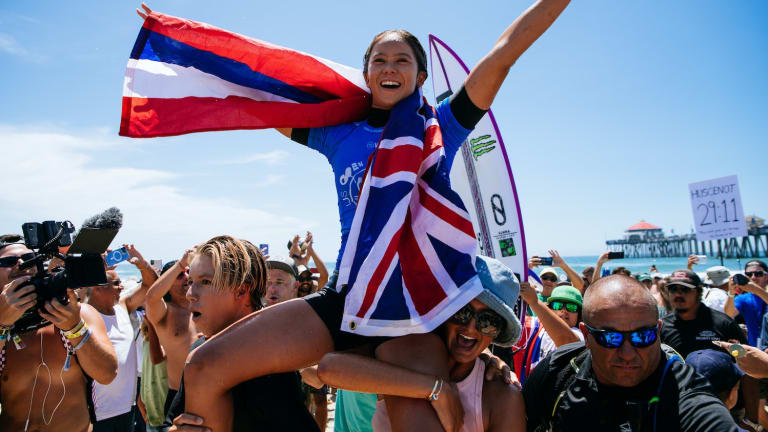 Vans U.S. Open of Surfing Returns to Huntington Beach
This past week, Huntington Beach welcomed back the Vans U.S. Open of Surfing and all the accompanying festivities after a two-year hiatus. The packed pier and beach saw waves over eight feet due to a Hurricane Frank swell, which also forced competitors to lose time searching for an easier spot to paddle out.
Hawaiian surfers Bettylou Sakura Johnson and Zeke Lau took the women's and men's titles, respectively. In the Vans Duct Tape Invitational—the longboard competition—Taylor Jensen took the top men's spot and Kelis Kaleopa'a led the women. Befitting the "Duct Tape" name, the swell led to some broken equipment, with competitor Harrison Roach loaning two of his boards out.
"I don't necessarily think [the competition] is important," said longboarder Karina Rozunko. "I love competition because it creates an environment where everyone can come together, but it's really the community the competition brings that I love."
Huntington Beach lived up to its nickname—Surf City USA—welcoming hundreds of thousands throughout the week-and-a-half of festivities. Vans built a little city on the sand, allowing spectators to walk the rows of local vendors and a sprawling Vans retail store. Live music, surfing, and even hot dogs were all enjoyed for free.
"Everything's free," said Vans VP Steve Van Doren, son of founder Paul Van Doren. "I guess if I could back up a gas truck here and fill some cars up, I would. But right now it's just some hats, wallets, bandanas, and hot dogs."
Almost as popular as the surfers, Van Doren stopped to talk and grab pictures with fans as they walked through the "Van Doren Village" section of the beach.
"It's kind of just giving back, and kids are the most important," he said. "It lets them know they're appreciated, so they remember and can enjoy the experience year after year."
Van Doren spent the last 16 months cruising across the country with his daughter in his motorhome, visiting as many Vans retail stores as possible. They made it to about 355 of the roughly 500 retail stores so far.
"Surfing and skating aren't going to change," said Van Doren. "They're just going to get better."
Precautions were in place to ensure health and safety, but surfers and fans alike were thrilled Vans Us Open of Surfing was back in Huntington Beach.
"I remember coming here even as a kid," says Rozunko. "There's nowhere in the world like this, with a whole city on the beach and so many different walks of life interested in surfing and what it's all about."