USC's Max Browne Talks About Life on Campus Beyond Football
When most fans watch college football, the focus is usually on the skill of the athletes and the outcome of the games. What many people don't think about is that these same athletes are not only attending football practices during the school week, but they are also attending classes, completing assignments, and studying for tests.
One player who seems to have mastered the balancing act is Max Browne, quarterback for the University of Southern California Trojans. Browne is in his fourth year at USC and is competing for the starting job. In the classroom, Browne has shined: He graduated in December with a 3.5 GPA and a bachelor's degree in communication. He is now working towards a Masters in Business Administration at the USC Marshall School of Business.
This past year, Browne won the football program's Bob Chandler Award, which is given to an underclassman who has demonstrated outstanding athletic ability, academic achievement, and character.
When asked to describe Browne, USC coach Clay Helton used one word, "accountable." Helton explained: "You're talking about a guy who graduated with the number one communications degree in the country in three years and just got accepted into a master's program in business. To be able to get that done [you have to have] accountability to get to class every day and to do your job and just be dependable. And that's what he is."
Many think Browne has the edge in the battle to win the starting job for the Trojans, who wrap up spring practice this weekend. I interviewed him after a recent practice and learned what it is like to balance school and athletics at one of the country's top universities for football and academics.
Was academics always stressed to you when you were growing up and in high school?
Yeah. I'm not going to say I was some wizard or anything, but I went to a really good academic high school with a good athletic program, so [high school] prepared me well for coming [to USC]. My parents always talked to me about school. I am willing to put in the work to get the good grades, which is a good trait my parents instilled in me.
How did you select USC?
I wanted to go to a school that had a great quarterback tradition. I wanted to go to a big-time football school, which USC definitely is. I like living in L.A. My life is forever better because I have a USC degree in my hand.
What are some of the study habits that you had to pick up right away to be successful in college?
Not procrastinating and using your time in the most valuable way is huge for when you get to college.
What are some of the tips you might have for others who play sports to stay on top of homework, projects, and assignments?
Try to make the most of your time. Get in the habit of grinding Monday through Friday. So it's school and football, school and football, and then on the weekends, give yourself a break. It's important to go out there and enjoy school, don't procrastinate, and make the most of the time you've got.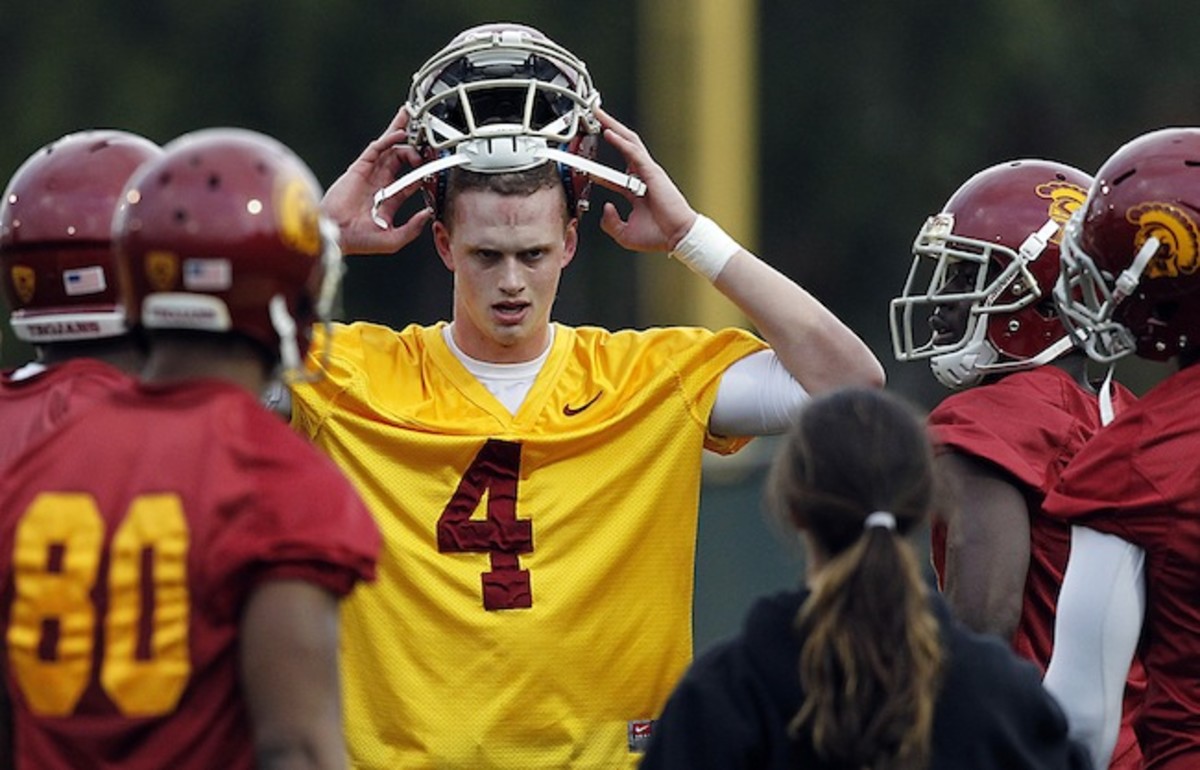 Browne, who arrived on campus in the spring of 2013 (above), is trying to win the starting job for the Trojans.
How would you place the Bob Chandler Award among the other honors you have earned?
It's right up there. I was really proud of some of the ones I got in high school. Those awards were nice because I won them with my childhood friends. But this one is right up there because it's definitely a character one and it's more than football. So in that regard, it means a lot.
How much encouragement do the coaches give you and your teammates to be successful students?
I would say a lot. It is important to get your degree because not everyone can play professional football, so you don't know when it'll end. Life is not all about football, and a degree is something no one can take away from you.
What are some of the misconceptions you think that people or even other USC students have about student athletes?
Some people might have a perception that we skated our way through to get into this school and that we're only here because of football, but a lot of us have great grades. The rap that maybe we're not as academically qualified — well, I don't know if that is necessarily true, because we've got some smart guys on this team, and they're willing to put in the work.
Does it bother you that they have this perception?
I don't think so. People are going to think whatever they're going to think. That is one thing that college has taught me — that you can't worry about what people are saying or thinking. You've just got to go out there and be yourself and show up and establish great relationships with people and work hard. That's all you can do.
If you do not play professional football, what would be your dream job?
I'm getting my MBA now, so I'd love to own my own business. But I think if I had to put my finger on one thing right now, I'd love to be an announcer. I'd love to announce sports, whether it's football — I could do basketball, I could do baseball too, but I think
I'd be really good at football or basketball.
Do you have time for other hobbies and activities?
Yeah, I have time. I have friends outside of football and friends in other sports. I live with a volleyball player amongst football players. But yeah, I'm just a normal college student outside of football, whether it's watching TV, hanging out with friends, going out to dinner, or playing video games. To be honest, it's a lot of school and a lot of football, but I have great friends as well.
This interview has been edited for clarity and length.
Photographs: John W. McDonough for Sports Illustrated (top); Luis Sinco/Getty Images