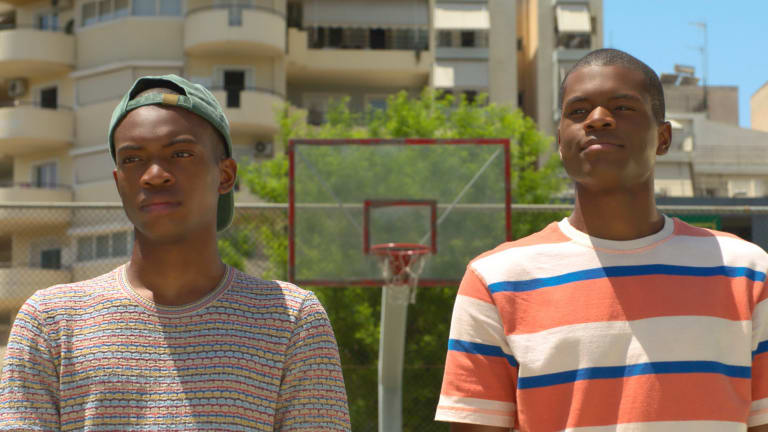 Uche and Ral Agada Star as Antetokounmpo Brothers in "Rise"
As Uche Agada worked at a Wawa drive-through in New Jersey, he saw an Instagram post from Giannis Antetokounmpo looking for a new actor of Nigerian descent to portray him in Rise, a Disney+ biopic chronicling his journey to the NBA. Not wanting to miss an opportunity that could change his life, Uche submitted a tape to Disney.
"Maybe once when I was 16 watching YouTube videos, I thought about trying to be an actor," Uche says. "But I never pursued it. Now, it's a very, very fun thing to do."
After several rounds of auditions, the Disney casting team booked Uche for the film, and he was on his way to trying acting for the first time. On top of Uche's basketball skills as a varsity athlete in high school and his physical resemblance to a young Giannis, he had an older brother, Ral Agada, who also played basketball. Shorter than his younger brother, Ral made the perfect Thanasis Antetokounmpo.
"I had zero experience or interest in acting," adds Ral. "But this was an amazing experience, and I found what I really want to do."
Despite their lack of acting experience, Uche and Ral succeed in bringing the story of the rise of the Antetokounpo family to life.
The movie starts as Veronica and Charles Adetokunbo cross the border to Greece seeking a better life for their family. Avoiding deportation with no papers to prove citizenship, Veronica gives birth to Thanasis within a year of living in Greece. Three more brothers later, the Antetokounmpo family grows to a family of six in Greece, plus an older brother, Francis, sadly left behind in Nigeria as he was too young to make the journey.
Finding basketball at ages 11 and 13, respectively, Giannis struggles to play to his full potential while Thanasis quickly finds success. After playing pick-up games with local kids, the eldest two Antetokounmpo brothers begin taking the bus to and from Filathlitikos youth league team practices in Athens, Greece.
Recognizing basketball as an opportunity to change both of their own lives and the lives of the rest of their family, Thanasis and Giannis start to work constantly to improve. Giannais even spends some nights in the gym so as not to lose any time for travel.
The Agada brothers seem to really understand that drive. They both grew up playing the game themselves.
"There were a couple of scenes for a couple of days where we were just shooting on the court," says Uche. "Those were super fun because all the plays are designed to make us look good, so we're just scoring all the time."
"Ya it definitely helps when plays are created just to make us look amazing," adds Ral. "But there's definitely an element of still having to play the game."
As the story goes on, we learn, of course, that Giannis' hard work pays off. The Milwaukee Bucks take a chance on the skinny kid from Greece, and the family is able to come to America, even reuniting with Francis not long after. While the biopic ends with his draft day, the family's story does not end there—as Thanasis and Kostas Antetokounmpo eventually join Giannis in the NBA, and all three are now NBA champions.
"These guys came from nothing, absolutely nothing," points out Uche. "They lean on each other, and they work very, very hard."
While the Agada brothers recognize their more fortunate upbringing, both they and the Antetokounmpo brothers have seen an opportunity to change their lives for the better and have worked hard to achieve it. For Giannis and Thanasis, it was dreams on the basketball court, and for Uche and Ral, it is an exciting role in a movie, jumpstarting a new career for the pair.
"Once you see this movie and see where they came from, you see that not only did they make it, but they made history," says Uche
As Giannis continues to dominate in the NBA—and Thanasis and Kostas work to move up the ranks—the Antetokounmpo story is far from finished. And as Rise creates a new chapter in the lives of Uche and Ral, the Agada story, too, is just getting started.
Photo courtesy of Walt Disney Studios