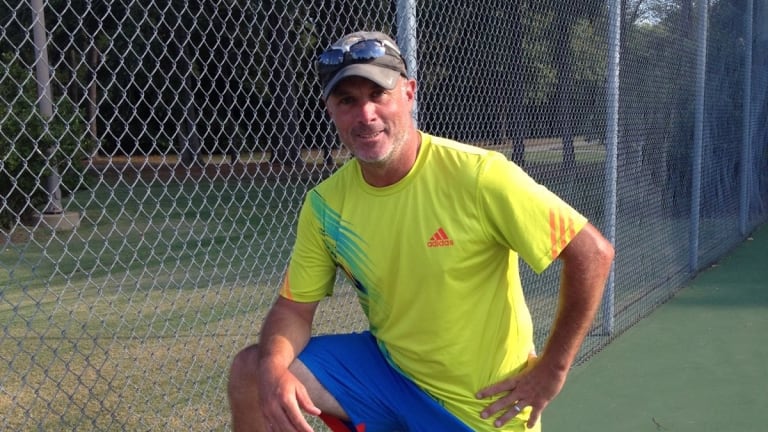 How One Tennis Instructor Coaches an Entire Town
There aren't many high school athletics teams with over ninety students on their rosters. It's especially rare to find such a squad in tennis, but that is precisely the case with the Collierville (Tennessee) High School Dragons. Led by head coach Tony Cherone, the dragons boast the largest school-tennis team in the South. In fact, along with running the local middle school and high school tennis programs, Cherone also runs almost all tennis-related activities for the Memphis suburb, giving him the title of "Director of Tennis" for the town of Collierville.
Coach Cherone had an unexpected path to becoming a tennis coach. He began playing at the age of 11, eventually becoming a walk-on his freshman year at the University of Tennessee at Martin. After graduating, he challenged and beat a pro player at the Port Royal Racquet Club in Hilton Head, South Carolina while on vacation. Immediately, the resort offered him a coaching job, but he declined. However, his win landed him a job back in Memphis to coach juniors. Cherone says becoming a coach was an "accident", but he "fell in love with coaching after [his] first day of work."
Cherone began his tennis career in Collierville by contracting with the town to run its tennis programs. He heads clinics, private lessons, and school practices for players ranging from 4 to 70 years old. According to Cherone he has coached "over 4,000 players," and has seen a large increase in the number of tennis players in Collierville since his arrival eleven years ago.
While at his job in Collierville, Cherone realized the importance of developing an interest for the sport among the youth. To achieve this, he started a tennis program in one of the town's middle schools. The success of this team led him to apply for the job of head coach of the town's high school team, eventually making him the head coach of all school tennis programs in Collierville. Cherone's popularity stems from his unique no-cut philosophy in building the teams, allowing all interested players to join regardless of skill level. Giving kids the opportunity to be a part of a school athletic team encourages them to continue playing throughout their lives.
"Having a no-cut policy is the foundation for what we do here in Collierville," said Cherone. "If there is a child or an adult who wants to play, we will be there for them."
He even goes one step further, spending extra time scheduling matches and practices to make sure every player receives some playing time. His method is the best of both worlds, as interested players are allowed to play, but not at the expense of team success. According to Cherone, he has had a team win the regional championship each of the last five years.
According to some, tennis in the United States has been suffering at the professional level due to the lack of American players playing college tennis. Through his various clinics and lessons as well as his no-cut policy, Cherone is growing the sport for players in an attempt to change that narrative.
"Tennis is structured to accommodate kids of all skill levels in competition, giving everyone a chance to play competitively", said Cherone. Additionally, tennis can be played recreationally throughout one's life making it "such a great sport," in Cherone's words.
In the past eleven years, Tony Cherone has established and grown the sport of tennis in the town of Collierville. When asked what motivates him to spend so much time and energy in his coaching, he responded with a simple answer: "I get more joy in seeing the successes of my students than any of my own successes."
Photo courtesy of Tony Cherone.