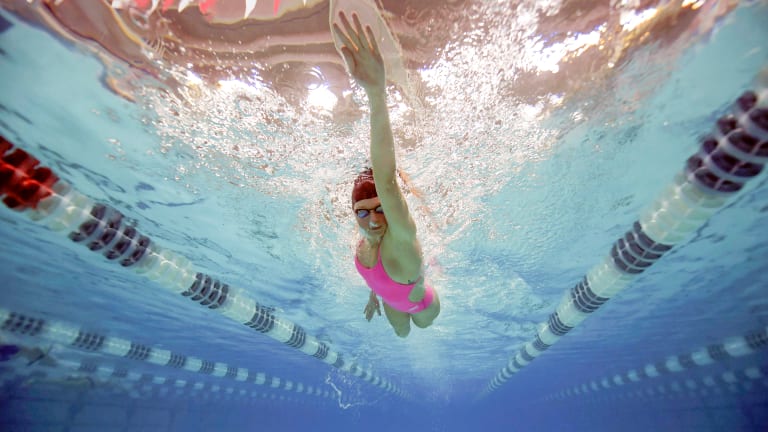 The Inspiring Story of Paralympic Champion Jessica Long
Born in Russia and living in an orphanage for the first 13 months of her life, Jessica Long had no idea what her future would hold. The little girl born with fibular hemimelia would not only go on to be a 13-time gold medal–winning Paralympic champion, but she would inspire others to chase their dreams.
Long was born in Irkutsk, Russia, where she lived in an orphanage until her parents adopted her in 1993. Soon after being adopted, she had to have her legs amputated at only a year and a half.
"It gave me a lot of freedom and movement," Long said. "But growing up, it was definitely really hard. From a very early age, I just decided that I was going to be unstoppable and I wasn't going to let my legs hold me back."
From that point forward, she didn't let anyone tell her what she was or wasn't capable of doing. She started doing gymnastics as a kid. Then, at 10, Long found her sport for life: swimming!
"I was the only girl with no legs on the swim team," she said. "There were moments I struggled, but my teammates treated me like a friend. When I look back on my life and I think about anyone on that team, no one made fun of me for having no legs and they were so kind."
Long defied all odds and surprised everyone when she qualified at only 12 years old for the Paralympics in 2004 in Athens. After four Paralympics, Long has won 13 gold, six silver, and four bronze medals. She has dozens of World Championship medals and has broken numerous world records throughout her career so far. But she didn't start focused on winning awards or being famous.
"I didn't start swimming, thinking that I was going to break records or win awards. Those things are so incredible and they definitely add to this journey that I'm on, but I really just love swimming. It's important for any athlete to remember just why you started," she said.
Now she has been able to share her story in her book called Unsinkable. It shares her journey in and out of the pool. This past February, the whole world saw her resilience when her story was shared during the Super Bowl.
One of the most decorated athletes in history, Long's goal is to just keep competing for as long as her body allows. While the road has not been easy for her to make it to this point, she wants to encourage the next generation of para athletes that anything truly is possible.
"It is absolutely possible: dream really, really big," she said. "There are so many amazing Paralympic athletes out there who are breaking barriers. There are so many possibilities out there, so find your passion, but also know that you are going to have to be consistent and work really, really hard. You define your own success."
Photo credit: Donald Miralle/Sports Illustrated