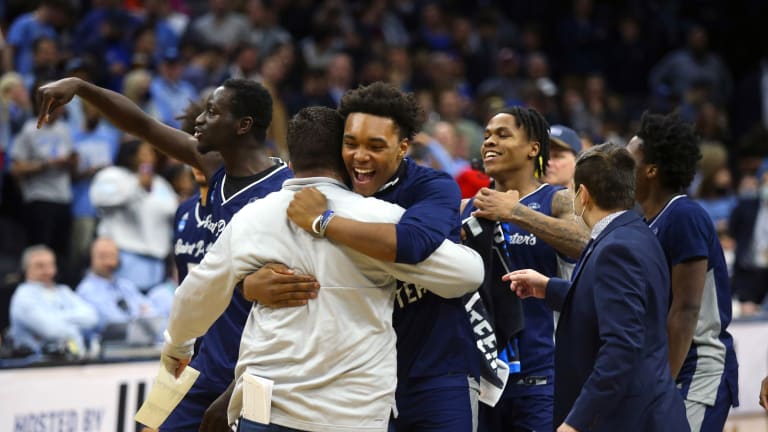 Sweet 16 East Region Recap: Saint Peter's Cinderella Run Continues in Philly
My first March Madness Sweet 16 coverage was anything but boring. The energy throughout the entirety of the two games was nothing short of special. From underdogs shocking the world to a first year head coach advancing to the Elite Eight, this East Region semifinals had everything any fan could ever ask for in one late Philly evening.
With the crowd roaring after every bucket, both games came down to the final minute with clutch free throws by the winning teams, Saint Peter's and UNC. Legendary Hall of Fame coach, Roy Williams, was also there to witness the magic on March 25. Never before in HISTORY had a #15 seed advanced to the Elite Eight, until that night— and it also happened to be National Peacock Day.
Game 1: No. 3 Purdue vs. No. 15 Saint Peter's
Saint Peter's is already the Cinderella story of the March Madness tournament, and has proved everyone wrong. Going up against Purdue in their third-round matchup, the game was back-and-forth the entire first half. Typifying this underdog's resiliency, Saint Peter's star Jaylen Murray (No. 32) threw the ball away on a pass attempt, but he stole the ball the very next play.
Purdue led by four points at the half, but the Peacocks came out to play, starting with a 6–0 run in the second half. Purdue's big men toppled over the New Jersey players, but that didn't stop them from making their own names known. With only seconds remaining in the game, Doug Edert, now known for his recent NIL deal with Buffalo Wild Wings, sank free throws to seal the game for Saint Peter's. On National Peacock Day, the Peacocks completed the impossible: taking down #3 Purdue, 67-64 in an instant classic.
The Peacocks continue to surprise, besting one big name after another. Edert talked about handling the pressure at the end of the game, and then hearing the crowd erupt.
"Our whole team handled the pressure at the end, took care of the ball, did what we had to do, got fouled, and made our free throws," Edert said. "But in regard to the very end: It's amazing. I love moments like that. I work hard to get into moments like that and to execute what I have to do, and we did it together as a team."
A history making game, Game 2 had a lot to live up to following Game 1. Game 2 featured two Blue Bloods (top teams that have consistently had successful basketball programs).
Game 2: No. 4 UCLA vs. No. 8 UNC
UCLA got out to an early lead, with the crowd cheering for both sides. Both teams came out shooting, from all parts of the court. The Bruins lead by three at halftime, 31-28. UNC continued to battle with starter Caleb Love scoring 30 points to help his Tar Heel team stay in contention.
With 1:30 left in the second half, it was all tied up at 64 until Love scored a few more points to put the game out of reach. UNC went on to win the game against the No. 4 Bruins, 73-66 to earn their spot in the Elite Eight for the first time in five years. This school win tied Kentucky for the most all-time tournament wins in a program's history with 129.
"Well, tonight's game, it was a must win: a game to get to the Elite 8," Love said. "I'm just proud of our guys. My teammates are just wonderful and our coaching staff is the best in the country, so they put us in position to win, and that's what we did."
Not only did the players rise up to the occasion, but first-year head coach Hubert Davis is making his own history. In his first season, he has already led UNC to an improbable Elite Eight. When I asked him what it meant to him to make it to this point, he was trying to hold back tears as he selflessly put his team first.
"I just really am not thinking about myself at all. I'm just really happy for them. The only thing that I've ever wanted is I want them to experience and see the things that I've been able to experience here at North Carolina as a player," Davis said. "I'm proud that they're getting those memories. Like these are things that they're going to be talking about for the rest of their life, and I get a chance, a front-row seat to be able to witness that. It's just not about me at all. Coaching is an act of service. It's about helping and coaching and teaching these kids on and off the court and just trying to help them out."
Coach Holloway and Coach Davis have shown to be selfless, coaches of character throughout their team's March Madness runs so far. No. 8 UNC will play No. 15 Saint Peter's in an expected thriller game for a spot in the Final Four later today.
Photo credit: William Bretzger/NorthJersey.com/USA Today Network