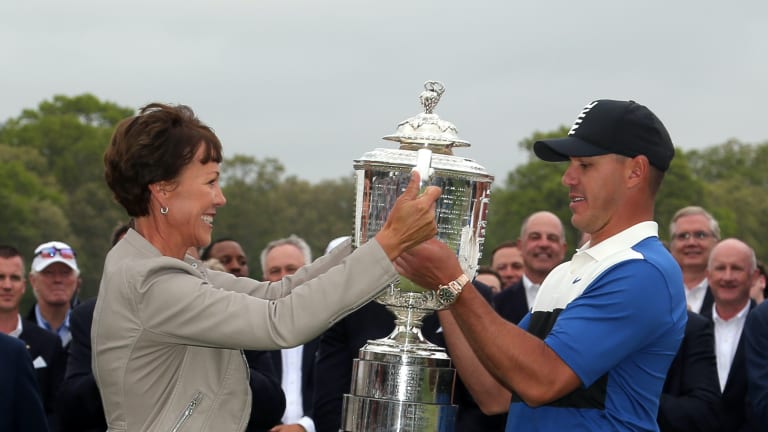 Suzy Whaley Reflects on Her Term as PGA of America President
Suzy Whaley is not your average sports executive. She has earned 10-time Golf Digest State Teacher of the Year honors, played on the LPGA Tour, competed as the first woman in a men's PGA event in 58 years, worked as a commentator for ESPN, and topped it off as the first female president of the PGA of America. With her term as president ending in November, it is only fitting to look at her journey to what led her to that position and her other accomplishments.
In 1989, Whaley graduated from the University of North Carolina at Chapel Hill. She played on a four-year scholarship and planned to enter law school. She ended up switching career paths after she qualified for the LPGA Championship as an amateur.
"I hadn't considered turning professional but I talked it over with my family and I said I think I am going to go to tour school instead of law school," Whaley says. She earned her tour card and then lost it. But in 1993 she earned it back by becoming more dedicated to her training.
In 2003, she broke her first gender barrier becoming the first woman since 1945 to qualify and play in a men's PGA event, The Greater Hartford Open (GHO).
"It was not something I had planned to do," she acknowledges. "I was only one of two women in the (qualifying) field of all men. I was just trying to have a good tournament and compete in my section championship, not imagining they would ever allow women to play in a PGA event."
Whaley won the qualifier and played competitively in the GHO (shooting 75 and 78) and made more connections and fame in the golf world.
Whaley originally joined the PGA of America to compete in their tournaments for teaching professionals. She later became involved with her local section and began volunteering on local committees. Her roles kept changing until she became inspired to run for Secretary of the PGA in 2014.
"I loved it so much because I had the opportunity to have a voice, to evolve the game, and to look different than everyone else in the room," Whaley says. "It was important to me to bring a different perspective to the PGA of America."
After two years as the role of secretary, she became vice president, and in 2018, Whaley broke her second gender barrier to become the first female President of the PGA. As president, one of the biggest projects she and her team have been working on is "to make sure everyone can play golf no matter their background, gender, sexuality or gender." Whaley explains: "We want everyone to know that golf is something we welcome them to."
Being President of the PGA comes with a lot of responsibilities, but Whaley has been up for the challenge. She helps coordinate national events, creates organizations that get more people involved with the game, and travels all over the world for events.
Whaley sums it up: "If I had to describe my time as president in three words, I would say, groundbreaking, exhilarating, and challenging."
One of Whaley's legacies will be her guidance in creating the PGA League.
"PGA League was a program to help mentor PGA professionals: women, people from a diverse background, and young men to get involved with governance," Whaley says. After five years of this program there are people from many different backgrounds that are section leaders around the country.
With her term ending in November, Whaley already has plans in the future to play more competitive golf and pursue other business endeavours.
"I am really excited to get back to teaching because it is my passion and my purpose," she says. "I can't wait to get my junior elite team back this spring and hopefully get to regionals and nationals."
Suzy Whaley defied the odds with her hard work, determination, and great attitude. She is a trailblazer and role model for all.
Photo credit: Peter Casey/USA TODAY Sports