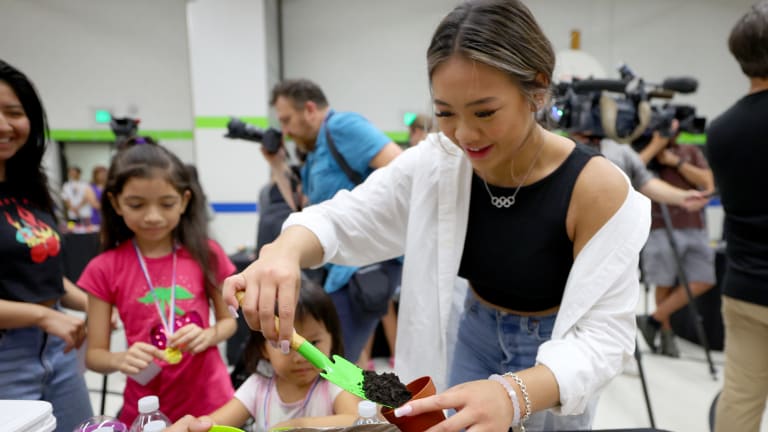 Gold Medalist Sunisa Lee Makes an Impact at Her Old School
Sunisa Lee took the world by storm a year ago when she captured the Olympic gymnastics all-around title in Tokyo. Since then, she has continued to do great things in the college gymnastics world, as she completed her freshman year for Auburn. However, the road to Olympic gold wasn't easy, especially with the pandemic postponing the 2020 Olympics.
"In the beginning, it was kind of difficult, just because of the pandemic," Lee says. "I lost a lot of family members. Just losing a lot of motivation because coming back, I didn't know if we were going to have an Olympics. I think I just had a really good support system, and remembered my goals."
Her hard work ethic finally paid off, when she became an Olympic champion. Her time in Tokyo was unusual, since no spectators were allowed. But, she still enjoyed going to the Olympic Village, shopping, seeing all of the athletes from around the globe, and—of course—winning.
"Immediately after I competed my floor routine, I started crying," she says. "I go up to my coach and I'm like, 'Oh my gosh, my score came up.' I'm crying and he's like, 'Don't cry yet, you don't know if you won.' Then she went and got the score, and then I started crying again."
But her impact didn't stop there and then. Recently, Lee partnered with Amazon to create a memorable back-to-school event at her alma mater, Battle Creek Elementary School. The day was filled with smiles as hundreds of kids and their families experienced activities like rock painting, gardening, and more.
"I decided to partner with Amazon to help recognize the great work that Battle Creek Elementary School, my alma mater," she says. "It is going to ensure that more local students explore an ESTEAM (Empowerment through Science, Technology, Engineering, the Arts, and Mathematics) education and are inspired to pursue their passions in school."
Lee surprised everyone at the back-to-school event, and participated alongside the kids with all of the fun activities. She even gave an inspirational speech about the importance of education and giving back.
"With this donation to kick off the school year, students and teachers are receiving what they need from Amazon to support their students' imagination and love of learning," she said. "I want to make sure everybody has an equal opportunity to get all of the education that they need."
Lee boasts not only a gold medal, but a heart of gold, as she gives back to her community!