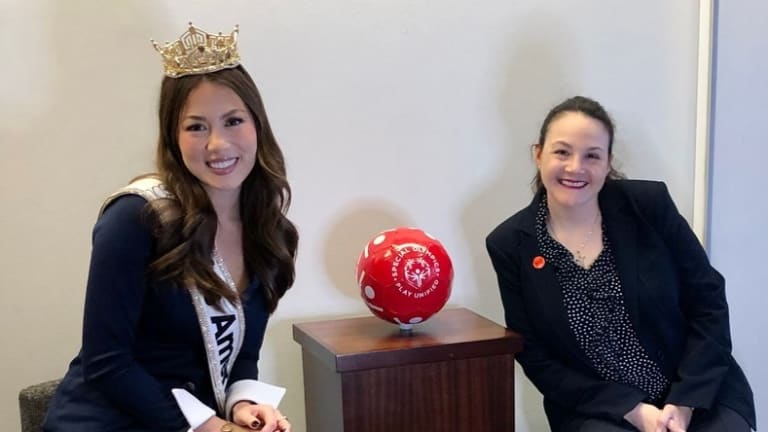 Special Olympics Athlete Renee Manfredi Embodies Organization's Mission
As we begin the holiday season, Special Olympics Gold Medalist Renee Manfredi is on a mission: to educate others on the work that the Special Olympics does around the world.
Special Olympics provides training and sports competition for people of all ages with disabilities. Not only is there no financial barrier, but Special Olympics also provides their athletes with other resources, like inclusive health options, in addition to athletic training and competition.
Renee Manfredi, an athlete with autism, is a leader, health messenger, and a Special Olympics Hawaii Board Member. She is a prime example of the impact of Special Olympics. She didn't get involved until she was in her twenties, because her family didn't know about the nonprofit. But, once she got involved, there was no turning back.
"I'll be honest, I was hesitant and wasn't keen on the idea of being made fun of and I'm not very good at sports," she says. "My mom said if we didn't like it, we wouldn't go again. We took a leap of faith and went to the first practice - which was basketball season - and they all welcomed me. For the first time, I was a part of a team! I just felt a weight being lifted off my shoulders. There were no expectations of me having to be like everyone else."
Renee has now been a part of Special Olympics for over a decade. In her very first USA Special Olympics Games in Seattle in 2018, she not only spoke at the Opening Ceremony, but also helped lead her soccer team, the Terminators, to a gold medal.
"That was a really exciting moment," she says"Four athletes were chosen to represent our four elements—earth, air, fire, and water. I represented the element of fire. I was nervous, but I was so honored to be asked."
In addition to being an outstanding athlete, Renee is familiar with four different languages (English, Arabic, Spanish, and Hawaiian) as she moved frequently, having grown up in a Navy family. Renee is a role model and example for so many showing that if you set your mind to it, you can reach any goal.
"Autism is known as an 'invisible disability.' It's something you can't see and sometimes you can't hear it. My biggest barrier is that people don't really listen to me when I tell them that I have autism and that I'm going to need help. They will say, 'You don't look autistic. Don't be so hard on yourself.' Most of the questions that go through my head are, "How can I explain what I'm trying to say?"
Even with the barriers, Renee remains positive as she works on bringing awareness to the disabilities that people can't see.
Outside of playing on the field, Renee has worked on shining a light on Special Olympics with her advocacy work alongside Miss America, Emma Broyles.
Emma grew up going to Special Olympics practices multiple times every week as her older brother, Brendan, has Down syndrome. At the USA Games in Orlando, Fl. Emma was brought to tears hearing Renee share her story. Since then, the two have teamed up to work on bringing more awareness and helping to create more inclusion around Special Olympics.
"It has been so much fun to be an advocate for Special Olympics in everything I do," Broyles says."I actually got to walk out with the Alaska team during the opening ceremony [of the 2022 USA Games]. I remember standing back there in the stadium and seeing so many Alaskan athletes, who I had grown up with, seeing how emotional they were. Tears of joy of course because the athletes were just so incredibly honored to see all of their hard work pay off."
Together, these two empowered women hope to bring more awareness about Special Olympics to help create more inclusion in our sports world. Not only is Special Olympics a world-wide organization reaching more than 170 countries, but they also have many other facets and avenues that people don't know about, including community.
"There is a place in Special Olympics for everybody. There are so many ways to get involved with Special Olympics, and it really does bring people together," Broyles says. "Special Olympics has so many other avenues, in which it is promoting inclusivity. It has been our honor and privilege to be able to really spread that message and spread the work that Special Olympics is doing, all while pursuing that inclusion revolution."
With the help of fellow Special Olympics members and ambassadors, Renee and Emma hope to continue to be the light for others to see the impact of Special Olympics. Renee talks about her hope for her work both on and off the field.
"My hope is that the more I share my story as an athlete, leader, and health messenger is that people will see. Their eyes will be opened and they will look past the disability and see the ability."