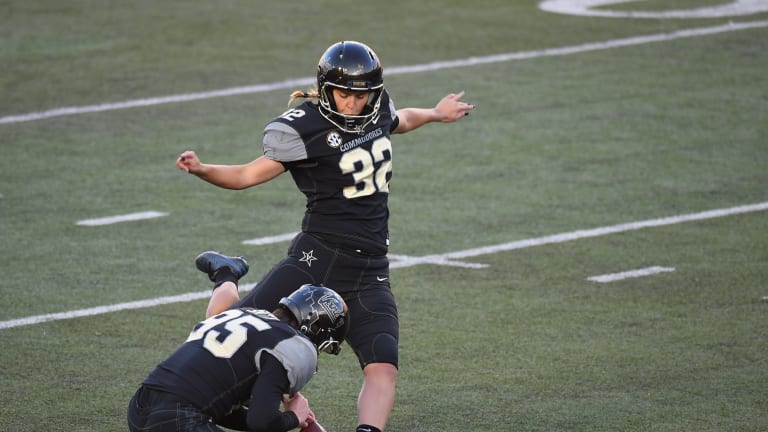 Sarah Fuller Makes College Football History, Creates Lasting Legacy
Sarah Fuller has taken the college football world by storm. On November 28th, Fuller stepped out on Missouri's Faurot Field in her Vanderbilt jersey with the phrase "Play Like a Girl" written on her helmet. Once her laces made contact with the football, she had made history as the first woman to play in a Power 5 football game.
Fuller grew up in Wylie, Texas with her younger sister and parents. She endured a challenging journey to achieve her successes as a Vanderbilt Commodore soccer and football player. During her freshman and sophomore year, she struggled with a broken foot and slipped disc in her back. Rehabilitating diligently, Fuller still found herself still sitting on the bench her junior year. Finally in this year's senior season, despite getting a stress fracture in her other foot, she was able to earn the starting keeper position. She utilized the motivational advice a former coach gave her to "adapt quickly, and roll with the punches" to help lead her team on November 22nd to an SEC Championship, the Commodores first since 1994.
Shortly after the championship game, Sarah unexpectedly received a call from an assistant soccer coach asking her if she would want to kick for the football team in the game against Missouri. The team's placekickers were out due to COVID-19. Fuller welcomed the opportunity to play, as she knew this could be a life-changing moment. Soccer prepared Fuller for this historic moment, mentally and physically: "Everyone is saying, 'She is going to get beat up if she is on the football field.' I am a goalkeeper and I get kicked and hit in the face all the time."
Despite all the press Fuller received prior to the Missouri game, Fuller said she was actually more nervous for the soccer championship than the football game. Soccer is what she has trained for since she was five, and winning the top prize was a validation of her dedication and hard work.
The football team welcomed her with open arms. Fuller notes, "They were great. In the beginning they were trying to see if I was good enough or if I could do this. After I started making field goals they were like, Okay yeah, she can do this."
Fuller had less than a week to prepare for the game. "We worked on taking field goals, extra points, and everything," Fuller said. "I worked on the squib kick, which happened in the game. I was told to go and kick that at the start of the second half and I did exactly that." Fuller's second half kickoff was the moment that put her in the history books.
Fuller embraces the motto "Play Like a Girl,'' which is what she has engraved on the back of her helmet. Fuller explains, "'Play Like a Girl' is an organization where their main goal is to support and encourage young girls to continue playing sports. Sports are so important in learning how to work as a team, make friends, and gaining courage. They also do a mentorship with women in STEM.
Since Fuller and I have last spoken, she made history again as the first woman to get a point in a Power 5 football game. On December 12th, she kicked two extra points in Vanderbilt's rivalry game against Tennessee. Fuller is quite an inspiration for all the young girls out there and has left a lasting legacy behind.
Photo credit: Christopher Hanewinckel/USA TODAY Sports