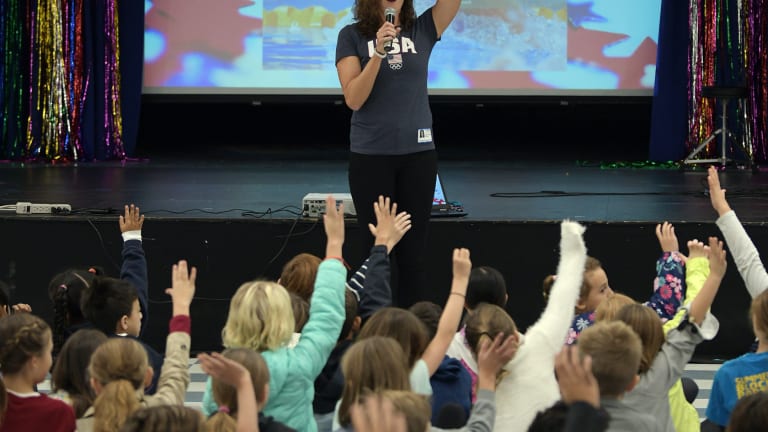 "Ready, Set, Gold!" Inspires Next Generation of Olympians, Paralympians
Olympians are not extraordinary people. Olympians are ordinary people, working towards extraordinary achievements.
Olympians and Paralympians are born from all walks of life, all across the world, and yet the feats they achieve make them seem almost superhuman. So what defines an Olympian? What allows one person to achieve what seems unachievable? Ready, Set, Gold! (RSG) is a Southern California–based program led by Olympians and Paralympians to answer these questions for school children.
"Think of it in terms of grades: The A-team is the best team, the B's are the good team, and the C is the needs improvement," said Kristy Kowal, a silver medalist swimmer for USA in 2000 and RSG mentor. "And that was me, I was on the C team."
RSG is a program for community health, fitness, and social and emotional learning to promote healthy lifestyles to kids.
"The Olympic motto in Latin 'Citius Altius Fortius' translates to 'swifter, higher, stronger,' not 'swiftest, highest, strongest,'" said five-time Olympic swimming medalist and Chairman of RSG, John Naber. "It's all about improvement, not victory."
At the heart of RSG is the belief that anyone can be an Olympian, as long as they learn to awaken the Olympic spirit within. While the curriculum includes lessons on goal-setting, perseverance and leadership—possibly the most important lesson RSG teaches is the concept of delayed gratification.
"Most people go to a restaurant, and they don't have to pay the bill until after dessert has been served," said Naber. "But in sport, you've got to pay the price first, and get the rewards later."
Another RSG mentor, Samantha Bosco let nothing get in the way of her dream. A Paralympic champion, Bosco was born with a bowed right tibia (shin) and as a young child had to have that part of her leg removed. The different lengths of her legs did not stop her from riding bikes, and she quickly fell in love with cycling at a young age.
At the height of her youth biking career, with dreams of someday becoming a professional mountain bike racer, Bosco experience complications from a limb-lengthening surgery, leaving her with years of crutches. As she faced more injuries while rowing for University of Central Florida, she was forced to quit that sport in order to walk again. Through all of this, Bosco emerged as a two-time track cycling bronze medalist at the 2016 Paralympic Games in Rio, Brazil.
"I try to use my life experiences with the students of RSG. Definitely just knowing that somebody has been through adversity helped me along the way," said Bosco. "So for me to be able to share my story with kids, and even adults, I feel like it helps because it's like, Okay, we're not alone.'"
These lessons and many more are taught in RSG's in-class program that pairs participating schools with specific Olympians and Paralympians to inspire students to improve. In response to the needs of distance learning, RSG developed a free virtual program that gives students the opportunity to exercise with a talented Olympian or Paralympian in the safety of their home, while also learning the mindset required to achieve greatness. RSG organizers hope to expand to a national reach in the future once it is safe to return to in-person activities; for now, all lessons can be found online.
"Ready, Set, Gold! may or may not discover an Olympic champion," said Naber. "But it will definitely enhance the lives of all the kids who get to hear the Olympians or Paralympians tell their story."
The Olympic and Paralympic Games return to the U.S. in 2028 in Los Angeles. Bosco hopes to compete, while Kowal and Naber plan to do their part to support the athletes.
Said Naber: "It is only fitting that those who were part of the Olympic Games or Paralympic Games should be the ones preparing the next generation for their own gold medals."
Photos courtesy of Ready, Set, Gold!