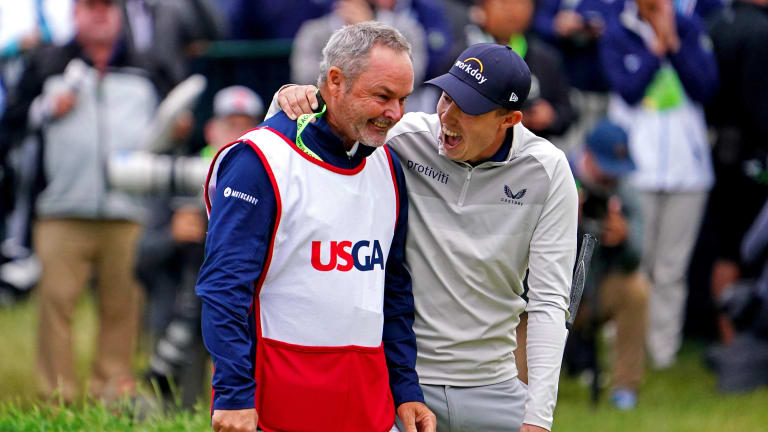 Player-Caddie Relationships Take Center Stage at U.S. Open
In 1913, The Country Club in Brookline Massachusetts, one of the oldest and most celebrated courses, hosted the 18th U.S. Open. Francis Ouimet, a 20-year-old Brookline native and former caddie at The Country Club, captured the title after an 18-hole playoff, becoming the first of five amateurs to date to win the U.S. Open.
While Ouimet's success made national headlines, Ouimet's 10-year-old caddie, Eddie Lowery, shared much of the spotlight. Ouimet and Lowery forged a historic caddie-player relationship and eventual lifelong bond. Lowery was known for helping Ouimet stay mentally strong throughout the tournament and he played such an influential role that Hollywood created the film The Greatest Game Ever Played to cover Ouimet's inspirational story with the aid of young Lowery.
In 1949, Ouimet's friends and the Massachusetts Golf Association founded the Francis Ouimet Scholarship Fund. Each year, the foundation awards juniors who work Massachusetts golf courses millions of dollars, a financial lifeline for aspiring college students.
This past June, The 122nd U.S. Open returned to the historic Country Club. The field was composed of the best 156 players from around the world, ranging from worthy amateurs to professional tour players. Some players head into the event hoping to make the cut—the top 60 advance to the final two days—while others only covet the championship trophy. No matter who the player is or what their goals were for the week, the player walked with a trusted caddie by his side, just as Ouimet had Lowery.
Fran Quinn, a 57-year-old local legend, survived a playoff to qualify for the Open. He not only had the support of family and friends watching in the gallery, but he had his son, Owen, on the bag. Quinn has played all over the country, but said playing this U.S. Open on home turf with his son by his side felt special: "To be able to share this experience with my son is dream type stuff. He is a wonderful kid who is not only my son, but my best friend."
"I am so proud of him for not only getting here but the support we had was unbelievable," Owen said. "Chanting while walking up the fairway was pretty cool."
Jim Furyk, known for winning the 2003 U.S. Open and 2022 U.S. Senior Open—and his unorthodox swing—has had 74-year-old Mike "Fluff" Cowan as a caddie since the Masters in 1999.
"Mike loves his job," Furyk said. "He likes coming to work, enjoys caddying, being outdoors and with the boys in the caddie yard. I think any time you are around someone that enjoys what they do, that is going to reflect on you. It's good to have him on the bag."
Playing with Furyk was 2021 U.S. Junior winner Nick Dunlap, who will be attending Alabama University in fall '22. For amateurs, having the ability to pick a caddie can be a new experience, as tournaments on the junior level do not always permit caddies. Dunlap looked for a caddie he knew he could trust while playing in an atmosphere he was unfamiliar with. He put his close friend, Scott Weaver, on the bag to try to help him navigate the high pressure event.
"It probably took me six days to get used to all the fans and playing in grandstands, but I'll be ready next time," he said. On July 18th, Dunlap switched his role in the caddie-player relationship and took on the caddie role for his girlfriend and also incoming Alabama recruit, Kynadie Adams, at the 73rd US Girls Junior Amateur at The Club at Olde Stone in Bowling Green, Kentucky
Runner-up finisher Will Zalatoris wore a shirt with the Ouimet Scholarship Foundation's logo, which includes silhouettes of Ouimet and Lowery. Zalatoris' caddie, Ryan Goble, has been on the bag for three years. Zalatoris notes, "He's basically been an older brother to me, been there through the ups and the downs. He's my biggest support when I am out there. He's just done such a good job with keeping me in the moment and especially in these situations when I need to crack jokes when the tension gets high. He's a brother for life."
Finishing three strokes behind Zalatoris and earning a T-5 finish was Colin Morikowa, who holds two major championships including the PGA Championship and The Open. Morikawa shares a strong relationship with his caddie, JJ Jakovka, who prior to working with Morikawa was a college golf standout with winning two individual national championships for California State University.
"JJ has been one of the most important people in my life and in my career so far. I don't think people realize how much we trust them. He's kinda my double check and I have to trust him to say whether he likes it or not."
As Sunday at the Country Club came to a close, it was Matt Fitzpatrick who walked away with the title of the 122nd U.S. Open while his caddie, Billy Foster, broke down in tears while taking home the 18th hole flag. Foster has caddied for some of the world's best but has never been on the winning bag of a major champion.
"It means the world to Billy," Fitzpatrick said. "It's unbelievable. I know it's something he's wanted for a long, long time. To do it today is incredible."
All of these players go through the ups and downs of golf where at times the game can be physically and mentally grueling, but a strong caddie-player relationship can be the key to bringing home the championship.