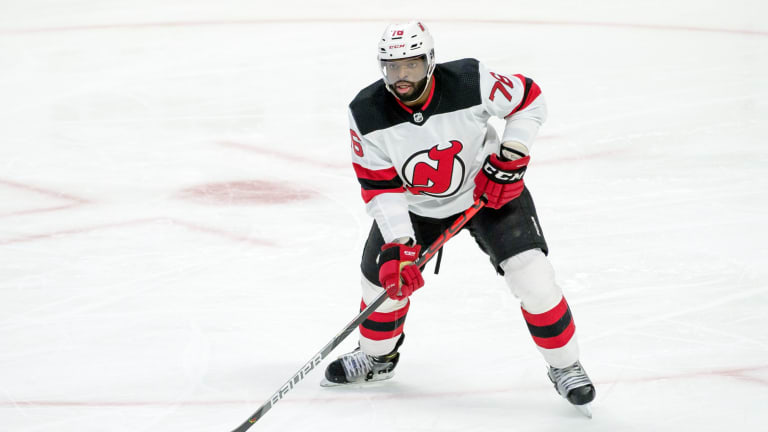 Devils Star P.K. Subban Creates Blueprint for Promoting the NHL
P.K. Subban has quite the resume. He is a three-time Norris Trophy finalist for best NHL defenseman, and he took the award home after the shortened 2012-13 season. Subban has hardly gone under the radar thanks to his charismatic personality, dedication to charity, and connection with fans.
While the NHL looks to catch up to the other leagues in the marketing game, Subban has done a fine job promoting himself, amassing one million followers each on Twitter and Instagram. Connor McDavid, the league's premier player, currently sits at 362,000 on Twitter. Subban has done a great job of growing his brand on social media, something that NHL players tend to shy away from.
"I think if you're comfortable opening yourself up to people seeing the way that you live and parts of your life that they wouldn't be able to see without social media, then you should do it," Subban says.
Twitter and Instagram are not the only ways that he has connected with fans. In 2019, using the Community app, Subban set up a phone number for fans to interact with him via text, after the idea was presented to him and his fiancé, Olympic skier Lindsey Vonn. This has been very popular, especially in the younger market. Kids are able to use the number to directly text Subban, often picking his brain for advice about hockey.
"I try to engage with my fans as much as I can," Subban said. "They've been so great to me over my career and I try to return the favor. As a kid I wish that I could've been as close to pro athletes as kids are able to be today."
Not only is Subban communicating with his fans individually, he is also trying to reach out to them en masse. During the NHL playoffs, which Subban's New Jersey Devils were not a part of, he started a podcast, called "P.K. Subban's Ugly Duck Podcast."
"I didn't really have anything going on. During a pandemic you can't leave your house. I'm training every day, I have meal prep and all these different things going on at home. Liquid Light was the company that I was able to build a relationship with, and I said, 'Listen I have an interest in talking hockey and talking about the games.' It was really cool for me because it gave me a taste into what the job is like."
(For fans of the podcast, don't worry: Subban has a desire to do more episodes in the future.)
Growing hockey is something that the NHL has been trying to do for years, but has always fallen behind basketball and football in the marketing game. The league's best player for years before McDavid came along, Sidney Crosby, doesn't even have a Twitter or Instagram account. LeBron James has been that guy for the NBA, and he is a prominent social media presence (for the little amount of time that he is not in the NBA Finals). Even Tom Brady joined Twitter in April of 2019, and has delivered for fans with TB12-brand comedy.
As someone who has done a good job marketing himself, Subban thinks that the NHL needs to stick to what makes sports special: the team game.
"If you look at the NBA as a league, they market their superstars, but you don't get your full due unless you win a championship. It always comes back to the team. I'm not saying that we need to take the model of the NBA, but I think that in a lot of ways we need to understand that winning is the number one thing in sports."
Subban is not only growing the game at the NHL level, but at the youth level as well. He runs the Subban Defence League, a hockey camp dedicated to getting kids into hockey and helping them improve. It is held at Lower Canada College, in Montreal. Campers should expect to follow two rules: have fun, and get better.
It helps that Subban is a pretty easy guy to market, partly thanks to his community involvement. The money from the Subban Defence League all goes to his own charity, called the P.K. Subban Foundation. He has also donated $10 million to the Montreal Children's Hospital when he played for the Canadiens. Subban has been inspired by the kids that he has met along the way, including Alex Shapiro, a youth hockey player who passed away from cancer in 2013 at the age of 11.
"That sparked my interest in wanting to start my own foundation, to try and help other kids that are like Alex to have a better quality life."
Much of 2020 has been defined by the Black Lives Matter movement, which NHL teams acknowledged in August. Subban is a part of the group of players striving for change, joining the league's Player Inclusion Committee.
"We want to make our game completely safe and clean for everyone to feel welcome to the game. We want to encourage kids of all different backgrounds that they can feel comfortable putting on skates and hockey equipment, and feeling like they can be themselves."
Following in the footsteps of athletes like LeBron James and James Harden, Subban and Vonn have also decided to get into the business of sports by buying a stake in a soccer team. They announced that they are a part of the ownership group of Angel City FC, an expansion National Women's Soccer League team coming to L.A. in 2022. They joined a group with actress Natalie Portman, tennis legend Billie Jean King, WNBA superstar Candace Parker and many other celebrities. Not only does this give Subban a chance to become an owner, and not just a player, he gets a connection to one of the best places possible for marketing yourself: Hollywood.
"It's a great opportunity for Lindsey and I to learn about the business of sports and to support some of the most amazing women in the world."
Subban and his teammates on the Devils have not played in an NHL game since March. With the 2020-21 season not having a definite start time, Subban is staying in shape for when he gets the call to action, so he can look to add to that impressive resume.
Photo Credit: Marc DesRosiers/USA TODAY Sports