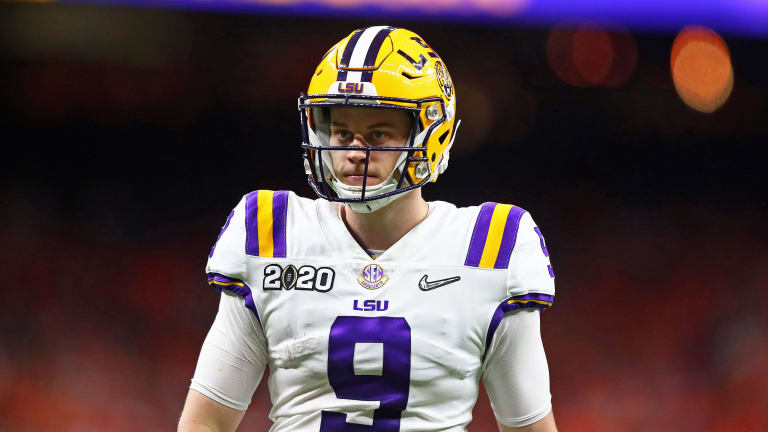 NFL Mock Draft 2020: SI Kids Predicts the First Round
The 2020 NFL draft starts on April 23 at 8:00 p.m. ET, and can be viewed on ESPN, NFL Network, and ABC. Let's take a look at who Kid Reporters Ian Springer and Cole Dunchick think each team will select.
Because teams are going to be spread out with every scout, general manager, and coach at their home due to COVID-19, we anticipate fewer trades. For that reason, this mock won't project trades.
Before we get to the draft, we should get to know the 2020 class and what their strengths and weaknesses are.
The biggest, deepest class of any position this year is by far the wide receivers. That group will have people with first-round talent in most years drop likely as far as the third round. The big names at wide receiver are Alabama's Jerry Jeudy, the best route runner in the draft, Alabama's Henry Ruggs III, a complete speedster that will take the top off of any defense, and Oklahoma's CeeDee Lamb, a receiver with elite run-after-the-catch skills.
But unlike the wide receivers, a position that we will likely not see go off the board until the later second round is the tight end position. This year there just doesn't seem to be anyone worth taking from that position so high, especially after teams can find players like the 49ers' George Kittle in the fifth round.
After that background of a few positions to get your mind in draft mode, without further ado, here is our mock draft.
1. Cincinnati Bengals: Joe Burrow, QB, LSU
Burrow was a stud in college and is coming off an amazing season, winning the Heisman Trophy and a national championship all in one year; he also broke multiple records. There are a lot of good quarterbacks in this draft, but when the only downside to a quarterback is that he has 9-inch hands and not 10-inch hands, it probably makes sense that he would be the first quarterback off the board. The Bengals are in need of a new quarterback to replace the mediocre-at-best Andy Dalton. Burrow, the hometown hero from Ohio, would be the perfect fit for a franchise that really wants to start over.
2. Washington Redskins: Chase Young, EDGE, Ohio State
Young delivered big time in college and was always on the quarterback's mind. He had 16.5 sacks and seven forced fumbles while not even playing the whole season. He is by far the best defensive player in the draft and even though Washington has invested a lot trying to build its defense the past few years, the prospect from nearby Hyattsville, Md., has too much talent to pass on.
3. Detroit Lions: Jeff Okudah, CB, Ohio State
There really isn't a flaw to this guy's game. He can cover, tackle, run with any receiver and he is a physical player that knows how to make a statement with a hit. He would be the replacement for Darius Slay and fill that gaping need at corner. The Lions could trade back and gather more ammunition in the draft with all their needs, but, as we mentioned at the start, trading will be difficult.
4. New York Giants: Tristan Wirfs, OT, Iowa
The Giants' priority here is to protect Daniel Jones, especially after their offensive line was terrible last season. Wirfs is a physical freak, and had an outstanding combine. He ran the fastest 40-yard dash of any offensive lineman (4.85) and set a modern record for offensive linemen in the vertical jump (36 ½).
5. Miami Dolphins: Tua Tagovailoa, QB, Alabama
The Dolphins have never really found a good quarterback to lead their team. Their trade last year for Josh Rosen didn't quite pan out as they hoped, and Rosen isn't their long-term answer. There are a lot of rumors surrounding Miami potentially taking Justin Herbert here, but that might just be a smoke screen. Tagovailoa is an outstanding passer with elite accuracy, but injury issues related to the hip dislocation he suffered last year could cause him to slip.
6. Los Angeles Chargers: Justin Herbert, QB, Oregon
The Chargers let go of Philip Rivers and now have a big hole to fill at quarterback. Herbert is a big, smart and athletic quarterback with a cannon for an arm. Herbert does struggle with accuracy, and there are concerns about his leadership due to his introverted nature, but he's more promising for Los Angeles's future than Tyrod Taylor.
7. Carolina Panthers: Isaiah Simmons, LB, Clemson
After losing linebacker Luke Kuechly to a surprise retirement this offseason, Carolina's defense sorely lacks playmakers. Simmons is incredibly versatile, and can play pretty much any position on defense. Carolina can't pass on a player like this, especially after not being taken by the Giants at four. When a reporter asked what position Simmons played he simply said "defense". This goes to show how many ways Carolina can use him as a weapon on D.
8. Arizona Cardinals: Jedrick Wills, OT, Alabama
The Cardinals' offensive line is dreadful, and needs to do a much better job of protecting Kyler Murray. With an up-and-coming superstar under center the Cardinals should really be focused on protecting him, especially since Murray is undersized at 5' 10" and takes a toll from being knocked down so many times. Wills is both a polished pass-blocker and a polished run-blocker.
9. Jacksonville Jaguars: Derrick Brown, DT, Auburn
Brown is a dominating run-stuffer that would be a very safe pick for Jacksonville. He won't be an elite pass-rusher, but he will be a very good player. The Jaguars lost Calais Campbell this offseason, so help on the defensive line is welcome. Brown could go higher than this, but this is probably the end of his skid.
10. Cleveland Browns: Mekhi Becton, OT, Louisville
Although they signed Jack Conklin in free agency, the Browns need another offensive tackle. Becton is massive, athletic and has an incredible highlight reel. He stunned everyone at the combine by running a 5.10 40-yard dash, which is unheard of for a guy that weighs 364 pounds. Mekhi Becton really helps the Browns after a terrible performance last year.
11. New York Jets: CeeDee Lamb, WR, Oklahoma
The Jets need to get Sam Darnold some help. Lamb, with his ridiculous run-after-the-catch skills, would make Darnold very happy. Also, with the loss of Robby Anderson, they need to get some of his production back. The Jets haven't a true No. 1 receiver in ages and Lamb can turn into that player.
12. Las Vegas Raiders: Jerry Jeudy, WR, Alabama
The Antonio Brown experiment was an epic flop with the Raiders, so a receiver is needed. Jeudy's near-perfect route running would be a major boost for Las Vegas's offense. Juedy will come in and open up that receiver room by getting attention, benefitting players like Tyrell Williams and Hunter Renfrow.
13. San Francisco 49ers (From IND): Henry Ruggs III, WR, Alabama
San Francisco needs a big-play threat. Ruggs, with his elite 4.27 speed, is that. He will pair amazingly well with Deebo Samuel and give the 49ers someone to use as a weapon with his speed and John Ross comparisons. With two young receivers, the 49ers could make their receiving corps a strength and not a weakness by getting someone who makes the field of play that much bigger.
14. Tampa Bay Buccaneers: Andrew Thomas, OT, Georgia
The Bucs need to protect Tom Brady. Thomas was consistently productive during his time at Georgia. Brady can't get beat up with his age and he is used to a stellar line in New England. We're sure he wants to keep it that way, and adding Thomas is a step in the right direction.
15. Denver Broncos: Justin Jefferson, WR, LSU
Denver would love to add another piece to pair with Courtland Sutton. Jefferson is incredible in the slot. With the three top receivers off the board, Jefferson is next in line and would dramatically help out an offense that consists of newly starting quarterback Drew Lock. The Broncos need help to draw attention away from Sutton and Jefferson can help them do that.
16. Atlanta Falcons: C.J. Henderson, CB, Florida
Atlanta needs help in the secondary. Its defense was dreadful last year, mostly due to their coverage unit. Henderson is never going to face a receiver more athletic than him. Adding Henderson to replace Desmond Trufant would be a net win for the Falcons.
17. Dallas Cowboys: K'Lavon Chaisson, EDGE, LSU
Chaisson is everything you want from an edge rusher, minus the college production. He is quick, agile and flexible with a devastating bull-rush move. The only thing against him is how little he actually statistically helped LSU this past year on the field. He can help replace Robert Quinn, who departed for Chicago in free agency.
18. Miami Dolphins (From PIT): Javon Kinlaw, DT, South Carolina
Kinlaw is already a better pass-rusher than Derrick Brown, and is still very raw, with only one pass-rush move so far. He has long arms that can allow him to disrupt the quarterback. Miami can pair Kinlaw with 2019 first-round pick Christian Wilkins on the defensive line.
19. Las Vegas Raiders (From CHI): Kristian Fulton, CB, LSU
Las Vegas would love to add to its cornerback room, especially after the Eli Apple deal fell through. Earlier in this mock, we gave the Raiders a wide receiver in Jerry Jeudy, so cornerback is by far their biggest need here. Fulton was incredibly productive while at LSU.
20. Jacksonville Jaguars (From LAR): A.J. Terrell, CB, Clemson
After trading Jalen Ramsey last season (in a trade that netted the Jags this pick, in fact) and trading A.J. Bouye to Denver early this offseason, cornerback is a major need for Jacksonville. After picking Derrick Brown with its first selection there is no way that it will pass on a corner with this pick, and Terrell just happens to be available here. Terrell is a big, athletic cornerback who specializes in press coverage, and he gives the Jaguars one of their two starting cornerbacks for the upcoming season.
21. Philadelphia Eagles: Kenneth Murray, LB, Oklahoma
While there will be cries for a wide receiver, the best value here is to take Murray, who is also at a position of need, and wait until the second round to take a wide receiver and take advantage of the deep class at that position. Murray can play sideline-to-sideline and has outstanding leadership abilities.
22. Minnesota Vikings (From BUF): Jeff Gladney, CB, TCU
Minnesota needs help at cornerback desperately. Gladney is on the small side, but his coverage skills are outstanding. He is great at making plays on the ball, and the Vikings need all the help they can get after saying goodbye to their top three corners.
23. New England Patriots: A.J. Epenesa, EDGE, Iowa
While the Patriots' offense obviously took a major blow in free agency with the loss of Tom Brady, the defense was also decimated. New England saw Kyle Van Noy, Jamie Collins and Elandon Roberts depart, so pass-rushing assistance is needed. Epenesa is pretty much the opposite of K'Lavon Chaisson, with all the production but none of the tools or athleticism.
24. New Orleans Saints: Patrick Queen, LB, LSU
When we look at the Saints' roster, they just don't have any major needs. Linebacker is the closest thing to that, with key players set to hit free agency in 2021. Queen is fast, physical and explosive and has shown flashes of being an elite player. He does have a bit of risk however, as he was only a one-year starter at LSU.
25. Minnesota Vikings: Tee Higgins, WR, Clemson
The Vikings just lost Stefon Diggs in a blockbuster trade with the Bills. They need someone to pair with Adam Thielen, and Clemson's No. 1 receiver would be a perfect fit with Thielen and will eventually have a more expanded role in the offense. With this offense it's hard to see how they would be matched by a defense with these two wide receivers and a star running back in Dalvin Cook.
26. Miami Dolphins (From HOU): D'Andre Swift, RB, Georgia
The Dolphins get to take the first running back off the board and only running back that will be drafted in this mock. Miami needs a No. 1 running back since it traded Kenyan Drake to the Cardinals, where he is now flourishing and even started over former Arizona running back David Johnson. Swift can come in and provide an immediate fix to that problem.
27. Seattle Seahawks: Josh Jones, OT, Houston
Seattle will probably make a shocking pick, as it has the last two years with Rashad Penny and L.J. Collier in the first round, but Jones is the most likely pick in this scenario. The Seahawks need an offensive tackle and Jones is NFL-ready, despite going to a school that is not in a Power 5 conference. He dominated pretty much every pass-rusher he faced.
28. Baltimore Ravens: Yetur Gross-Matos, EDGE, Penn State
Gross-Matos is the prototypical edge rusher. He is big, has long arms and is athletic. He was never dominant in college, but he was consistent, rarely having a bad game. That's exactly what the Ravens need, having an amazing offense that needs the defense to be consistently good.
29. Tennessee Titans: Marlon Davidson, EDGE, Auburn
Davidson was a four-year starter at Auburn. He can play either on the edge, or inside at defensive tackle. He has some similarities to Jurrell Casey, who Tennessee traded to Denver this offseason in a cost-cutting move, and could be asked to step into that role.
30. Green Bay Packers: Brandon Aiyuk, WR, Arizona State
The Packers need someone to pair with Davante Adams and Aiyuk is a perfect fit for that. Also, we're sure Aaron Rodgers wouldn't mind one more weapon to try and get one more ring before he calls it a career. Aiyuk is a valuable receiver who will draw a lot of attention away from Adams.
31. San Francisco 49ers: Austin Jackson, OT, USC
After taking a wide receiver earlier in this mock, San Francisco doesn't really have many pressing needs, which can allow it to plan for the future. Left tackle Joe Staley is on the older side at 36, and the structure of his contract, which expires after 2021, would make it very easy for the 49ers to cut him after the season and hand the reins to Jackson if they wanted.
32. Kansas City Chiefs: Zack Baun, LB, Wisconsin
There was some talk with Kansas City going running back, but with the No. 1 prospect gone and Damien Williams breaking out in the Super Bowl the more we think about it running back seems like less and less of a need—linebacker, for one, seems more pressing. Although he is a bit small, Baun has the versatility to play edge rusher or off-ball linebacker at the next level.