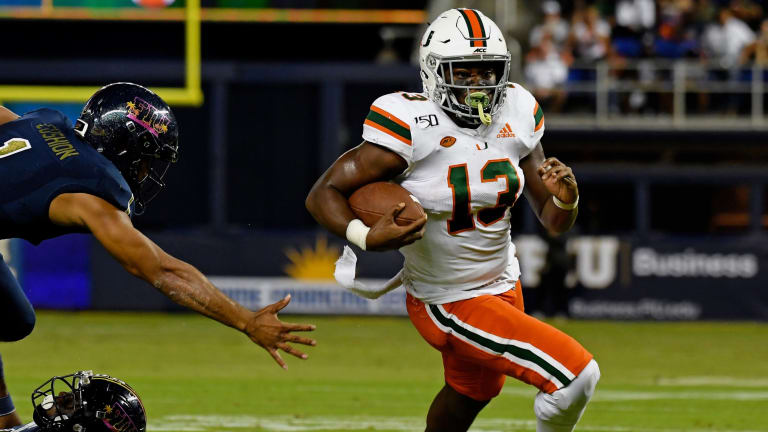 Biggest Steals of the 2020 NFL Draft
The 2020 NFL Draft has come and gone with some lesser known names—often from smaller schools—picked in the last couple of rounds. Every year, several late-round gems excel in the NFL: Tom Brady was a 6th round pick (199 overall). Antonio Brown was also a 6th round pick (195 overall). And Julian Edelman went in the 7th round (232 overall). Who will be the steals of this year's draft class? Here's my top five hidden gems in the 2020 NFL Draft:
RB Deejay Dallas— Seahawks, Pick 144
Deejay Dallas was actually drafted earlier than expected when he went in the fourth round. Dallas is a 5' 10" 214 lb. running back who played quarterback in high school and wide receiver when he first arrived in Miami. He runs strong with a want and willingness to explode into contact. His experience as a wide receiver is shown by his extremely fast feet and cuts, impressive for his weight, and by his pass-catching. It takes a strong tackle attempt to bring him down. He is willing to block, and he has solid technique to deter a defender. He has to develop more patience, waiting and anticipating while behind the line of scrimmage. Dallas has quick feet, but he needs to use them to beat defenders and help him create more opportunities to move beyond the second level. Dallas also needs to work on his blitz recognition skills in the pass protection game. His inexperience at the running back position suggests room to grow.
WR Darnell Mooney—Bears, Pick 173
Mooney is a 5' 11" 175 lb. wide receiver who ran a 4.38 40-yard dash. He is extremely explosive and dynamic off of cuts, accelerating with great speed. Nobody was able to separate as quickly as Mooney at Tulane last year. He uses a wide variety of moves to escape press coverage. He was often forced to make catches in traffic in college, and it was not an issue for him. He makes up for his size with his ability to beat a defender to the ball in the air. While he does not back down from contact, his size does let him be pushed off-course. The same goes for blocking: He gives great effort, but defensive backs do not seem to be affected. He could also work on making his inward cutting routes sharper, as he sometimes rounded them off.
WR Quez Watkins—Eagles, Pick 200
Quez Watkins is the biggest steal of the draft. He is taller than the average receiver at 6'2". At the combine, he ran the second-fastest 40 yard dash, with a 4.35 time. The combine includes only the best receivers in the nation, and Quez Watkins finished in the top half of every single event. Watkins is nearly impossible to contain once the ball is in his hands, which is reflected in his 18.4 yards per catch last season at Southern Miss. Throughout the season he looked electric, but perhaps most exciting is his progression from year-to-year in college. During his sophomore year, he improved greatly, tripling his freshman stats. Then, in his third year, he improved again, racking up 289 yards more than the year before. He is bound to improve even further in the NFL. He is not without weakness, though: Hopefully Watkins can improve on his balance through contact to continue plays even farther. Watkins struggled a bit with press coverage in college and needs to learn to use his hands to his advantage.
WR James Proche—Ravens, Pick 201
Proche is a 5'11" 196 lb. receiver who had strong pre-draft hype. Proche is leads primarily by his outstanding hands, maybe the best in the draft class. He can reach out and catch seemingly impossible catches while under pressure. Proche has quick, nifty footwork when the ball is in his hands. He is also a strong blocker, catching guys off-guard because of his size. It seems like nothing changes when the ball is thrown to him in traffic, as he is very comfortable there. He does have some work to do though to ensure success at the next level. Proche definitely needs to work on his route-running. He cannot battle in press coverage, which must be improved at the next level. Proche can lose catches to tall corners because of his small arm length and height.
WR Chris Rowland—Falcons, UDFA
Rowland's biggest issue is his size at 5' 8" and 180 lbs. But this did not stop him at Tennessee State. Rowland looks great on film, and his stats are mind-boggling, even for FCS play. Rowland only played 11 games in 2019, but had 104 receptions, 1,437 receiving yards, and eight receiving touchdowns. He did more than excel at receiving, returning both kicks and punts. Rowland had 14 punt returns for 166 yards and 15 kick returns for 375 yards, plus a touchdown. His return game will allow him to stick on an NFL roster and get the opportunities to prove himself on offense. Rowland partially makes up for his lack of size through his superb route running. He does need to work on extending his catch radius outside of his frame, especially given his size.
Photo credit: Steve Mitchell/USA TODAY Sports