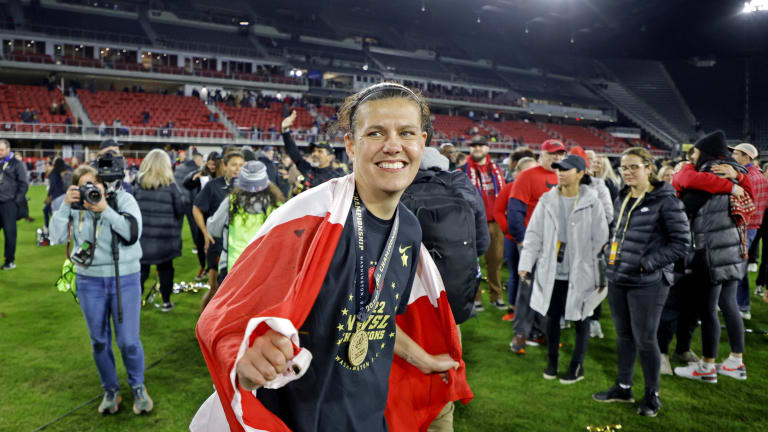 New Memoir Caps Off Christine Sinclair's Year to Remember
The Canadian legend's new book is "Playing the Long Game."
In July, Christine Sinclair, soccer's all-time top international goal scorer, helped Team Canada punch their ticket to the 2023 FIFA Women's World Cup. Last month, she led the Portland Thorns to an NWSL Championship. Just three days later, her memoir, Playing the Long Game, was released.
The idea of writing a memoir first came up after she led Team Canada to a gold medal at the 2020 Summer Olympics in Tokyo. Her response?
"Absolutely not."
Sinclair is known to stay away from conversations about her personal life. However, with the help and convincing of veteran Canadian sportswriter, Stephen Brunt, Sinclair decided to step out of her "comfort zone."
"When I was growing up, it was just male athletes, male role models to look up to and aspire of being," she says. "And I wanted to help change that narrative and this was a step towards that."
An advocate for growing the game and women in sports, she shares her experiences of fighting for equality in the book. However, the parts that she's most proud of are the ones about her family.
"Everyone knows my soccer career. If you've followed women's soccer and Canada, you know the wins and losses," Sinclair says. "So, being able to share a little bit about my family was pretty special for me."
Sinclair made her senior national team debut at the age of 16. Now 39, she has witnessed the growth of the game and faced the challenges of being a woman in sports.
This year's NWSL Championships was broadcasted on CBS and streamed on Paramount+, making it the first primetime final in the league's history. Shortly after, the UEFA Women's Euro Final between England and Germany sold out, breaking an attendance record with 87,192 fans in Wembley Stadium.
"I think this year, it's proven that if it's on TV, people will watch it," she says. "If it's available, people will go to the games. I finally feel like women's soccer is where it should be. There are still a lot of ways to go, but this year has really been a turning point."
She is one of many to fight the battles and blaze the path for women in sports. With the memoir, she hopes to inspire young athletes everywhere.
"My biggest hope for the next generation is that those players don't have to fight the battles that I've had to fight. I want the next generation to be appreciative of the people that have come before. But at the same time, keep pushing, keep fighting and demanding things, because it'll be the next generation picking up this fight sooner or later."