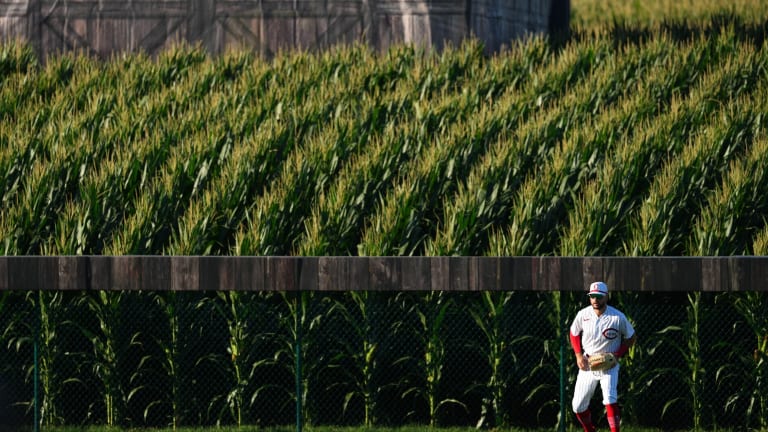 MLB at Field of Dreams Brings Movie Magic to Life
Is this heaven? No, it's Iowa.
The Field of Dreams game is unlike anything I have ever seen. After driving through cornfields in Iowa, a baseball stadium appears. The game is held near where they shot iconic 1989 film. Who would have ever guessed that Major League Baseball would come to Dyersville, Iowa?
The original field from the movie is maintained as a tourist attraction. Thousands of baseball fans visit the site every week. After walking through stalks of corn from the MLB diamond, fans can discover the famous house and field where Ray and his father played catch.
The most famous line from the movie—"If you build it, they will come"—has become a reality. A sellout crowd of 7,823 fans all gathered to watch the Chicago Cubs and Cincinnati Reds, surrounded by 8,750,000 corn stalks.
"There's a scene at the very end of the Field of Dreams movie where they say, 'People will come.' There's a car lineup. All you see is lights and you see the cars coming into the parking lot. That's what it felt like. It felt like we were entering the very end of the movie where people are coming," said Reds first baseman Joey Votto.
Ken Griffey Jr. and Ken Griffey Sr. led the walk from the cornfield onto the diamond, and had a special moment when they played catch together. The players soon followed, imitating the ghost players from the movie who emerge from the crops. Cubs and Reds Hall of Famers joined the current players on the field. Chicago Cubs Hall of Fame pitcher Fergie Jenkins threw the ceremonial first pitch to Cincinnati Reds Hall of Fame catcher Johnny Bench.
MLB and the fans also honored the USA Patriots (formerly the Wounded Warrior amputee softball team) last night with a standing ovation.
"My favorite thing about this is just the uniqueness of the venue," said Cubs manager David Ross. "That's what it's all about: going back to your grassroots of playing catch with your dad."
The Cubs were on the board early when Seiya Suzuki hit an RBI double. They put up a three spot in the top of the first inning, and added one more run in the fourth. Drew Smyly, their starting pitcher, pitched five shutout innings. The Reds offense didn't get going until the seventh, when Matt Reynolds hit a two-run RBI double. The Cubs bullpen was able to shut the door after that to earn the win.
"I just caught myself in between every inning when I wasn't pitching, staring out at the cornfields over the outfield wall," Smyly said. "It's just something I've never seen before. It's an image I'll always remember.".
It's a setting so different than any other ballpark in the country—a bucket list item for all baseball fans for sure. Dreams are made and achieved there. In John Kinsella's words, "It's the place where dreams come true."