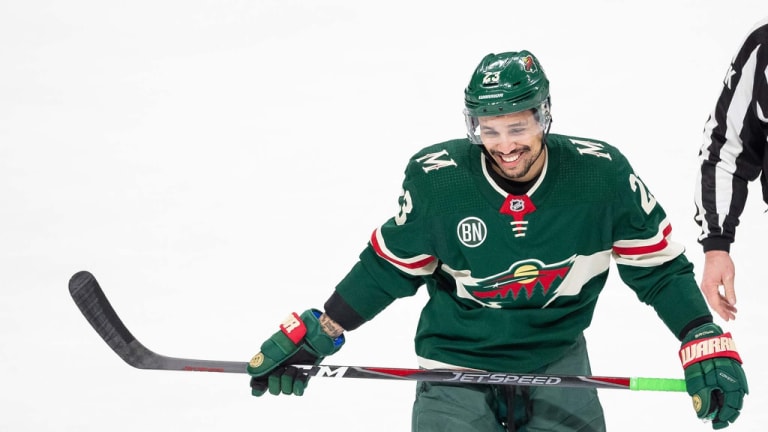 Kid Reporter Q&A: Minnesota Wild Winger JT Brown Talks Diversity in Hockey
I recently got to talk with NHL player and activist JT Brown. The son of former Minnesota Vikings running back Ted Brown, JT raised a fist during the National Anthem to protest racism in 2017 while playing for the Tampa Bay Lightning. It was the first such protest in the NHL. He is one of the athletes making the game more inclusive and diverse for future generations.
SI Kids: What inspired you to get into hockey when your father played in the NFL?
JT Brown: Like Canada, Minnesota is just known for a lot of hockey playing. Everyone in my neighborhood would play hockey. We would go to the ponds in the winter. We were all on the same team. Just being in Minnesota led me to hockey over football or another sport.
SIK: Can you explain what it was like to play youth hockey as a minority athlete?
JTB: When you're really young, you don't really notice that you're the only person of color on your team or in your league. I think there comes a time when you get older, that you hear things that get under your skin. You definitely start to pick up on the language or pick up on the fact that you're not playing against anyone that looks like you.
SIK: Do you have any advice for minority kids playing today?
JTB: The biggest thing is to just keep focused on hockey. This game is for you. Now you are starting to see more and more people of color. Just keep your head to the grindstone. People are going to say things—not everybody is like-minded. Let them say what they need to say and at the end of the day, this game is for you. If this is something you're passionate about, you have just got to stick with it.
SIK: I witnessed P.K. Subban's Blueline Buddies and I read that you tried to implement the same program in Tampa. What are your plans now?
JTB: These conversations are always ongoing and I think anything we can do to bridge the gap between minority communities and police makes it a more positive interaction. What P.K. did was awesome and it's definitely something on my radar.
SIK: You raised a fist in 2017. Why do you think the NHL is behind other leagues in terms of player involvement with social justice?
JTB: It's the demographic—the number of players of color at the NHL level is a lot less than in other professional leagues. If you look at other sports where there is a higher percentage of black athletes, there are issues of social justice that face them daily. In the NHL, even if these issues do not affect all players, they are stepping up and speaking out against it. Also, since there is a higher percentage of Canadian and European players, social justice issues in America may not affect them as much.
SIK: How do you think we can get more minority players to play hockey?
JTB: It starts when the kids are young and having a good support system. It's up to the coaching staff to make the game more inclusive for all players, and when instances arise, there is zero tolerance. Coaches are a mentor to young kids and they can show the team that everyone can be included in the game of hockey. I was lucky to have a coaching staff, friends, family, and players who supported me. When things happened, they had my back. Not everybody has that situation, so players get discouraged if they don't have that support system. It's important to make sure that a support system exists for young players so they don't end up quitting the game.
Photo credit: Harrison Barden-USA TODAY Sports