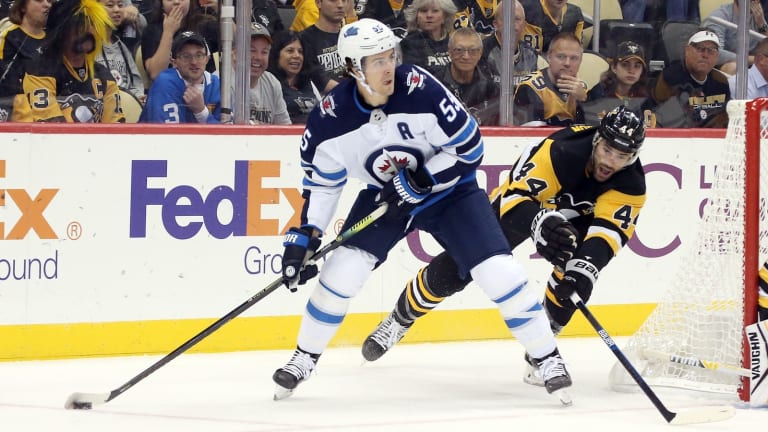 Jets Star Mark Scheifele Motivated by Faith, Chance to Help Others
Blazing lights, a grand stage, a city on his shoulders—Mark Scheifele doesn't let fame sidetrack him. A focused, humble competitor with a huge heart for hockey and faith, he sets an example for everyone on and off the ice.
The Winnipeg Jets centre is an ambassador for KidSport Winnipeg, a charity that aims to provide children an opportunity to play organized sports. He takes time out of his offseason training to run his annual hockey camp.
"When you see a little kid with a smile on their face, skating around and having NHL players teaching them different skills, that's the biggest thing for me," said Scheifele.
Born and raised in Kitchener, Ontario, the heart of Maple Leafs territory, Scheifele decided to forsake the blue and white. He instead followed in his father's footsteps to cheer on the Detroit Red Wings. He looked up to Steve Yzerman, a former Red Wing and Hall of Famer. Many kids daydream of lacing up their sharpened skates and stepping onto their favourite team's rink. That colossal hope became a reality for him.
"My minor hockey team had a tournament in Detroit and the finals were played at the Joe Louis Arena. Playing in my favourite childhood rink and scoring a goal in the shootout was a pretty special moment," recalls Scheifele.
He realized that hockey was something he could pursue, after being drafted as a 16-year-old in the OHL. As a child, he played every sport he saw on television. From basketball to badminton and even lacrosse, Scheifele probably could've gone pro in whichever sport he chose. In the end, he focused on hockey.
Now 26, he doesn't go a day without doing an activity that involves the sport he describes as "the love of my life"—whether that means watching games on the road, getting extra time on the ice, or working out in the summer. Fans have noticed evidence of his relentless work ethic. It has also paid off as Winnipeg's stat sheet–stuffer will soon be playing in his second All-Star game in St. Louis. His teammate Connor Hellebuyck will also join him in the festivities.
While hockey's intense atmosphere often causes the use of foul language, Scheifele differs from the rest. To him, exemplifying respect, self-control, and integrity is essential. Everyone has their moments, but he believes it's important to represent the number one thing he treasures, his faith.
"I'm a Christian, so I believe in God. A lot of those things that I've learned whether it was at church, in the bible, in devotion, or in our team chapel, those things keep me going on a day to day basis. They keep me grounded, keep me true to the person that I am, and the person I grew up being. He's the number one person to thank," said Scheifele.
Finally, his advice for anyone looking to chase a dream consists of three words.
"Just have fun. It's a lot easier to work hard when you enjoy the moment," said Scheifele. "If it comes with anything, that's just the gravy on top."