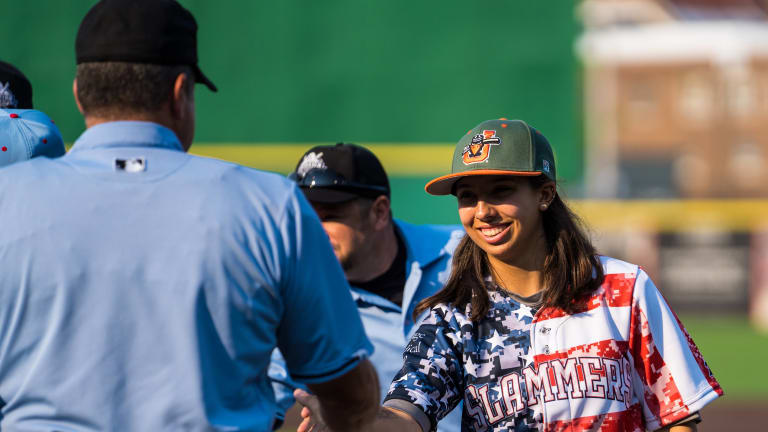 Meet Madison Femia: The Youngest Female Professional Baseball Coach
When you look across a baseball field and see coaches helping players, you probably wouldn't expect to see a young woman. But 18-year-old Madison Femia of the Joliet Slammers is okay with that assumption, as she is already making her mark at a young age. She has started her coaching journey early in life, and her dream of coaching in the MLB is within reach.
Madison grew up playing baseball. She loved to play, even if she was surrounded by boys. As a catcher, she was able to help control the game with pitch-calling. The experience for her, as a girl, was different, but she still enjoyed it.
"It was fun, but challenging," Femia said. "I always felt like I was never truly accepted, but I loved the game enough that I never wanted to stop despite what everyone else thought."
Femia had the opportunity to play alongside other outstanding baseball players from the United States in South Korea before COVID. She was on Team USA Elite, and they competed in the LG Cup. Her experience was life-changing as she played baseball at a high level and immersed herself in a different culture.
"It was amazing," Fema said."The baseball itself was so much fun. But what was better was the food and the experience itself made me really want to explore the Asian culture more."
When Femia went into high school, her goal was still to play the sport that she loved, despite being the only female in a mostly male sport. However, her sophomore year she was cut from the high school team by her high school baseball coach. Instead of giving up, she decided to play varsity softball to help her stay in shape.
"I didn't have a drive to play softball per se, but I wanted to keep active. I've grown up with the softball coach, so I figured that I would just play with my friends and enjoy what time I had left being active. Plus it was the closest I had to baseball during the school season," Femia said.
In Femia's senior year, she had no idea that it would end during a crazy pandemic that didn't allow her to have a typical high school ending: graduation, celebrations, prom, and more. COVID took away her opportunity to have a senior season, but the closing of one door opened a new one for Femia.
Femia was originally planning on playing softball in college at North Central University in Minnesota in the Fall of 2020. But then a coaching opportunity presented itself in Illinois. The Joliet Slammers, a team in the Independent Frontier League that helps players start their professional journey, had an open coaching position. The Slammers give players the chance to move into the programs of MLB teams after gaining experience there. Femia had a hard time believing the offer to join the coaching staff.
"I almost cried in front of my boss. I was so excited," she said. "I called my mom and dad as soon as I got out of the building. I was so excited, and I still am everyday! I am so excited to get up everyday and go to the ballpark."
She took the job to be a bullpen and catching coach for the Joliet Slammers. Not only is Femia coaching, she is also working on earning a degree, so that she can transfer to a four year university in the future. On May 27th, she became the first and youngest female coach to travel with a team in the Frontier League. She is continuing to reach for her goal of coaching in the MLB one day.
Throughout COVID and her journey as an athlete, she has learned about how important her family is to her: "I learned how precious time is with your family. I spent so much time with my mom and dad and I am so lucky I had that time with them because it was so fun and never boring with them."
Her parents have helped her chase her dream of joining Kim Ng, Alyssa Nakken, and other women in MLB leadership positions.
Photo by Eric McGill