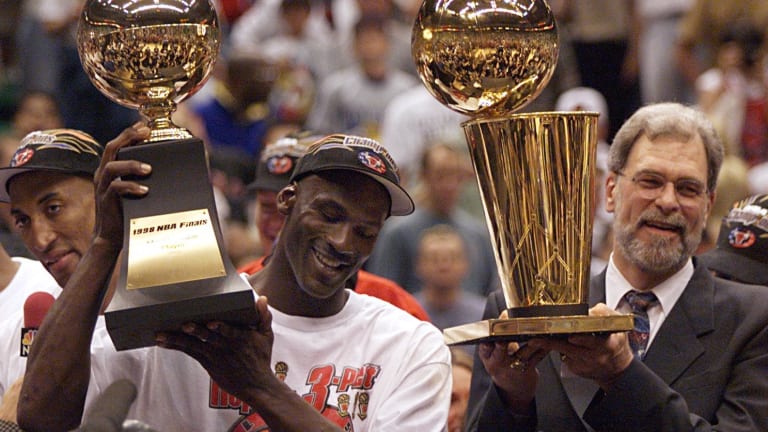 A Kid Who Doesn't Remember Michael Jordan Reviews "The Last Dance"
Growing up in the era of Harden's stepbacks, Kawhi's defense, and Curry's threes, I never had the chance to witness His Airness. But there's plenty of history, stats, and stories to unearth about Michael Jordan.
The Last Dance is a 10-part documentary that gives a glimpse of the Bulls' 1997-98 season while also highlighting different points of Jordan and Co.'s upbringing and careers. I recommend it for anyone over the age of 14.
A camera crew was given permission to follow the Bulls and capture footage. Around 23 years later—yes, 23—it was finally unveiled for the world to see. Though it was originally planned to be released on June 2 to collide with the NBA Finals, the pandemic influenced ESPN to change the premiere date to April 19.
Other than the pairs of J's in my closet, Space Jam lines embedded in my brain, and stickers of the Jumpman logo on my wall, there wasn't too much I knew about the man. Sure, I knew he and the Bulls were dominant back in the day, but watching this documentary proved that there's more to the organization than six championships, shoe brands, and unique hairstyles.
From a tear-jerking Kobe tribute to insights on Chi-Town's troops, the individual scenes gripped viewers like myself. While Jordan was the star of the show, the documentary also dove into the lives of Scottie Pippen, Dennis Rodman, Steve Kerr, and Toni Kukoc, and Phil Jackson.
The series teaches the importance of teamwork and commitment. The famous story of Jordan being cut from his high school basketball team demonstrates perseverance. His mom, Deloris, explained how he laboured over the summer and became polished and stronger. His sidekicks Rodman and Pippen came from tough backgrounds, which fueled them to create a better life for themselves. Their relentless work ethics teach everyone that with hard work, barriers can be tackled and that expectations can be exceeded.
Behind-the-scenes footage of the lovable Space Jam was revealed during episode eight. While filming, Jordan would invite NBA stars to play pickup games on a court constructed just for him on set. It allowed him to learn his competitors' tendencies, strengths, and weaknesses. Many later admitted to regretting it, for they quickly figured that it elevated Jordan's game. Although Bugs Bunny didn't make an appearance for an interviews, these segments are still an A+ in my book.
Even after watching all the footage that captivated the world, what surprised me most was how much of a threat Steve Kerr was back in the day. It seemed that the Warriors' head coach has passed his clutchness onto the "Splash Brothers". Even as a Raptors fan, I would like to thank you, Steve.
The Olympic Dream Team of 1992 bulldozed through the competition. Their dominance was unmatched, and possibly still is to this day. The intense atmosphere during practices could be felt through TV screens. Despite tensions and rivalries displayed during the Olympics, present-day Magic Johnson was smiley while reminiscing about those moments.
Speaking of the Dream Team, without Phil Jackson's coaching, would the Bulls still have six championships? Arguably the greatest coach of all time, viewers are taken on the journey that led up to Jackson's 11 rings as a coach and two as a Knick.
There is no doubt in my mind that scenes of glorious rivalries featuring Isiah Thomas, Karl Malone, and Reggie Miller brought flashbacks to older viewers. However, as a 2000s kid, I was digging through archives of clips I'd never seen. It felt like history class, except for that I wasn't falling asleep.
This series proved why many consider Jordan the "GOAT." Even after the rise of LeBron James, MJ's candidacy has proved to stand the test of time. With Pippen's versatility, Rodman's defense, the squad's persistence, and Phil Jackson's knowledge, these Bulls are possibly the greatest team ever assembled.
Photo credit: Robert Hanashiro via Imagn Content Services, LLC