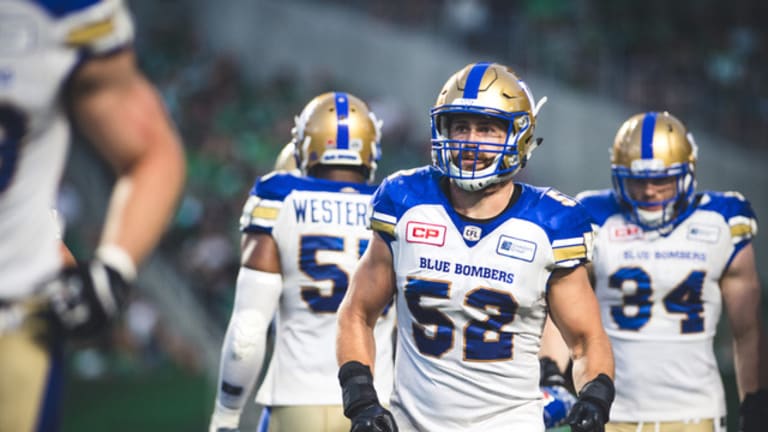 Hometown Hero Thomas Miles Reflects on Winnipeg Blue Bombers Grey Cup Win
The champion linebacker visited our Kid Reporter's school.
There's nothing quite like winning a championship for your hometown. Now Blue Bomber Thomas Miles can add that to his resume. The Canadian linebacker grew up in Winnipeg and has represented the blue and gold since birth. Fun fact: His grandmother has been a season ticket holder since 1970. That's exactly 50 years!
Winnipeg has been yearning for the Grey Cup to come back. This past season, they finally ended a 29-year drought. The Bombers defeated the Hamilton Tiger-Cats by a score of 33-12 the championship game. The Bombers maintained a large lead in the first half. Quickly, Winnipeg fans realized that victory was on its way. Streamers and smoke filled McMahon Stadium as the newly-crowned champions raised the Cup.
For the months of January and February, the Bombers are hosting their Manitoba Grey Cup Tour. Fans from all over the province have the opportunity to meet players, take photos, and ask questions.
"I understood just how badly the city and the province were craving the Grey Cup to come back," Miles said, "Fans become really invested in it. With their contributions to the crowd noise in games, that's really valuable. They've got every right to celebrate the win with us."
As a part of the tour, Miles visited Steinbach Regional Secondary School to interact with students. He also held a Q and A with the school's football program, sharing his knowledge and experiences. Miles encourages aspiring athletes to keep their options open and to start thinking critically about their everyday choices.
"You have to see all of your day to day decisions through the lens of How does this affect my goal?" Miles explained."Every single day questions such as What did I eat? Where did I go? Did I work out? all come into play. All those decisions have to filter through the question, does this impact my goal?"
The chilly weather on the day of the championship parade back in November didn't stop supporters from flooding the route. Fans bundled up in their winter apparel and lined the streets to capture the glorious moment.
"The memory that sticks with me most vividly was the parade on the float turning onto Portage Ave. and seeing workers scaffolding and who have stopped to wave and cheer in there," Miles recalled. "I had obviously dreamt of what a championship parade in Winnipeg might look like and feel like and it exceeded my expectations."
Although the next season is months away, everyone has been buzzing about the big question: Will they win it all again? Like every other defending championship team, their goal is to run it back and repeat.