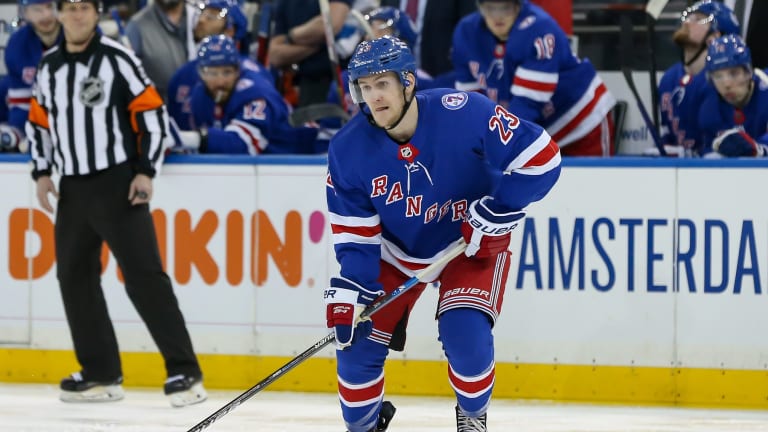 Kid Reporter Q&A: Rangers Defenseman Adam Fox Talks Norris Trophy Win, Stanley Cup Dreams
A Norris Trophy winner, hometown hero, and one of hockey's brightest stars, New York Ranger Adam Fox is living the dream.
After last season, his second in the NHL, Fox won the Norris Trophy, the award for the league's top defenseman. Now 24, he looks to continue his success and create an impact.
With the Rangers about to start their opening playoff series against the Penguins, Fox is thinking about a Stanley Cup. We had a chance to talk and look back on his journey.
SI KIDS: When you were younger, you wore the Rangers jersey as a fan. Now, you sport it on the ice. What is that feeling like?
Adam Fox: It's awesome! Not many people get to play for the team they grew up rooting for. It's always special to be on the ice at Madison Square Garden. Especially knowing that at one point I was a fan cheering on the team.
SIK: What are some of your hobbies outside of hockey?
AF: I like to play Xbox and in the summer I enjoy playing golf.
SIK: What are three key ingredients to success on and off the ice?
AF: For me, it's having a good work ethic, having fun with what you are doing, and being confident in yourself.
SIK: Speaking of success, in only your second NHL season, you wrote your name on the history books by winning the Norris Trophy. What kind of work ethic and mentality did it take to win the award?
AF: It takes a lot of hard work and effort. Not just for myself but for a lot of people who have helped me: my parents, coaches, teammates. It obviously takes a lot of hard work, but it takes a lot of help to get you there.
SIK: Who was your favorite Ranger growing up?
AF: My two favorites were Jaromir Jagr and Henrik Lundqvist.
SIK: What is the best memory you have from playing hockey as a child?
AF: My best memories were going to hockey tournaments. It wasn't just on the ice but it was off-the-ice stuff, like mini-sticks at the hotel. Those are some of the best memories I made.
SIK: What is your favorite thing about New York?
AF: It has everything. There are so many people from so many different backgrounds and you can get whatever you want in New York. It's a special place.
SIK: In 10 years, what do you hope to accomplish on and off the ice?
AF: Hockey-wise, I want to win a Stanley Cup. Growing up, I never got to see a Stanley Cup, as I wasn't born yet when the Rangers won it [in 1994]. Being able to bring one to New York as a player would be special. Off the ice: just trying to be a good person and help out others. I'm fortunate to be in this position, so giving back and helping people is important for me.
SIK: What message would you like to send to young, aspiring hockey players?
AF: Have fun! Enjoy playing. The friendships you make along the way are some of the best you will ever have.
Photo credit: Tom Horak/USA TODAY Sports