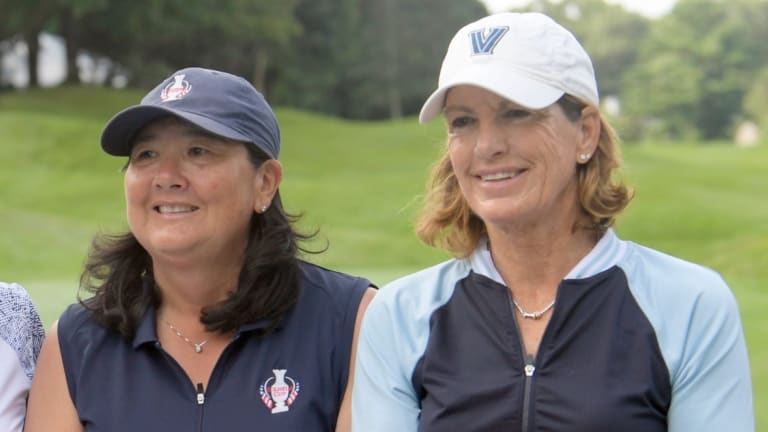 Kid Reporter Q&A: Pat Hurst and Juli Inkster Talk Solheim Cup
Since 1990, the top twelve women golfers from the United States and Europe have represented their respective countries with the goal of capturing the Solheim Cup. This unique event features three days of match play and occurs every two years, alternating between U.S. and European courses. Former LPGA Legends typically captain each country's team. Pat Hurst captained the 2021 team at Inverness Club in Illinois, where the Europeans defended their title, winning 15-13.
I spoke to Hurst and Juli Inkster about the event. As a player, Hurst participated in five Solheim Cups, with her teams winning four. In addition to her successes through the Solheim Cup, Hurst has 11 professional event wins and, in 2018, she was inducted into San Jose State's Sports Hall of Fame.
Inkster is recognized as one of the best female golfers in the world, as she has 45 professional wins and is also in the San Jose State Sports Hall of Fame. Inkster guided her team to two victories out of her three times as captain (2015, '17, '19). As a player, Inkster played in nine Solheim Cups, helping the US win five times.
SI Kids: Describe your experience as Solheim Cup captain in three words.
Pat Hurst: Honored, exciting, and a pleasure.
Juli Inkster: Awesome, honored, and amazing
SIK: What were your most memorable moments from the Solheim Cup at Inverness?
PH: Walking to the first tee and having everyone cheer. The crowd is into it. And it is the most electrifying moment that anyone can have whether you are a spectator, player, or captain.
JI: Seeing the fans that we have not seen in a while since the pandemic, seeing Pat lead her team, and just watching some amazing golf. I thought the course was tough and both teams played some great golf.
SIK: What advice would you give to kids looking to get involved with sports?
PH: To go out and have fun and enjoy what you are doing no matter what it is. Try not to put too much pressure on yourself. Yes we all want to win, but it is more about learning, being competitive, and having fun with it.
JI: Nothing comes easy, you have to put the work in. Once you put the work in you fall in love with the sport and it becomes your passion. Work hard, have fun, and enjoy it.
SIK: As Captain, what type of responsibility does that bring for you and what is your role with the players?
PH: It is providing everything. We do the designing of the bags, clothing, round out the team with the three captain picks, pairings, and are there for the players trying to minimize their responsibilities.
SIK: What did it mean to you to go from playing on the team to being the captain and giving a speech in front of all the fans?
PH: It is a different responsibility. One is playing and the other is being the captain. Calling the players that didn't make the team was the hardest part, but the second toughest was the speech at opening ceremonies. You feel like everyone is looking at you and you are representing team USA. It is a big responsibility and I felt good about it.
SIK: After being down going into the final round, what advice did you give to your players?
PH: I told them that we weren't out of it. We went around the room and talked about what we were thankful for.
SIK: Which of the Solheim Cups you captained would be your favorite and why?
JI: My first one in Germany, in 2015. I wasn't sure what leader I was going to be, but you kind of learn alot about yourself, how you lead, and how people respond. I learned I could lead and it turns out that being yourself, consistent, and honest, are the qualities of being a leader.
SIK: How would you say the Solheim Cup has changed since you first played in it?
JI: It has definitely grown in fan base. The play has gotten a lot better, but the passion is the same and playing for your country is the same. You can't change the feeling you have inside when you put on the red, white, and blue. It is something that ignites your heart, your stomach, and your competitive juices.
SIK: What did you enjoy more being a player or captain?
JI: It is really two separate things. I enjoyed playing as I have always loved team sports. I grew up with team sports. But I also loved being a captain because it is your team, your girls, and your job to make it fun and memorable. As a player you are focused on golf and getting your points. Yes, you can look back on it and say that was so much fun, but when you're in the moment and playing, it can get stressful.
SIK: Can you recap the famous conversation you had with Lexi Thompson during the 2017 Solheim Cup?
JI: Lexi is a perfectionist and an incredible golfer, but she can get down on herself. I told her to pick her head up and that she is my best player. I have seen her make 6 birdies in a row and why can't she do it now. I believed in her and said to start all over. It's all about instead of looking at the big picture, sometimes you have to look at what's right in front of you.
Photo credit: Ron Schloerb/Cape Cod Times/Imagn