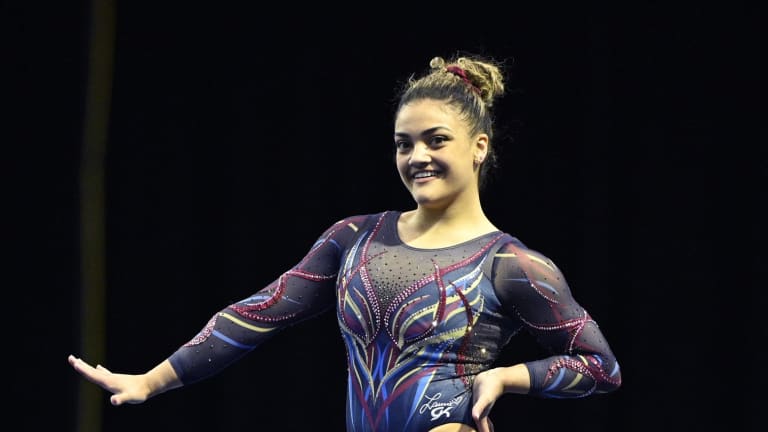 Kid Reporter Q&A: Laurie Hernandez
On June 4th, the first day of the US Women's Gymnastics Nationals, former Olympian Laurie Hernandez hyperextended her knee and had to withdraw from the competition, ending her chances at competing in her second straight Games. Despite that setback, she has plenty of exciting opportunities ahead.
Hernandez, a New Jersey native, fell in love with gymnastics at an early age. Her initial passion for the sport continued to blossom and resulted in her becoming an Olympic gold medalist, the youngest Dancing with the Stars champion, and a positive influence to people around the world.
SI Kids: Going back to your early childhood, what made you want to start gymnastics?
Laurie Hernandez: I remember watching on TV these two incredible gymnasts. They were on the balance beam, and I just thought that they were the coolest in the world. I pointed to the screen, and I was like, "Mom, I want to be just like these girls." And then she put me in classes.
SIK: How did it feel to compete at the Olympics at such a young age and live in the Olympic Village?
LH: I think there's something to be said for being so young. I think "ignorance is bliss" really covers it all. Being in the Olympic village was so cool and getting to meet all of the athletes that years before I had looked up to. I just remember thinking, Gosh, am I supposed to be here? Did they pick the right person? But of course, everything worked out how it was supposed to do.
SIK: If you had to describe your experience in Rio in three words, what would they be?
LH: Exciting, speechless, and terrifying.
SIK: What types of emotions does missing out on participating in the Olympics, due to an injury, trigger for you?
LH: There's a lot of frustration in that. It's one thing to put your foot down and say, "Okay, I choose to be done," but that wasn't the case this time around. I had been training really hard, and had ended up moving across the country to come back, and to have a fall like that was really discouraging. There were a lot of emotions flying and lots of tears. There still are a lot of tears. At the same time, I have some of my best friends up there and I am pulling for them. I wish them all the best and I'm excited to see everything that they can do.
SIK: How would you describe your experience on set of Dancing With The Stars? Did any of your gymnastic skills help you on the dance floor?
LH: I think being so young, a lot of people were looking after me to make sure that I was hanging in there. I really appreciated that because all of that was so new. I started homeschooling in the third grade for gymnastics and then stayed in the same place for 11 years. To go out and do something completely different every week with different outfits, different dances, different songs—there was just so much happening.
SIK: Could you describe the Gold Over America Tour and your role in it?
LH: In the Gold Over America Tour there's going to be about 35 cities that we get to travel to. We have all types of athletes, but of course we know Simone [Biles] is kind of headlining this tour. We all specialize in something, whether that be entertainment, or dancing, or bars, or beam. What's fun is that we also have athletes who are not Olympians that have gone to college and made a big name for themselves. We have athletes from just across the spectrum of gymnastics. We get to kind of redefine what success looks like for those that are watching and show that you don't have to be an Olympian to be successful.
SIK: What is your role in UNICEF, and why did you choose to be an ambassador for it?
LH: I'm proud to be a UNICEF supporter and to be part of an organization that is making a really positive impact for kids around the world. Of all the different universes that I get to be a part of, I think UNICEF is the perfect place to share on social media. There are different rallies to support kids around the world, and the goal is to empower all the kids out there and to make sure they know that they are loved and supported.
SIK: Do you have any other dreams or aspirations that you want to accomplish in life? Or any future plans?
LH: I would love to be an actress or be involved in just any form of entertainment, whether that be performing on stage, or singing, or dancing, whatever that might be. I loved doing that when I was a little kid: I would watch TV and impersonate other people and I loved being kind of like the house clown. Gymnastics gave me an awesome place to do that.
SIK: Is there any advice that you would give to a younger athlete that was looking to start a sport?
LH: The advice that I would give to anybody who wants to start sports would be to know that there are so many things that come with it. You get a community of people, you get heartbreak, you get lots of success, you get grit, and you learn about responsibility. I say absolutely go for it. You get to connect with so many wonderful people who want to do the same thing as you and that can be a lot of fun. If it gets hard, hang in there and know it's okay for things to feel difficult or to feel uncomfortable because that's where you grow.
Photo credit: Marc Lebryk/USA TODAY Sports