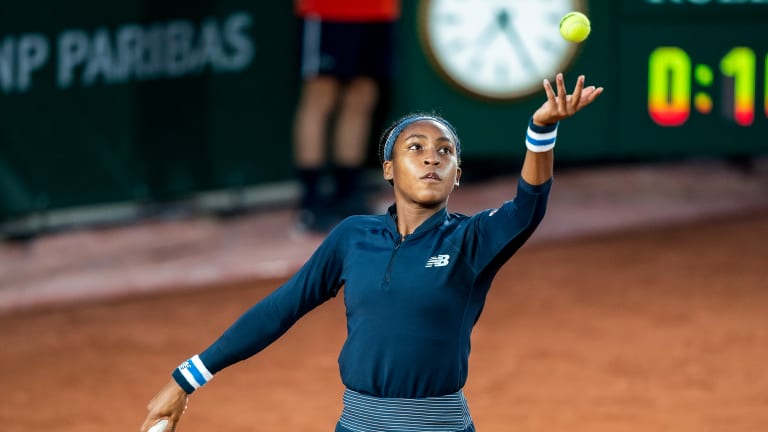 Kid Reporter Q&A: Coco Gauff
Coco Gauff became the youngest person to qualify for the main draw at Wimbledon as a 15 year old in 2019. Now the 16-year-old tennis star continues to create a positive impact on and off the court.
As she was preparing for the Australian Open, which kicked off on February 8th, Sports Illustrated Kids Kid Reporters Anna Laible and Ayesha Badiola chatted with Gauff from across world via Zoom!
SI Kids: Is it intimidating making the jump from being a junior to going up against the top-ranked tennis players in the world, at only 15 years old?
Coco Gauff: Yeah, definitely for my first few pro tournaments it was intimidating, just because everything was so new and different. I would always watch everyone on TV and see them playing. But when it's actually your time to play it's a completely different experience than as a spectator. To be honest, I was just grateful to have the opportunity to see how good I could do.
SIK: What is it like being ranked in the Top 100 next to some of your tennis role models that you looked up to as a kid?
CG: It's really cool, and I always knew that one day I could accomplish this goal—but probably not so soon, for which I'm really grateful.
SIK: What is it like being coached by your dad? What has been your favorite tennis memory with him so far?
CG: Having my dad coach me is honestly one of the best things ever. I mean we probably get into more arguments than the average coach and player just because he's my dad. Other than that, it's really great. My favorite moment with him—honestly I have a lot—but probably was when I won the French Open junior tournament. That was probably my favorite memory because that was my first big win ever at that level. He was super proud of me.
My second was definitely walking to the court before I played Venus at Wimbledon. We always imagined that moment and he used to always talk about it growing up. Oh snap, all this talk we did when I was younger is actually happening now. On the walk to Wimbledon, you saw all of the champions: Serena, Venus, and Roger. They have pictures of all of them on the wall. It was really intimidating, but he really calmed me down before going on the court.
SIK: How and when did you get your nickname Coco?
CG: So my dad's name is also Corey and my parents always wanted their first child to be named Corey/Cori. Actually, no, I take that back! My mom wanted her first child to be named that but my dad said if I were a boy, he wouldn't have named me Corey because he didn't want a junior. My nickname came about because we both can't be named Corey/Cori, that'd be confusing. I believe it was my aunt who said, "Oh, we should just call her Coco." When my dad was growing up, people used to call him Co and I guess they just said, "Oh, Coco's a cool nickname." Ever since then, I've been going by Coco. For sure more people used Coco than Cori.
SIK: How hard is it to juggle junior year of high school while playing a professional sport during the pandemic? What is it like having your mom there to help you along the way?
CG: Definitely that's the most challenging, especially with time zones and trying to figure out when classes are. There have been times that I've had to wake up at 3 a.m. to go to class, because of the schedule and time difference. Having my mom travel with me is also something that I'm grateful for. She goes to most of my tournaments, but sometimes misses some because I also have two brothers. She's here with me in Australia now, which I'm super grateful for because my team is mostly guys...so sometimes you just need another girl with you.
SIK: What were you were feeling when you beat Venus Williams at only 15, and how your tennis career changed after that Wimbledon in 2019?
CG: I remember the night before I talked to another tennis player. She's retired now, but her name is Mary Joe Fernández and she had a really incredible career. I remember before I talked to her I was just grateful for the opportunity and I wanted to see how well I could do and she completely changed my mindset. She was like, "No, you have to go into this match thinking that you can win and believing that you can win." I was like, "Yeah, you're right. I was really just happy to play, but now I actually have to think about winning." Once I had that conversation with her, my mindset changed and that probably helped me win the match. After the match, I was just relieved that it was over, because I see a lot of times on tv when the underdog is so close to beating the person whose supposed to win and at the last second, they slip up. I didn't want to be that story.
SIK: What are your professional career goals as a tennis player and your life goals as Coco?
CG: As a tennis player, I just want to be the best that I can be. I want to shoot for the highest goal possible, which is being the greatest. I always talk about this: that you can go as far as you want. Even if you aim for the moon, you can land on the stars. In life in general, I just want to inspire people. And I want to let them know that no matter where you are from or what you look like, you can go as far as you want. I think I'm an example of that. I live in Delray Beach, Florida, a small town. My dad used to always say that I was going to be a professional tennis player and do all of these great things. When you hear somebody talking like that, it sounds like baloney, but I guess he was right.
SIK: What has kept you so involved and motivated to speak up about racial justice and making sure everyone is treated equally?
CG: My biggest influence on taking a stand on it was my grandma. When she was growing up, she was the first Black girl to integrate her high school and she was telling me stories about it. The one thing that she said was, "We're still protesting the same thing that I was protesting when I was 16." I just wanted people to understand no matter how young you are or how famous you are, you have the right to use your voice and state your opinion. That was my biggest message to get across because I believe now that Gen Z and the youth have a stronger voice than maybe we think we have. I think it's important that we understand how to use it.
SIK: How are you encouraging other people to use their platform and continue the conversation?
CG: For me, social media was the biggest platform I used. Even if you have 100 followers and maybe 10 of those followers share whatever you posted, that can end up reaching a thousand people, and they can keep sharing. You guys have seen how viral videos blow up out of nowhere. Social media is such a big platform and that's how I think I encourage people, especially us young people. We love social media, and yes, it's nice to post funny videos, but we can also share stuff to help other people too.
SIK: How cool would it be for you to compete at the Tokyo Olympic Games at only 17?
CG: That'd be really cool and it's a goal of mine. I'm hoping that with my next couple of tournaments, I do well enough so I can qualify. The Olympics is a once-in-a-lifetime opportunity and I hope that I can qualify this year.
SIK: Do you ever think about being considered the future face of the Women's Tennis Association at only 16?
CG: I know it's something that people talk about, but I never really think about it. I try to do my best to stay in the moment and enjoy what's going on now. Thinking about the future is great, but if you get too caught up in the future, you won't be able to enjoy what's going on now in your present situation. I try to stay in the moment and enjoy what's happening now and think about the future later.
Photo credit: Susan Mullane/USA TODAY Sports