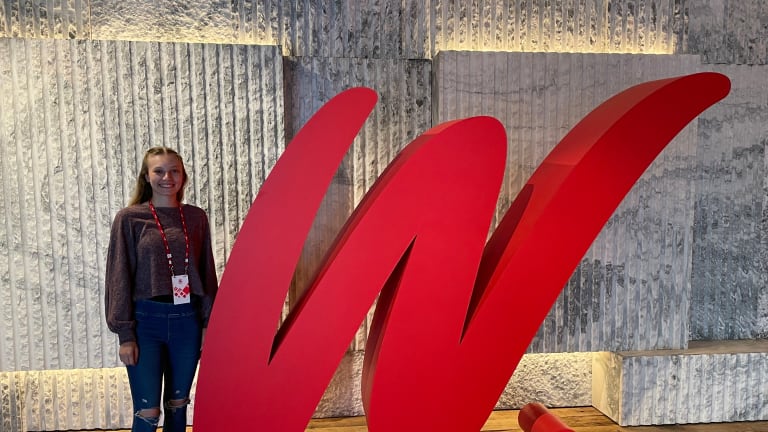 Kid Reporter: espnW Summit an Uplifting Experience
The 2022 espnW Summit was unlike anything I've ever been to before. Surrounded by incredible women in the sports industry, we all felt empowered to work together to continue to highlight female sports at a national level! The day was filled with out-of-this-world panels with Olympians, professional athletes, sports broadcasters, producers, and more!
This summit, hosted by ESPN personnel such as Sarah Spain, started with a dynamic panel of world class athletes: Sabrina Ionescu, DiDi Richards, and Kendall Ellis. These three talked about the importance of staying true to yourself (even on social media), being comfortable with who you are, and knowing that as women, not only do you have to be the best at your sport, but each athlete also has to be able to market themselves.
I asked Ionescu about what advice she would give to the next generation of girls who are hoping to get into the sports industry: "I would say to have fun. At the end of the day, if you really love doing what you do, stick with it and have fun. There is going to be adversity in things that you face, but I think at the end of the day, have fun doing it and get better!"
Another great panel was the Fifty/50 spotlight hosted by Elle Duncan introducing W. Studios with Fifty/50 shorts presented by Google. The Fifty/50 shorts are a series of films commemorating the 50th anniversary of Title IX. The first one was about the Grant High School softball players who won a lawsuit after being denied a new softball field when their pitcher's mound didn't even line up with home plate.
The second short, Let Noor Run, features a 17-year-old cross country runner from Ohio who was disqualified for wearing a hijab during one of her races in 2019. She went on to inspire a state bill to give the opportunity for those to wear appropriate attire for their religious beliefs without being penalized.
Kendall Ellis, two-time Olympic Medalist for Team USA, talked about how Title IX has positively impacted her sports journey: "It has definitely given the opportunity for women to get involved in sports, and to give them the opportunities to participate, knowing they will be given the resources, the facilities, and everything they need to perform at their best level."
The afternoon began with a live episode of "Laughter Permitted" with Julie Foudy and Lynn Olszowy, who were talking with three-time Olympic medalist Eileen Gu. Gu not only talked about how the sport of freestyle skiing has changed her life, but also talked about how "representation is so important" and that "the only failure is being afraid to try." Her fearless attitude and outspoken personality is a great example of how the next generation of women in sports can really be game-changers.
Next, Jon Patricof, CEO and cofounder of AU (Athletes Unlimited), a women's league of pro sports (softball, lacrosse, volleyball, and basketball), talked about the importance of growing female professional sports. The leagues, which are two years old, prioritize the athlete experience and are reaching more than 165 countries. They created the first ever softball Topps cards set, and are hoping to continue to grow their audience this summer with a softball team in Chicago and lacrosse in Baltimore.
The day continued with a star studded "Women of ESPN" panel including LaChina Robinson, Elle Duncan, Monic McNutt, and Christine Williamson. These women are continuing to pave the way for women of color on the broadcasting and reporting side of sports. These women talked about the importance of visibility, purpose, and confidence.
"I wanted to find people who could help me be the best version of myself," Duncan said. "When we [women] are empowered, we are dangerous."
The espnW Summit wrapped up the day with conversations with NWSL Commissioner Jessica Berman, Senior Director of ESPN and espnW marketing Rachel Epstein, and more. My biggest takeaways were the importance of equal representation, women supporting women, and the endless possibilities for women sports to continue to grow on the national level in the college and professional worlds!