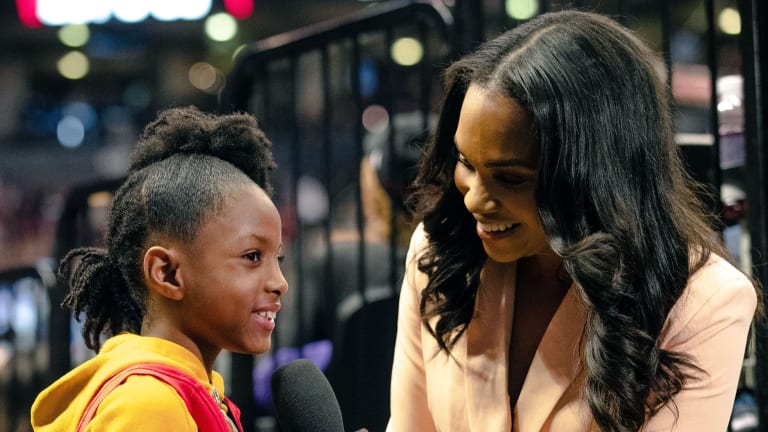 TSN Trailblazer Kayla Grey Keeps Fighting for a More Inclusive Sports Media
From the Princes' Gates to Nathan Phillips Square, more than one million Torontonians flooded the route to celebrate the Raptors' first NBA Championship in 2019. A line of double-decker buses travelled through the packed streets. Amid the partying, a broadcaster reported on the festivity for the rest of the nation to see. All while soaking it all in herself.
Passionate, fearless and authentic are all words that describe the 28-year-old trailblazer, Kayla Grey. She can usually be found hosting Sportscentre, speaking in panels, and—in non-pandemic seasons—reporting from the sidelines at Toronto Raptors games.
From Blue Jays baseball and Monday Night Wrestling with her grandparents to watching Marci Ien and the late John Saunders on TV, she found her love for sports and storytelling early on.
"My grandmother would watch Jays' games on the television and my grandfather would listen to the same game, but on the radio," Grey said. "You would have this TV muted and you have the radio call and to me, the fusion of both was just so cool."
After stops in Winnipeg and Prince Rupert, the College of Sports Media graduate returned to her hometown, Toronto. In 2018, she became the first Black woman to host a flagship sports highlight show in Canada.
That position gave her a unique perspective when the murder of George Floyd in the summer of 2020 inspired calls for racial justice. While some stayed silent and feared speaking up, Grey knew the importance of using her platform to express her feelings and spread awareness. Despite the backlash she receives, she continues to fight for equality in our society.
"You have nothing to lose watching people that look like you being brutalized and losing their lives," Grey said.
One of her missions is to diversify white-dominated spaces in the industry. The lopsided statistics on athletes and those who cover them display the lack of diversity in sports media. When Grey worked at her first job, she came to the program director with an issue and was told that somebody that looked like her should be lucky to even have a job.
"For me, that was very important to vocalize because I felt like too much of the onus and the responsibility was on journalists of colour, was on people of colour to fix problems that they just never created in the first place," Grey said.
One way she's working towards this goal is by creating content and using the platform she has to hire people and providing them with opportunities to thrive in the industry. Recently, she gathered a group of Black creatives to work on a project that will hopefully be revealed soon!
Grey sees the spark in the next generation to fight for equality. She encourages them to continue to learn and take action.
"You can't let hate stop you from you doing you and from you speaking your truth," Grey said. "It's all about being informed, getting educated, reaching outside of your circles, speaking to other marginalized groups and learning how you also can be an ally,"
Speaking of the next generation, Grey—along with four other women—made HERstory last Wednesday as they became the NBA's first all-female broadcast team. They hoped to inspire young girls across the globe and show them that women have a place in a male-dominated industry. It's safe to say that they accomplished their goal as it'll leave a lasting impact on viewers.
She may be the first, however, she is making sure that she is not the last. And while March may be Women's History Month, stories and voices like Kayla's are ones that we need 365 days a year.
Photo credit: Courtesy of TSN